On October 17, Bernard Taper, one of my heroes, died. He was 98 years of age. Bernie spent his life as a journalist and educator. He also authored several outstanding books. But I knew him for his career as a Monuments Man. In 2005, when I chartered a course to tell these heroes' story, Bernie was the first Monuments Man I met; the first to open up and share his wartime experiences. In the years since, I would meet, interview--and become friends with--twenty others, but like most "firsts," the memory of that meeting made a lasting impression. His loss is a painful reminder that within the next five years, most of the World War II veterans--in our country we know them as the "Greatest Generation"--will be gone. My young son will grow up in a world where these brave men who saved and then changed our world will be known to him in history books, and through recounting my stories. That is an enormous loss for our society, and in the case of Bernie and the other thirteen Monuments Men and Women who have passed, a deeply personal loss for me.
Born in Scotland to Jewish immigrants from Poland and Romania, Bernie spent the first eleven years of his life living in London. In 1929, following the death of his father, this eleven-year old boy traversed the Atlantic aboard a small merchant ship that passed through the Panama Canal on its way to his new home, that of his grandparents who lived in Los Angeles.
Bernie's curious mind was constantly absorbing knowledge: he learned to speak German listening to the radio. His interest in journalism blossomed at a young age. While attending Los Angeles High School he wrote and edited the school's newspaper. At the University of California at Berkeley he served as editor of the university's paper in addition to founding two student magazines. After graduating with a Bachelor's degree in 1943, he began writing articles for Agenda, the San Francisco-based magazine devoted to architecture and public planning. He later moved to New York City, where his journalistic ability flourished at some of the leading publications of the times including The Nation, The New Republic, and The New Yorker.
Following the United States' entry into World War II, Bernie was drafted into the U.S. Army. After working briefly in the San Francisco shipyards, he was officially inducted and attached to an anti-aircraft battalion. His unit trained in Death Valley, California, where the desert terrain was intended to prepare them for action against General Rommel's forces in Egypt and the Middle East. When I asked him why his battalion never saw active duty, he chuckled, and then told me that the only thing they ever hit was the plane towing the targets. Taper then enrolled in a thirteen-week Infantry Officer's Training School at Ft. Benning, Georgia, where he became a full United States citizen upon completion. He subsequently returned to the UC Berkeley to teach English to non-English speaking Army personnel.
In early summer 1946, Bernie become a Monuments Man stationed in Germany. He quickly put his journalistic skills to work tracking down leads to find still missing works of art that the Nazis had looted. Bernie worked alongside Monuments Men Edgar Breitenbach and Maj. Karol Estreicher, the Polish art restitution officer. His work with local German police forces created a vast network of information that helped the Monuments Men recover works of art looted from the famed Goudstikker collection, among others. He also pursued works of art belonging to the Adolphe Schloss collection, which the Nazis had stolen and stored in the basement of Hitler's Munich headquarters before mobs broke into the building and emptied it. One his more colorful cases involved hunting down works of art local townspeople in Berchtesgaden had taken from a train filled with objects looted by Nazi Reichsmarshall Hermann Goering. As too often happened during the void--the closing days before and after the official end of the war in Europe--looters had looted the Nazi loot making the work of the Monuments Men even more difficult. In 1948 Bernie visited Spandau prison, where he interrogated prominent Nazi officials including Albert Speer, Heinrich Hoffman, Baldur von Schirach, Walther Funk, Karl Haberstock, and Walter Hofer.
Certainly Bernie's most prominent case remains a mystery today: the disappearance of Raphael's Portrait of a Young Man, stolen by the Nazis in 1939 from the Czartoryski collection in Kracow, Poland. Bernie and I discussed this case more than any other topic in our many hours of conversation. This painting, along with Leonardo da Vinci's Lady With an Ermine (also stolen from the Czartoryski collection), were the two most prominent masterpieces in Poland destined for Hitler's planned Führermuseum. When the Monuments Men arrested Nazi Governor-General Hans Frank in early May 1945, they found the Leonardo, but there was no sign of the Raphael. When we last visited at his home in Berkeley, Bernie shared with me his various theories and recounted additional steps he wished he had taken. Sadly, despite his many accomplishments as a Monuments Officer, the missing Raphael haunted Bernie for the rest of his life.
Bernie left Germany in August 1948 and resumed his career as a successful journalist. During his service as a Monuments Man, he had continued writing and sent numerous articles back to the United States for publication. Following his years in New York City, Bernie returned to California. He worked for five years as a reporter for the San Francisco Chronicle, during which time he received a Press Club award for his investigation of a housing discrimination case. In 1955 he returned to his academic studies and earned a Master's degree in English from Stanford University. The following year he began an almost forty-year term as a staff writer for the The New Yorker. From 1970 to 1998, in conjunction with his work with The New Yorker, Taper taught the next generation of journalists as Professor at the Graduate School of Journalism at the University of California at Berkeley.
A prolific writer, Bernie wrote numerous books, articles, and columns about subjects relating to the arts, civil rights, and urban affairs. His published works include Balanchine (1963), the authoritative biography of George Balanchine, the New York City Ballet's co-founder and hallmark choreographer, The Arts in Boston (1970), Cellist in Exile: A Portrait of Pablo Casals (1962), and Gomillion versus Lightfoot: The Right to Vote in Apartheid Alabama (1962). Taper also served as editor of the anthology Mark Twain's San Francisco (1963). In 2004 he donated his collection of photographs of George Balanchine to the San Francisco Performing Arts Library & Museum.
I have many cherished memories in the company of this fine man. On June 6, 2007, the 63rd anniversary of the D-Day landings, we arranged for Bernie and his wife Gwen to travel to Washington to be present when I announced the creation of the Monuments Men Foundation for the Preservation of Art. Earlier that day Congress had passed a resolution honoring the Monuments Men and women. Bernie, and three other Monuments Men he was meeting for the first time--Harry Ettlinger, James Reeds, and Horace Apgar--had a chance to be formally recognized for their service by several members of the House and Senate, including Congresswoman Kay Granger, and Senators Kay Bailey Hutchison and Hillary Clinton. But the prized moment was our visit to the National World War II Memorial. There, walking between the fountains representing the war's two theaters, looking at the names of the most prominent battles, I watched these aged war veterans, including my father, overwhelmed with gratitude to have survived, and grief for all those who did not.
In October 2015, Bernie would make one more journey before his death, once again to Washington, D.C., to attend the presentation ceremony of the Congressional Gold Medal honoring the Monuments Men and Women, our nation's highest civilian honor. Four of the seven living Monuments Men and women attended, and nearly two-hundred family members of Monuments Men since passed. Seeing them honored by the Speaker of the House, John Boehner, and praised by the leadership of both parties in Congress, fulfilled a dream I had held dear for nearly ten years. I can only imagine what it meant to them.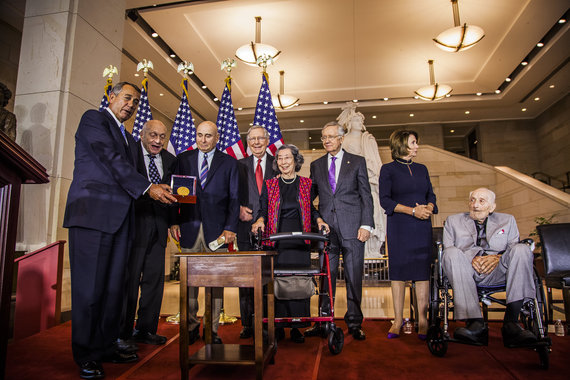 The Congressional Gold Medal Ceremony in Washington, D.C. On October 22, 2015 (From left to right: Speaker of the House John Boehner; Monuments Men Harry Ettlinger and Richard Barancik; Senate Majority Leader Mitch McConnell; Monuments Woman Motoko Fujishiro Huthwaite; Senate Minority Leader Harry Reid; House Minority Leader Nancy Pelosi; and Monuments Man Bernie Taper)
That day, I was honored to be asked to speak about the Monuments Men before this august group. I closed my remarks with a thought about the importance of what men like Bernard Taper had achieved not just for their country, but for people of good will around the world. It bears repeating: "We live in hope that the wisdom of Monuments Man George Stout, the sacrifices of Monuments Men Balfour and Huchthausen, and the dedication of all those who served in the Monuments, Fine Arts, and Archives section, will not reside in our memory, rather that they will live on in our hearts to inspire us to do a far better job protecting and preserving those things of knowledge and beauty that we have inherited from the past."
Bernie hated war. Germany's smashed cities embarrassed him. But this only strengthened his resolve to do everything possible to help others by locating and returning works of art and other cultural objects to their rightful owners. Bernie believed that the work of the Monuments Men and Women was a noble endeavor, an undertaking that would reestablish the rule of law and for him at least, make some sense of the destruction that surrounded him. Yes, he was a journalist, and an educator, and an author, but he was also one of the millions of citizen soldiers who helped build and shape the world we have inherited, a world based on basic human decency and shared sacrifice. I miss Bernie; I miss that world.
With his death, there are now just six living Monuments Men; four men, and two women, one British.
Calling all HuffPost superfans!
Sign up for membership to become a founding member and help shape HuffPost's next chapter