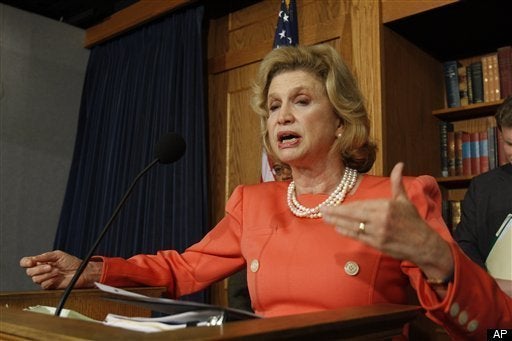 A leading House Democrat backed away Wednesday from a sweeping proposal that would have watered down a post-Enron reform, permanently exempting small publicly-traded companies from a requirement that they obtain outside audits of their internal controls.
Rep. Carolyn Maloney, of New York, originally proposed that firms with market capitalization less than $75 million be exempt from a provision of the Sarbanes-Oxley Act, the 2002 law designed to increase investor confidence that was enacted after accounting scandals at Enron and WorldCom rocked investors. The loophole would have applied to about 55 percent of publicly-traded firms.
Maloney's amendment, co-sponsored with Rep. Scott Garrett, a New Jersey Republican, was to be attached to the Investor Protection Act of 2009, a pending bill in the House Financial Services Committee. It was first reported by the Huffington Post.
But after investor groups protested her amendment -- and after the bill's sponsor, Rep. Paul Kanjorski, (D-Penn.), reached out to Maloney -- the New York Congresswoman offered a new one, calling instead for a study of the costs of complying with the already-existing provision, and delaying its planned implementation by a year. Small firms are expected to comply with the provision by next June; Maloney's new amendment would delay that until 2011.
A spokeswoman for Kanjorski said the Congressman thought Maloney's original amendment was "too big. The revised version is more focused."
Investor groups and consumer advocates opposed Maloney's original amendment, arguing that it weakened investor protection and would have made financial fraud harder to detect.
"The need for strong internal controls is particularly important for the generally riskier smaller public companies that would be the beneficiaries of any exemption," wrote Jeff Mahoney, general counsel for the Council of Institutional Investors, a nonprofit association of public, union and corporate pension funds, in a letter to members of the committee.
Though these firms are required to obtain outside audits of their internal controls, the Securities and Exchange Commission has granted them annual deferrals from complying with the law for the last seven years. The latest deferral was granted earlier this month, though the SEC said that this was the last one.
In an interview Wednesday, Maloney said she offered the new amendment because she got new information on smaller firms' costs of complying with the provision.
"I did not know that the SEC has just come out with a huge report -- it's like 50 pages long, I haven't had a chance to read it -- but they are claiming that they have come out with ways that will reduce the burden by 30 percent -- the cost on small businesses," the nine-term Congresswoman said. "I don't know if that's true or not -- I haven't had a chance to read it. I'm going to ask for a public hearing on it...to see if in fact that is true."
Regarding pressure from other lawmakers to dial back her original amendment, Maloney said, "I didn't talk to them until after I had decided what I was going to do."
The committee passed Maloney's new amendment in a voice vote.

*There was a preliminary voice vote on Maloney's new amendment, but a final roll call vote is pending. The vote is scheduled for Wednesday. Apologies for the error. This post was updated Saturday.
Popular in the Community