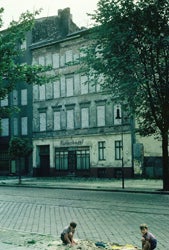 Reistance means something different in each era. For example, it meant life or death to my friend Robbert Van Santen, a Jewish boy who grew up during the Nazi occupation of his native Amsterdam. He was a schoolmate of Anne Frank, who did not survive, but who, in hiding, wrote a diary that of course did survive.
When I wrote Gift of Darkness about Robbert's experiences of witnessing the occupation of his city and of avoiding capture, I described his long period of life in Amsterdam and his escape to hiding in a rural province, but I couldn't find the transcript of the one interview in which told about his brief experience in the Dutch resistance just before the end of the war. When I was sorting through a box of old papers, the material showed up. Here's what happened:
In the rural province of Friesland, Robbert was hiding on the farm owned by a man who also served as warden of the local jail. His savior's activities turned out not to be limited to providing a refuge to a Jewish adolescent from the city. He also waited in fields where the RAF, at night, dropped bundles of rifles, arms that had to be retrieved and hidden, sometimes in haystacks. He recruited Robbert to help.
When Canadian troops appeared, the local resistance people, armed with RAF rifles, took charge of defeated German soldiers captured by the Canadians. Robbert told me about marching one captive off, presumably to the jail wardened by his benefactor. He was happy to have a gun, happy to be in charge of a German who did not. But he was not tempted to shoot the captive ("shot while attempting to escape") because he saw the draftee was a guy much like himself, just a little older, sent off to fight the evil Dutch.
Liberation was chaotic. Back in Robbert's city, local people gathered to celebrate in the Dam, ab open area next to the royal palace. They didn't realize that some Germans remained in a club overlooking the plaza, Germans who took the opportunity to shoot some folks who were whooping it up because of the Germans' defeat.
Back in Friesland, everybody was told to stay off the roads, which were (a) dangerous, and (b) needed by troops and by officials. But Robbert was eager to discover whether any of his family had survived. Pedaling in the direction of Amsterdam, he was picked up by a woman driving a Red Cross truck and taken to his old home.
As told in Gift of Darkness, he was greeted in the street not only by his exultant mother, but by a ravishing young women whom he didn't recognize. It was his sister, grown up in his absence.
Popular in the Community