Imagine coming home to discover that, without any warning, police and city officials have entered your house while you were out and removed your beloved dog, leaving a warrant taped to the front door saying that your dog has been deemed "illegal."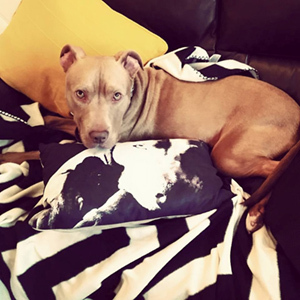 This is precisely what happened on July 14 in Belfast, Northern Ireland, when two dog wardens and at least five police officers -- some reportedly in riot gear -- entered a private home to remove Hank, Leonard Collins and Joanne Meadows' affectionate two-year-old Labrador/Staffordshire Terrier mix. The warrant was issued not because of any misdeed, but simply because he looks like a "pit bull type," which happens to be illegal in Northern Ireland under the Dogs (NI) Order 1983.
That's right, no matter how friendly and well behaved a dog is, Belfast considers the animal to be "dangerous" if he bears the physical traits of a pit bull.
If you think this sounds sickeningly familiar, you are correct: In 2010 an equally innocent family dog, Lennox, was removed from his home and placed in isolated captivity for the very same reason, never to see his family or a loving home again. In fact, the date on the warrant for Hank was July 11 -- the fourth anniversary of Lennox's death by order of Belfast City Council in 2012. Despite an international outcry, testimony by respected dog behaviorists, offers to re-home him outside of the country, and even a plea by then-first minister of Northern Ireland Peter Robinson, Lennox was killed in a secret location, two years after being wrenched from the family that loved him; the Barnes family weren't even allowed a last moment with their beloved dog -- or his ashes and collar, for that matter.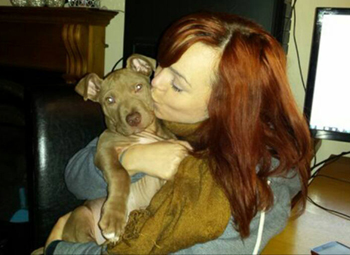 Considering the negative international publicity that the city of Belfast faced during their handling of the Lennox case, one would expect them to deal with subsequent cases of "pit bull type" dogs with more sensitivity and reason.
Although Leonard Collins reports some level of decent communication from the dog warden involved in the case, whom he terms "fine and reasonable," she can only relate what the City tells her, which isn't much. "I'm appalled by the lack of transparency," says Collins, "It's shocking how they've handled the case, they are just inviting the same situation they had with Lennox. They have no notion of a media presence." Apparently Belfast City Council has been deleting #SaveHank posts on their Facebook page as fast as they appear, repeating the less-than-stellar way they publicly handled the Lennox case.
Even more troubling, the "expert" the City is calling in next week to evaluate Hank is none other than former police dog handler Peter Tallack, by his own admission not a behaviorist; this is the very same man who gave quirky testimony that a judge relied upon to sentence Lennox to death, in spite of contrary evaluations offered by genuinely renowned animal behaviorists.
Tallack is scheduled to arrive at some point next week, but in the meantime Collins and Meadows are barred from visiting Hank or even knowing where he is; they've been told the reason is that visits from his family would "stress" the dog(!) Collins believes the real reason is that the City fears protesters if the site becomes known to Hank's supporters. They are worried that Hank, who is used to long walks on a lead, is not getting proper exercise in his confined space.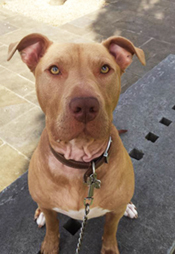 Luckily, public support for Hank has been overwhelming: A crowd funding page set up to pay for legal fees (expected to be significant) has over 1200 contributors, the Save Hank Facebook page has upward of 50,000 followers as of today, and an online petition has gathered over 110,000 signatures already.
Victoria Stilwell, the celebrity dog trainer who was Lennox's staunch champion during his ordeal -- and who is outraged that the same situation is unfolding in Belfast -- is at the ready to fly to Belfast to perform a proper behavioral evaluation, as is world-renowned canine aggression expert Jim Crosby.
Meanwhile, Collins and Meadows are ready to fight to the highest level, not only to save Hank but to possibly end the unfair law that makes their innocent dog, and many others, illegal.
PHOTO GALLERY
Hank, Belfast Dog Seized for Looking Like a Pit Bull
Calling all HuffPost superfans!
Sign up for membership to become a founding member and help shape HuffPost's next chapter