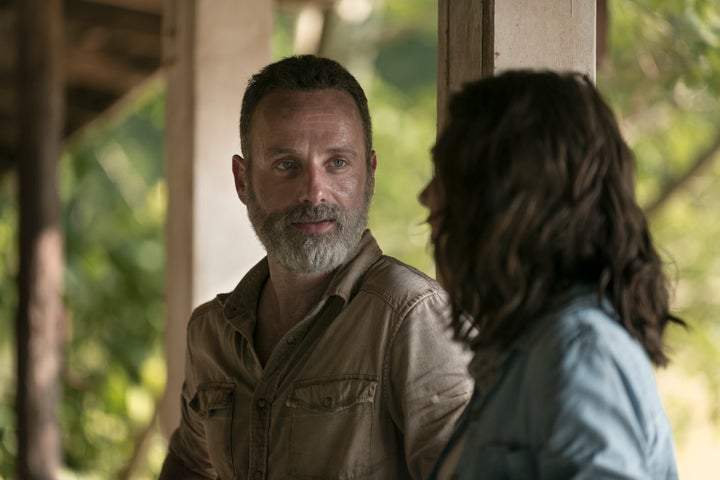 UPDATE: Oct. 22, 10:23 a.m. ET — Following Sunday's "Walking Dead" episode, "Warning Signs," Chris Hardwick confirmed on "Talking Dead" that the upcoming two episodes of the show will be the last for Andrew Lincoln's Rick Grimes. The reveal adds further support to the theory that the graphics in this season's opening credits include chronological hints to the show's plot.
PREVIOUSLY:
The Ricktatorship is ending, but should fans be nervous about yet another "Walking Dead" cast departure?
Back in May, news broke that Andrew Lincoln was leaving the long-running AMC zombie series. Collider told fans to "only expect to see Lincoln in half-a-dozen episodes of the upcoming season." Then there was news of Lauren Cohan's impending exit, signaling not one, but two of the show's biggest characters were on their way out.
Well, we're three episodes into Season 9 now, and evidence already points to a third possible casualty: Danai Gurira's Michonne.
Is she set to leave the show? It's time to breakout the red string.
We submit into evidence: The helicopter.
In the latest episode of "Walking Dead," we learn that the Oceanside people are to blame for the mysterious deaths of Saviors. Daryl (Norman Reedus) and Maggie (Cohan) catch Oceanside in the murderous act and, as a result, decide Rick's method of peace-keeping isn't working out. "It's time to see Negan," they think. (In other words, "It's time to go kill Negan.")
But enough about Daryl and Maggie. Prior to the big discovery, the leading suspect behind the Savior killings was Jadis/Anne (Pollyanna McIntosh). But she knows she's innocent and suspects the group that's been flying the mysterious helicopter around in the background since last season is who to blame.
In an effort to sniff out the culprit herself, she visited her old junkyard to talk to the mysterious helicopter pilot via a walkie-talkie she'd kept hidden among the trash. The helicopter crew confirmed to Jadis: They're not the ones murdering Saviors.
We also learn that before she joined Rick, Jadis had previously been working with the helicopter group to trade random humans for supplies. "What do you have? An A or a B?" the crew asks her when she arrives, referring to the designations used to set captives apart (probably meaning Alphas or Betas).
Now Jadis seems to be trying to get a ride out of town on the helicopter, because she's tired of the hostility and suspicion directed toward her, but the crew demands she produce an A by the next day as payment.
Her new boo, Father Gabriel (Seth Gilliam), who apparently has been tracking her, pops out from the shadowy parts of the junkyard at the exact wrong moment and confronts her. When she asks him to leave with her, he can't even pretend to be into the plan. So she knocks him out, adding, "All this time I thought you were a B."
No offense, Father G, but you're definitely a B. And you know who's an A? Rick Grimes. In fact, in Season 8, Episode 6, when Rick was briefly taken captive by Jadis, she wrote a big fat A on his cell, just in case you weren't sure.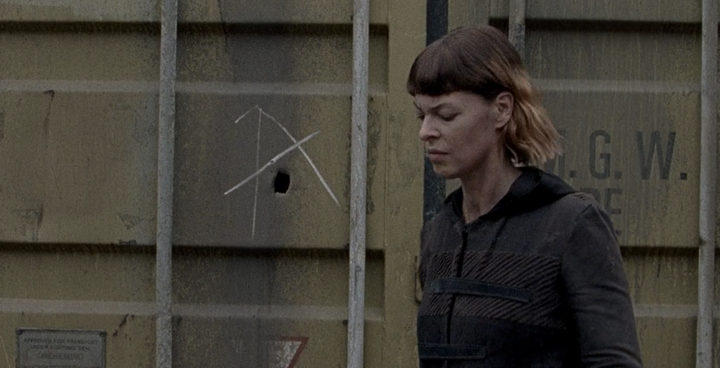 So, will the helicopter crew end up taking Rick Grimes? I doubt it, but the helicopter will probably play a role in his last few episodes, which could culminate as early as Episode 4. How do I know? At New York Comic-Con in October, Lincoln, who famously doesn't watch the show, revealed he finally caught an episode that he wasn't in ― and that it was directed by Greg Nicotero.
"I watched the first episode that I've ever watched of the show, and I wasn't in it," he said. "This gentlemen [referring to Nicotero] directed it beautifully."
Nicotero, the "Walking Dead" producer and effects master, is reportedly directing this season's Episode 5, "What Comes After." So it's a possibility that Lincoln dies or leaves in Episode 4. (C'mon, he's definitely going to die, right?) Then again, Nicotero often takes on important episodes of the show, so Episode 5 could also be Mr. Lincoln's swan song.
What does all this have to do with Michonne possibly leaving? Well, a lot. Now that we know the helicopter is taking people ― and will likely continue to in the next few episodes ― we get to the next piece supporting our thesis:
We submit into evidence: The new opening credits.
There was a curious image in the latest episode of "The Walking Dead" indicating the opening credits might have a chronological logic to them.
The new titles begin with the tree under which Lincoln slices Negan's throat in the Season 8 finale.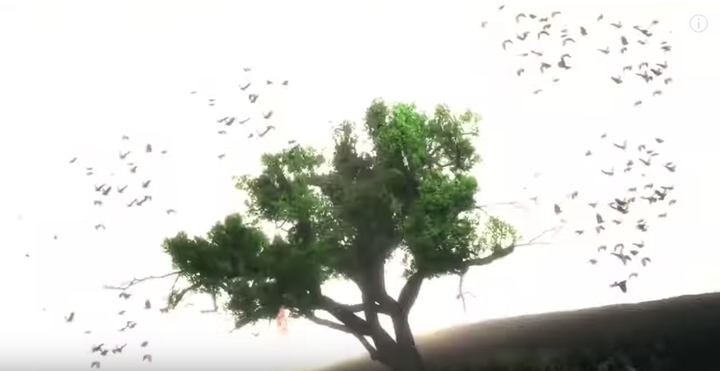 It's bare at first, but then it sprouts into leaves, representing the "new beginning" everyone keeps talking about for Season 9. This seems like it could easily represent the new communities coming together and growing in the new season's Episodes 1 and 2.
Next, we get a shot of a pitchfork through a skull, which seemed weird until Sunday's Episode 3, when Sydney Park's character Cyndie picks up a pitchfork and shoves it through a zombie's head.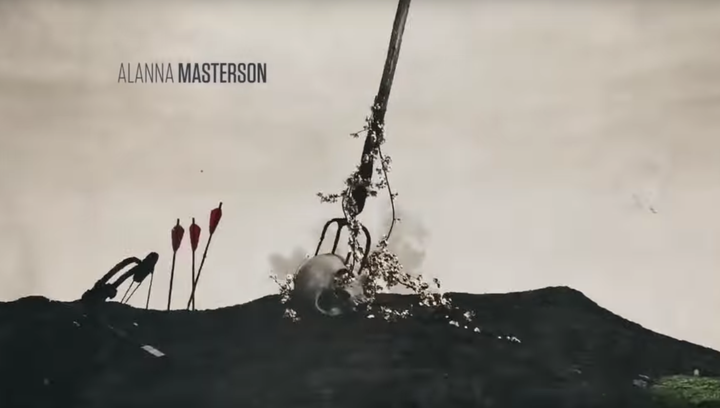 Along with the pitchfork, we can see arrows and a crossbow on the left side of the screen, which also play a big role in Episode 3. The arrows and crossbow could represent Daryl, who is, for a time, also suspected of killing the Saviors. He and Maggie also eventually discover Oceanside is killing the Saviors because of the arrows they were using.
Next comes an image of a helicopter, which, as I've mentioned, plays a part at the end of Episode 3 and will likely be a factor in Episode 4.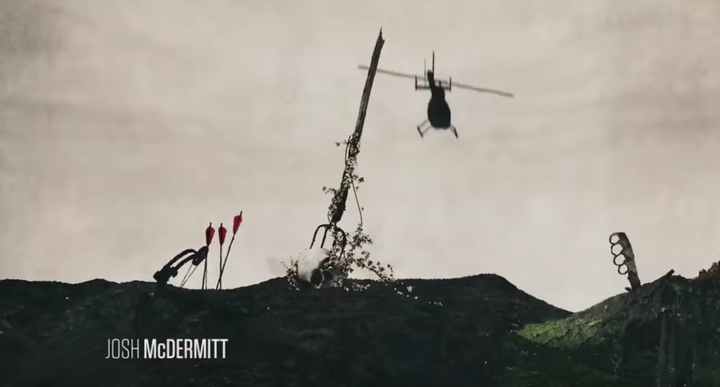 The next shot consists of two figures on horses, and from the look of the silhouettes, they could easily be interpreted as Rick and Michonne.
If the chronological logic holds, we know Episodes 4 and 5 could be Grimes' last, so it makes sense that he'd come next in the titles.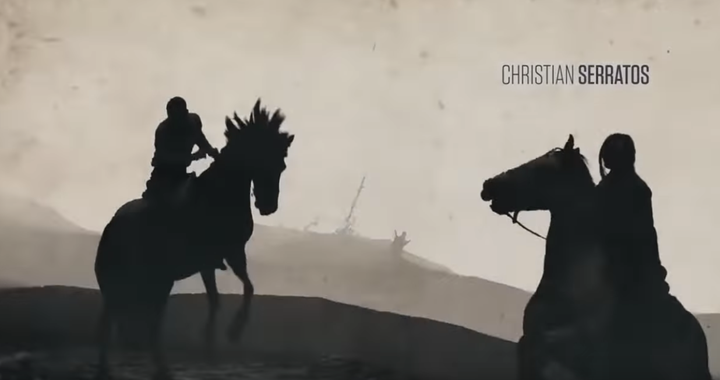 After that, it's two graves and what looks like Michonne's sword sticking out of the ground in between them.
That image is followed by a very Grimes-like cowboy hat sitting alone on a fence in a graveyard, giving more evidence that Rick's gone, but let's focus on the graves and the sword.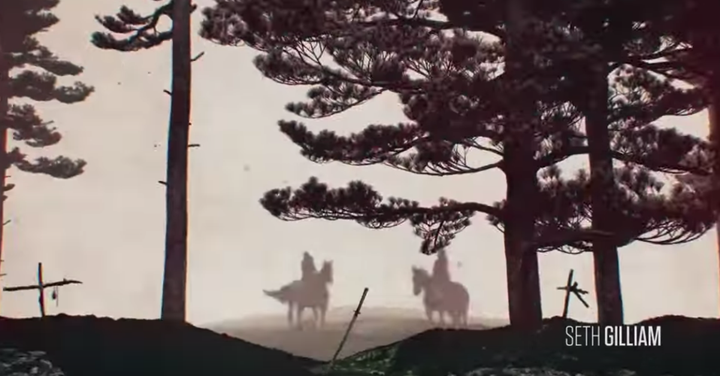 The graves could represent other characters who've died. For instance, the one on the left looks a lot like Carl's grave from Season 8, and that item hanging off of it looks like it could be Hershel/Glenn's pocket watch. But it doesn't bode well that the graves show up right after what appears to be silhouette's of Rick and Michonne, with a signature Michonne-like sword in the middle.
Lending support to the theory that images in the opening titles could represent plot points of Season 9 is the fact that the company behind the titles, Huge Designs, refused to comment on any of my questions that they thought could reveal plot details.
And because of that specific refusal, I'm now going to speculate way too much about an interesting quote from Lincoln during the San Diego Comic-Con over the summer.
We submit into evidence: Andrew Lincoln's "that's not a spoiler" quote.
At the event's "Walking Dead" panel — which was all about saying goodbye to Rick Grimes, since AMC officially confirmed Lincoln would be leaving during that convention — he said Norman Reedus kept sending him scripts even after he was done shooting scenes for the show.
He also mentioned Danai Gurira's name.
"Norman sort of quietly sends me the script, and Danai, that's not a spoiler is that? That's out now, good," said Lincoln.
Maybe Lincoln was just stating that Gurira also sends him scripts. Or did he mean Reedus is sending Gurira scripts too, implying she's also off the show? Why else would Lincoln say, "That's not a spoiler is that"? You can watch for yourself above.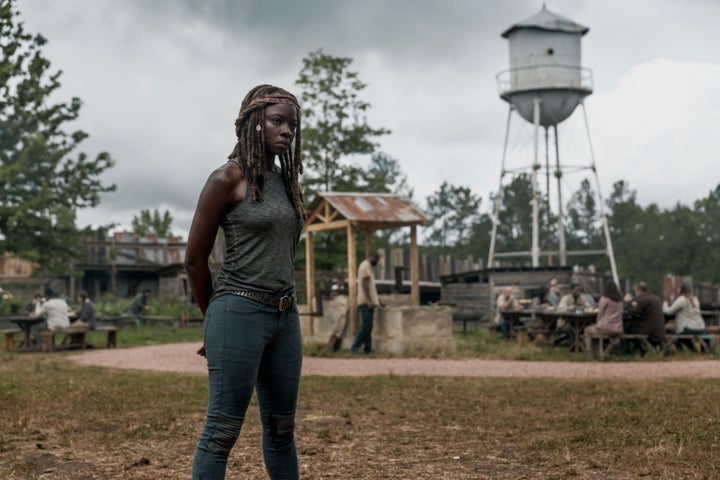 All I know for sure is that Danai Gurira has a lot going on with "Black Panther" and the "Avengers" movies, and death or not, she would probably have less of a presence in upcoming seasons anyway. It's not "Walking Dead" forever, it's Wakanda.
Really, Michonne doesn't have to die to leave the show. It's hinted in Episode 3 that she may be pregnant with a baby Richonne, so that could serve as an impetus for her temporary absence. Or, you know, she could die. She could totally die.
Support HuffPost
The Stakes Have Never Been Higher
Before You Go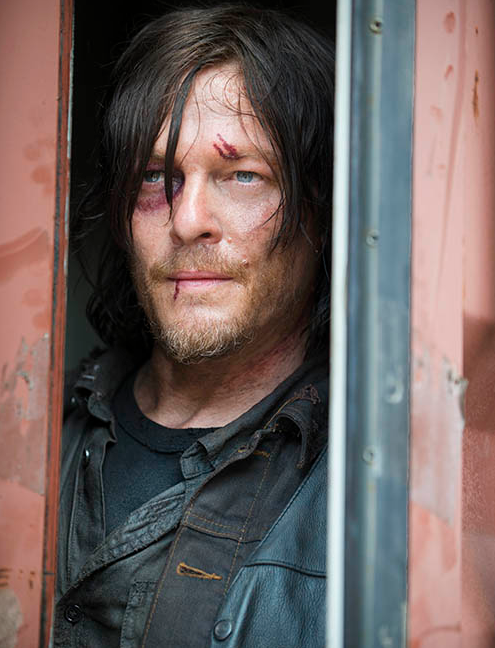 The Walking Dead
Popular in the Community