Into the Woods is everywhere, it seems, but it has not always been so. A world pre-Woods came flooding back to me recently as I sat enthralled by the sorcery of the Fiasco Theater's ingeniously homespun production now running (through April 12) at Roundabout's Laura Pels Theatre on West 46th Street. Where have I seen this Into the Woods before (I found myself thinking); an Into the Woods left mostly to the imagination, a kind of Into the Woods unplugged?
890 Broadway, August 1987 (I realized); the original production's two-week workshop at the Michael Bennett rehearsal studios prior to opening on Broadway in November of that year. Talk about coming full circle.
I was not yet thirty and thrilled to be allowed in. My friend Tony Fisher, a businessman who loved the theater, was one of the show's producers and had invited me to tag along for my first behind-the-scenes Broadway workshop experience. I remember milling in that narrow hallway outside the rehearsal room with a crowd that I sensed was altogether blue chip. Tony glanced around and confirmed this. "Well, I guess we're still looking to raise a little money," he grinned.
Admitted at last into what felt to me more like a workout room with mirrored walls than a space for theater, I discovered cast members wandering about, much as they do now in the Fiasco production - half in, half out of character, minimally but signifyingly costumed, chatty, with an offhand but highly self-conscious, horses-at-the-gate sort of energy.
The original cast. They were all present, if I recall correctly, Bernadette Peters included. Their intimate physical proximity was very potent; like the Fiasco company's flirty nearness to the audience today. The passionate accord of that original cast, their connectedness, was palpable, as it is now with the Fiasco company. Two families.
Did I know I was seeing something brilliant? Sporadically. It is much the same at the Laura Pels, where levitation is frequent but not always decisive. I remember a dizzying sense of exposition in a harmonious rush that first afternoon, as the intricate, singsong subtleties of Stephen Sondheim's score unfurled for me. I remember "Agony," the writhingly witty confessional for two princes, stopping the show cold. And I remember most profoundly the presence, off to the right, enfolded in a folding chair near the door, of Stephen Sondheim himself.
Intermission was called and the room emptied quickly; there was only one bathroom out there in the hall. Tony joined the exiting wake. I was left virtually alone in that big, bright room with one lingering bigwig. I watched an assistant of some kind offer Mr. Sondheim a sandwich. He declined. It was now or never. I sidled over and introduced myself.
We've been acquainted ever since. Friends, I like to think. Talk about a fairy tale! Could it possibly be twenty-eight years now? Very nearly.
"Was that workshop at all a backers' auction?" I asked him recently. "I never do workshops for backers," he replied.
"Did anything come out of the workshop worth mentioning?" "Nothing notable came out of the workshop," he responded with unyielding understatement, "except that I wrote 'Agony' the night before in order to give the actor playing Rapunzel's Prince [Chuck Wagner] a moment to score."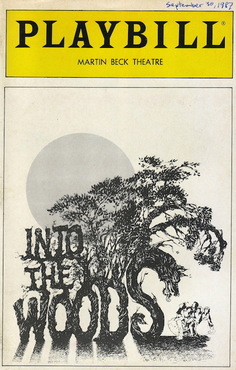 I saw Into the Woods an awful lot in the weeks before it finally opened on Broadway at the then newly restored Martin Beck Theatre. My old Playbills testify that I began with a preview on September 30 and then returned, weekly (courtesy of Tony), on October 7, October 15, October 20 and again on October 22. I attended Opening Night on November 5, and came back one more time on December 19.
I find that on October 21, I audaciously typed up my own notes under the header: "Our Most Glaring Problems." These included suggestions for solving "The Witch's Onstage Transformation," "The Death of the Baker's Wife," and "The Giant's Head." I'm quite certain no one ever read a word of this.
Into the Woods has never entirely been solved, which hardly diminishes its beauty. I know I wept silently the first time I heard Kim Crosby and Chip Zien, as Cinderella and the Baker (with Little Red Riding Hood and Jack), sing "No One is Alone," accompanied by only a rehearsal piano. I choked up again when Ben Steinfeld and Claire Karpen sang it, accompanied by the Fiasco production's lone piano, just as I grew teary when Anna Kendrick and James Corden delivered the song in the recent film, enveloped by a sumptuous symphonic orchestration.
In fact, it has been marvelous to discover different nuances of detail in Stephen Sondheim's deceptively complex score, as revealed by the Fiasco production's stripped-down simplicity, on the one hand, and the symphonic sweep of the movie.
Which works better, you might well ask, at presenting Into the Woods overall: the film with its dazzling effects, or Fiasco's consummately theatrical prestidigitation? The answer, of course, depends on how you like your fairy tales. If you perceive story telling magic as something external and wondrous that expands your own powers of imagination, then Into the Woods-the movie is transcendent. If, for you, however, fairy tale-magic is an internal combustion, a power that you imagine, then Fiasco's re-imagined Into the Woods triumphs.
"Did you ever think of Into the Woods as a show written for kids?" I asked Mr. Sondheim. "No," he retorted. "But certainly for both children and adults." Had he ever taken a child to see it? "No," he said, "but I have seen it with an audience of kids a number of times."
A few weeks ago, I went to see my brother Mark perform in a charming piece of children's theater called Rapunzarella White: A Fractured Fairy Tale, by June Rachelson-Ospa and Daniel Neiden, at the tiny, venerable, 13th Street Repertory Company theater in Greenwich Village. On display was the same kind of brazen quick-change sleight of hand that distinguishes the Fiasco Theater's take on Into the Woods, in service to the same sort of fairy tale mash-up aesthetic. Of course, Sondheim and librettist James Lapine's creation is a tough commodity for comparison. Still, both shows left me reflecting on how fraught mixing fairy tales with theater can be. The combination, over the years, has yielded some pretty mawkish stuff. On those rare occasions when the two sublimely merge, however, the results make wide-eyed children of us all.
Calling all HuffPost superfans!
Sign up for membership to become a founding member and help shape HuffPost's next chapter