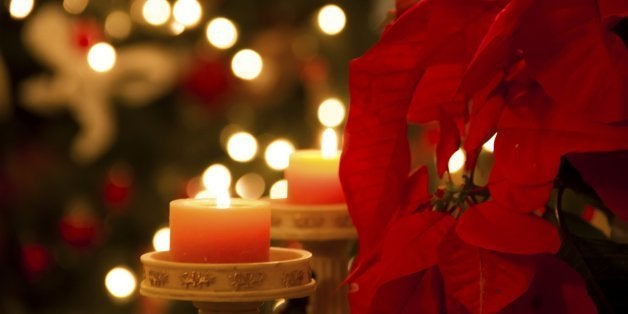 Christmas. It's the most wonderful time of the year, right? Or, at least, it's supposed to be. I am not sad or depressed but I'm not my usual cheery self either. Christmas is beautiful and joyous but in 2008, for me, it became the worst and absolute saddest time of year. My mother died a few short days before Christmas. It seemingly came out of nowhere and I wasn't prepared. Not that you can ever be prepared, but I wasn't. Christmas was our time. We would go nuts with decorations, go all out with gifts and really spend the time to reflect and rejoice, as well as the obligatory holiday squabble about where to place the nutcrackers and the gigantic Santa Claus. Christmas was our special time.
My father died years before and my siblings were both married with children of their own, so most of Christmas Day, late afternoon into the evening was just for my mom and me. We always ate Christmas dinner early so my siblings could go and spend time with their in-laws. Mommy and I were left to get the house back in order, nap, watch TV and nibble on the endless buffet of turkey, ham, and her famous cornbread stuffing, made from scratch gravy and her out-of-this-world pound cake. Christmas was our time, and it made me really appreciate being her baby, because I didn't have to share her! Getting my mother all to myself when the holiday hustle was over was better than any gift under the tree. Her presence was always my favorite present.
I recall years ago having a conversation with my mom. I was in my late teens and we were in the backyard in a hammock. We were talking about modern life and all that it had to offer, versus when she was growing up, and the limitations there were for women and especially, black women. Somehow or another, the topic of death came up and she told me that when she died she didn't want me to mourn over her, but to rejoice and be glad for the time that we had. My mother was a devout Christian, and believed that we would see each other again. As a young girl, I didn't even want to be thinking about this! I remember telling her that I hoped we died at the same time, because losing her, especially after my Dad, would just be too painful. Morbid, right? But, it's true.
As a young girl growing up, of course, my relationship with mom was a totally different story. Back then in my tweens she was my sworn enemy, the disciplinarian and a human truth serum. There was no lying to the woman! It seems so silly right now, but I couldn't stand her or my sister. I was a daddy's girl and they both felt like my Dad let me get away with murder. I guess to them, he did (okay, he did!) but my father also gave me my freedom to express myself and to really believe that I could do and be anything. I can't help but be thankful to him for that.
My mother, on the other hand, was much more scared of the world we lived in, and tried to box in her very outspoken daughter, for fear of what that attitude would cost her. Naturally, I rebelled! I wanted to be me! But Mom, she didn't want the world to hurt me. She was overprotective out of love, and I couldn't understand it then. As a grown woman with a different perspective, I understand her so much more now, and there are still so many things that I wish I would have said. I said a lot, but the feeling of wishing I'd said even more hasn't left me in these years I've been without her.
When my Dad was dying, he called my mom, sister and I into his hospital room, with his brother there as a witness of sorts. He made the three of us promise to get along and be there for one another. He said he could not rest peacefully in Heaven if his girls were on earth raising hell! He knew I had plans to get out of dodge, and made me promise to go to a college nearby to be close to my family. He wanted me to give my sister and my mother a chance and he wanted them to give me a break. We all agreed -- I think mostly, to grant a dying man his wish! But something miraculous happened as time went on. My mother and I grew so close -- closer than close. She became my best friend. We spoke every single day, sometimes multiple times a day, even after I moved away for college (45 minutes!) and eventually, to start my career. She became my confidant, my cheerleader, my spiritual leader: the person who kept me grounded. When I screwed up, she called me out, always giving me just the right amount of tongue lashing to learn from it, so I wouldn't make the same mistake again. She was my everything.
When I was diagnosed with cervical cancer, she became my nurse. Even now, I am grateful in a weird way for having had cancer, because I am grateful for the time it gave my mother and I. She was with me for months, taking care of me and nursing me back to health. During that time we grew to have a deeper understanding of each other, and shared many beautiful moments. I was happy to have her to myself -- I was fighting cancer, but she was my Christmas angel every day.
The truth is, when my mother died, a part of me died with her. No one ever tells you that can happen. I don't know how to explain it, but if you have ever lost your mother, you'll know exactly what I am talking about. I loved my father more than anything and I didn't know how I would go on without him. But it was very different, losing my mother. She was the glue that kept our family together. After she died, we felt disjointed, even though we were a close-knit family. We tried to keep the family traditions going but we were broken, unsure of how to pull together again.
These days, we are finally finding our footing with life without our matriarch being physically with us. We speak about my mother and father as if they are sitting with us. We keep their memories alive. The great grand kids know their names and about their lives. At times, there is a sadness that falls over us, knowing that life can and will go on without the people we love, and sometimes it feels like the weight of that reality is impossible to bear. But we go on. We have to. Even when I think I am at a place where my heart isn't as broken, I'll suddenly find myself walking smack into a memory or smell that takes me to that bittersweet place: happy for what I've had, and sad for what I've lost. While I still long for the holidays of long ago, and I just don't have the love of all things Christmas in the same way, what comforts me these days is the love of my family, my husband, and my step-daughter, who bring me new joy with each year that goes by.
I sometimes think that people who haven't lost a mother will never understand that it's not something that you "get over" one day, that the waves of emotions will come and go for the rest of your life. You never know what will spark a memory. My sister often reminds me that in the Bible it says, "sure enough as we are born, that we will die." It's true. But knowing it's coming "someday" doesn't make it any easier when the day arrives. Whether you've lost a parent, a child, a friend, or someone else you love, a loss is a loss, and we're all just doing the best we can. We are all survivors, finding our way and making new Christmas traditions. The most important thing to remember is that we are doing them together.
To every motherless child at Christmas, know that you are not alone. You are entitled to your feelings. It's okay if you are sad and want to cry, even if the world tells you it's the most joyous time of year and your attitude is unwelcome. It doesn't make you the Grinch to shed a tear this Christmas for what you've survived. I've been there, and I'm with you.
Calling all HuffPost superfans!
Sign up for membership to become a founding member and help shape HuffPost's next chapter