You just can't find good undercover help these days.
Staff for Senate candidate Russ Feingold, a Wisconsin Democrat, busted a right-wing activist who attempted to infiltrate the campaign as a volunteer Wednesday, they said.
The unmasking comes after conservative provocateur James O'Keefe, who specializes in these types of stings, blew his own cover in an attempt to run a sting against George Soros ― by forgetting to hang up the phone after leaving a voicemail. (That'll get ya every time.)
The Feingold sting apparently fell apart thanks to profiling on the part of the campaign. The would-be infiltrator was blonde and drove a big white pickup truck, which staff said was part of the tipoff.
The woman, who identified herself as Allison Moss, told Feingold staffers that she had been active in College Democrats at the University of Minnesota and wanted to get involved in the campaign. She also signed a nondisclosure agreement with the campaign under the same name.
But after a Feingold staffer began pressing Moss on some of her past work, her backstory started unraveling. The staffer said someone on the campaign had gone to the University of Minnesota and remembered Moss as a member of the College Republicans. Moss denied being involved. They also asked her whether she worked for the right-wing group Campus Reform and whether she gave a false name on her nondisclosure agreement.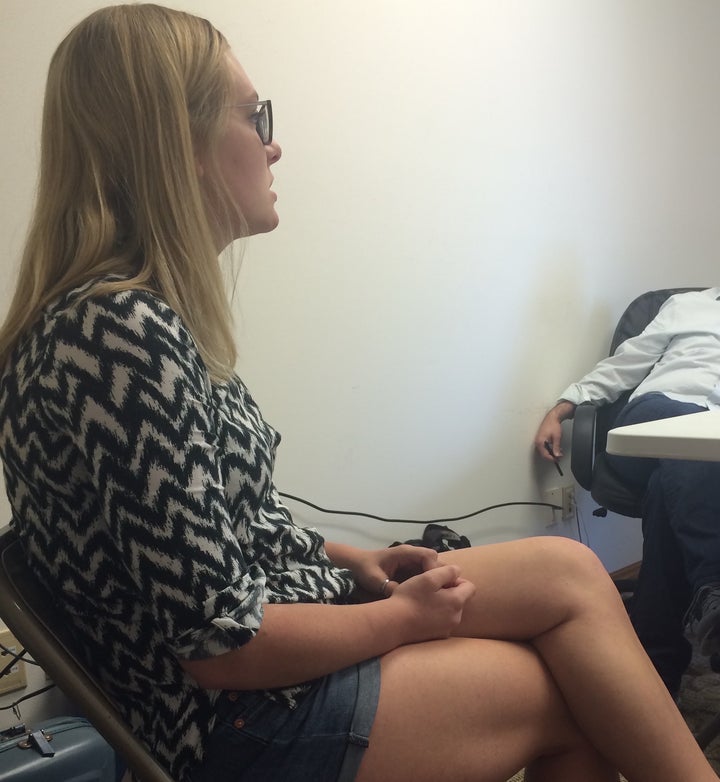 Moss initially denied charges of infiltration but eventually refused to answer questions altogether. In audio reviewed by The Huffington Post, she was nervous and evasive, giving answers that certainly aren't typical of the usual enthusiastic political volunteer:
FEINGOLD CAMPAIGN: Can you tell us if you're working for anyone in particular?

MOSS: I'm not really going to answer any questions.

FEINGOLD CAMPAIGN: Or whether you're recording us?

MOSS: Not really going to answer any questions.
Moss appears to be Allison Maass, a correspondent for Campus Reform. Her author page says she "exposes liberal bias and abuse in the Land of 10,000 Lakes." The group is a project of the Leadership Institute, an organization committed to building up conservative activists that spawned James O'Keefe.
Neither Maass nor the Leadership Institute immediately returned requests for comment. An Allison Maass is registered to vote as a Republican in Westchester County, New York. The number she provided on her Feingold form has a Yonkers area code.
A Clinton campaign official alleges that the women engaged in several efforts to entrap supporters. In one scheme, described by Clinton staff, a woman attempted to pass a cash donation to Clinton volunteers and interns. In another, a woman approached the campaign on Aug. 19 and said both her parents had donated to Clinton the legal maximum of $2700 each and wanted to funnel an additional donation through their daughter, a violation of federal law. On Aug. 13, a woman claiming to be Canadian approached another Clinton fellow to ask how to falsify an address for a campaign donation.

In another instance, a woman volunteering with the Clinton campaign on voter registration efforts in Iowa City returned to the campaign's office in Des Moines and asked whether it was okay that she refuse to register people who don't support Clinton, the campaign official said. The Clinton campaign maintains that its policy is to register all voters, regardless of their preference in candidates.

The women presented themselves as Allison Holmes, Jess Koski, and Jess Jones, according to the Clinton campaign, which collected names, email addresses, and phone numbers for the women. All gave the same phone number, which is listed on the website for the University of Minnesota-based Students for a Conservative Voice. Messages left at the number by TIME requesting comment were not returned. The women did not identify themselves as part of O'Keefe's group, the campaign said.
UPDATE: Aug. 18 ― Campus Reform told the Milwaukee Journal Sentinel that Maass hasn't been affiliated with the group since she graduated from college in the spring of 2015. The campaign of Sen. Ron Johnson (R-Wis.), whom Feingold is challenging, also said it had no affiliation with Maass.