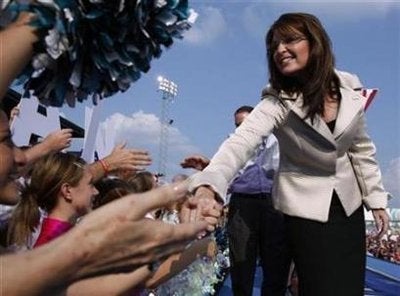 Palin, a lifelong member of the National Rifle Assn., started her career as a member of her local city council in Wasilla, Alaska, a town about 45 miles outside of Anchorage, in 1992. She was elected Wasilla's mayor in 1996, when the city's population was about 4,600, according to a 1997 press report (via nexis).
In this role, Palin acted in a way that eerily foreshadows her recent actions while governor. Early in her tenure as mayor, the city council threatened to recall her over accusations that she fired the city's police chief, Irl Stambaugh, and the library director, Mary Ellen Emmons, without warning. She accused them in a letter saying: "I do not feel I have your full support in my efforts to govern the city of Wasilla. Therefore I intend to terminate your employment ..." (The Anchorage Daily News, via nexis) ...
The matter did not follow her as she rose to higher positions in Alaska. In fact, the first firing was nearly forgotten, even when the second firing scandal broke. Perhaps in a state desperate for a reformer, Palin's anti-money-for-votes persona resonates more strongly. In the coming weeks and months, we'll find out if does on the national stage as well.
REAL LIFE. REAL NEWS. REAL VOICES.
Help us tell more of the stories that matter from voices that too often remain unheard.
Read more on Washington Independent