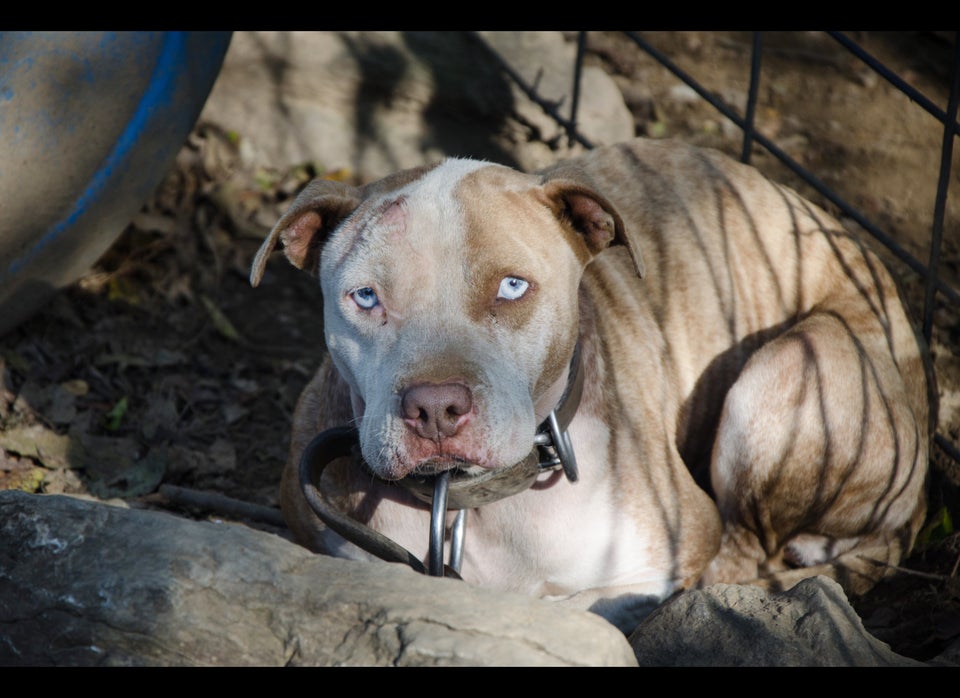 Operation Off the Chain
As the sun came up over Kodak, Tennessee, yesterday morning, our HSUS Animal Rescue Team drove with U.S. Marshals and the Sevier County's Special Operations Response Team down a long, rural road. As they approached the house at the end of the road, our team members saw just three dogs. But after law enforcement officials entered the house, our team discovered many more dogs cowering in the back of the steep, wooded tract of land.
Our team ultimately found 50 dogs on the property - most chained to posts driven into the ground, with nothing more than a modified plastic barrel for shelter. Some of the dogs, who ranged in age from four weeks old to mid-teens, had scars consistent with dogfighting. Others showed signs of neglect, with ribs and spine visible, and they needed emergency care. We transported the rest of the dogs to a temporary shelter, where they'll receive veterinary care and evaluation for potential adoption placement with HSUS Dogfighting Rescue Coalition placement partners.
Dubbed "Operation Off the Chain," yesterday morning's rescue was the culmination of months of hard work by the Sevier County Sheriff's office and our Animal Rescue Team. Our animal fighting investigators had been tracking the owner of this property for years, suspecting that his kennel website sold dogs for fighting, but lacking the evidence to prove it. Then, a few months ago, Janette Reever, our deputy manager of animal fighting response, got a phone call from Sevier County animal control officer Phil King. Deputies from the sheriff's office had noticed suspicious numbers of pit bulls chained up behind the man's house while investigating a marijuana growing operation
In the following months, Reever and her team unearthed more evidence linking this individual to dogfighting. Once there was enough evidence, the sheriff's office moved swiftly to set up yesterday's rescue together with The HSUS and the Blount County SPCA, with PetSmart Charities donating much needed supplies.
This is just the latest in a string of recent operations by our animal rescue team in Tennessee. Since 2006, our team has worked with law enforcement to rescue over 3,000 animals from cruelty and invested over a million dollars caring for those animals. In June, we joined with the Bradley County SPCA to rescue 101 dogs from a puppy mill operation, and to provide temporary shelter, veterinary care, and adoption placement for the dogs. In April, we assisted the Nashville Police Department with another large dogfighting rescue. And we're still caring for Tennessee walking horses that we rescued from the operation of disgraced trainer Jackie McConnell, whose cruelty we exposed in a 2012 undercover investigation.
But we know that we can't rescue our way out of systemic animal cruelty. So we're working to change the legal landscape in Tennessee, passing legislation to regulate puppy mills, toughen penalties for convicted animal abusers, provide longer holding time for stray animals in shelters, and to prevent accidental poisoning of pets and wildlife. Together with our supporters, we've also defeated multiple bills that would have legalized the sale of horse meat for human consumption in Tennessee, allowed breed discrimination, and criminalized whistleblowers of animal abuse through "ag-gag" legislation. And we've now trained over 450 Tennessee law enforcement, animal control officers, and district attorneys on illegal animal cruelty and fighting investigations.
I hope you'll join me today in congratulating the Sevier County Sheriff's Office, our Animal Rescue Team and the Blount County SPCA staff on yesterday's rescue. And I hope you'll commit to stand with us in Tennessee as we continue our fight to wipe out the scourge of cruelty to animals.
Related
Popular in the Community