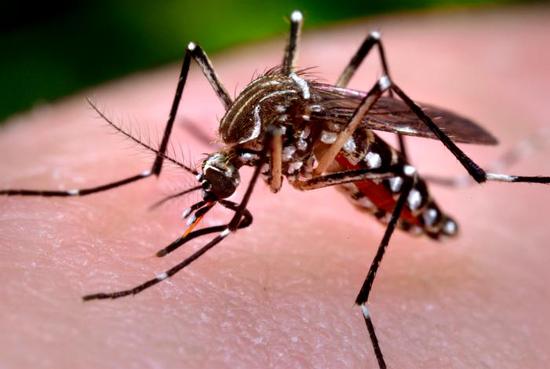 And unfortunately, a hard disease to control.
CDC has been tracking the chikungunya virus for the past seven years, waiting for its arrival in this part of the world. The disease crossed the Atlantic last month with the first confirmed human cases on the French side of the Caribbean island of St. Martin.
It has not been detected in the United States. Not yet.
This mosquito-borne disease causes fever, headache, fatigue, nausea, vomiting, muscle pain, rash, and joint pain lasting around a week. It's rarely fatal but can make you pretty miserable while you have it.
The name 'chikungunya' comes from the Makonde language and means 'that which bends up,' referring to patients who often bend over in pain. Symptoms resemble those of dengue, another serious mosquito-borne infection common throughout the Caribbean islands. At present, there is no vaccine and no specific treatment for the infection.
And now it's close to our own borders and likely to spread within the Caribbean in the coming months and years.
While chikungunya isn't a new virus (there've been outbreaks in recent years in Africa, Southern Europe, Southeast Asia, the Indian subcontinent, and islands in the Indian and Pacific Oceans, with well over a million cases) this marks the first time the disease has been reported in the Americas among people who hadn't traveled to other parts of the world.
Even more concerning, the mosquitoes that spread the virus (the same mosquitoes that spread dengue virus) are found in many parts of the United States. Maps of the distribution of these mosquitoes are on the CDC website.
Microbes know no boundaries, and neither do mosquitoes. Planes and ships can easily bring infected mosquitoes to the mainland. In addition, travelers who visit the Caribbean and become infected there can cause local transmission of the virus when they return to the United States if bitten by mosquitoes when they are still sick.
This makes chikungunya another in a long line of threats to American health security.
To help raise awareness among travelers, CDC issued a travel health notice advising those planning to travel to St. Martin to take steps to protect themselves from mosquito bites. These steps include using insect repellent, wearing long sleeve shirts and long pants, and using air conditioning or screens on windows and doors to keep mosquitoes out.
We're also working with other countries and international partners such as the Pan American Health Organization to increase laboratory and prevention capacity so threats are detected accurately and stopped sooner.
That protects people in those countries -- and it also protects Americans.
CDC is America's health protection agency. Along with our partners, our public health experts put their boots on the ground 24/7 to find, stop, and prevent new disease threats such as chikungunya -- both in our own country and across the globe.
Yet in the past four years, CDC's budget authority has been cut by nearly $1 billion, including nearly $600 million in the past fiscal year alone. These cuts hurt our ability to protect Americans against health threats, both old and new, including those from emerging and resistant microbes, natural disasters, and bioterrorism.
Despite budgetary challenges, our goal is to protect and improve the health of individuals, families, and communities, in our own country as well as across the globe. It's a passion that makes us feel fortunate to do the work we do, and committed to controlling threats to America's health security.
Even when those threats are hard to pronounce.
Related
Popular in the Community