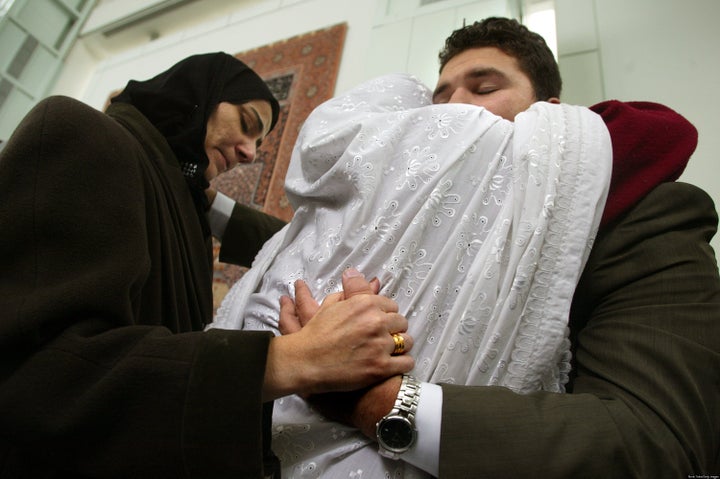 By Omar Sacirbey
Religion News Service
(RNS) When the subject of the proposed Islamic center near Ground Zero came up in Fahina Chowdhury's government class recently, the high school freshman at Oklahoma City's Classen School for Advanced Studies, spoke up.
"As a Muslim American, and as the daughter of someone who was killed on September 11, I knew I had to say something," Chowdhury, 14, said.
Chowdhury told classmates that Muslims condemn terrorism, and that the 9/11 terrorists killed people of all faiths.
She didn't reveal that her father, Mohammad S. Chowdhury, a waiter at Windows on the World restaurant on the top floor of the World Trade Center's North Tower, was a 9/11 victim. Dealing with school and trying to be "normal teenager" was pressure enough, and Chowdhury didn't want the added attention and sympathy.
Still, Chowdhury, whose younger brother Farqad was born two days after 9/11, said she wished more Americans knew Muslims were also killed on 9/11, and that she was saddened by the recent wave of anti-Islamic bigotry.
She and other Muslims who lost loved ones on 9/11 say opponents of Park51, as the Islamic center planned two blocks north of Ground Zero is known, conflate Islam with terrorism, ignore that many Muslims were killed on 9/11, and even equate Muslim victims with the terrorists who committed the attacks.
"Muslim people are victims also," said Chowdhury's mother, Baraheen Ashrafi, who moved to Oklahoma in 2002 to live with her sister. "My husband, he never got to see our son. People like us, we shouldn't have to face these kinds of things."
Talat Hamdani, whose son Salman, a New York City Police cadet and emergency medical technician, was killed 9/11 trying to help the injured, agrees. "We did not kill, we did not attack. We were attacked. We were one of the victims," she said. "Salman was also murdered, and yet we've been carrying the cross since 9/11. We refuse to carry the cross anymore. Enough is enough."
To highlight that Muslims are Americans who also felt attacked on 9/11, the Council on American-Islamic Relations released three public service announcements on Sept. 1, featuring Muslim Americans who were first responders on 9/11. "9/11 happened to us all," the ads say.
Opponents to Park51 have included both of New York's Republican gubernatorial candidates, and potential GOP presidential hopefuls Sarah Palin, Newt Gingrich, Mitt Romney, and Tim Pawlenty.
"Nazis don't have the right to put up a sign next to the Holocaust Museum in Washington," Gingrich said on Fox News in August. "We would never accept the Japanese putting up a site next to Pearl Harbor. There's no reason for us to accept a mosque next to the World Trade Center."
In July, Sarah Palin tweeted, "Peace-seeking Muslims, pls understand, Ground Zero mosque is UNNECESSARY provocation; it stabs hearts. Pls reject it in interest of healing."
Such rhetoric angers Hamdani, who said she has her own comments for politicians who make them.
"You did not lose a child in the 9/11 attack. You don't know what it is that we went through. And you are a very immoral person to exploit our tragedy for your selfish political goal," Hamdani said.
"Why should we as Americans be punished for the actions of foreign terrorists? We have to be acknowledged as equal Americans, as people of any other faith. To be refused, as a whole people, the right to build? No. It's not right," she added.
Palin, Gingrich, and Pawlenty did not reply to request for comment about whether their criticisms of the Park51 project equate terror victims with terrorists.
Ashrafi and Hamdani said making all Muslims responsible for 9/11 would be like making all Christians responsible for Timothy McVeigh, the Oklahoma City bomber who was involved in Christian militia movements.
While most families of 9/11 victims are accorded a special respect, that status hasn't always shielded Hamdani and Ashrafi from bigotry.
Hamdani said because her son was a Muslim, authorities investigated whether he was connected to the 9/11 plot. FBI agents interrogated Talat Hamdani and her now deceased husband, while a New York Post headline asked if her son was, "Missing or Hiding?" Only when Salman's remains were found at Ground Zero six months later was he cleared of suspicion and recognized as a first responder and a victim.
"He was an NYPD cadet, he was an EMT, he was a first responder, and he wasn't given dignity," said Hamdani.
Ashrafi, who wears a hijab, said teenagers hurled coke cans and anti-Muslim epithets when she picked-up her daughter after school a few years ago, while at a local grocery store, a customer muttered something about "Muslims" before switching out of her check-out line. In another shopping experience, Ashrafi offered to get a product that a wheelchair-bound woman couldn't reach. The woman told Ashrafi she didn't "need help from a Muslim."
"These kinds of small things I have experienced, but so far it's not a big issue," Ashrafi said.
Despite the anti-Muslim bigotry she has faced and seen on the news, Ashrafiteaches her children to respect and get to know others, and says children of all faiths have befriended her kids. "I don't like that way, to have barriers between religions. I want my kids to grow up respectful of all religions. You deserve respect, and you have to show respect to other religions."
Ashrafi said she hopes someday to visit New York City, and that she would visit Park51 if it ever gets built. She acknowledges being shaken by recent attacks against Muslims, including the knifing of a New York taxi driver in August.
Nevertheless, she has no intention of leaving America. "My kids are born here, it's their country. And my husband, he died here, so I never think about moving somewhere else. I want my grave to be here, because this is my home," she said.
Related
Popular in the Community