It is time for closure, because we humans are like that: we draw conclusions, add full stops, analyze facts, look back, and then make efforts to move on. We work on projects so we move forward. Or so we believe. Or so we believe because we want to try hard to make plans with an eye to a future about which we are honestly uncertain. Because we never know where the present is going to take us in the end.
I will make closure too, I am no exception...I remain human, I guess.
This was a strange year. I spent the first part of it motionless, letting the waves of this ocean I sometimes call life hit me hard as I battled against it and everything. But I did not move. I observed and looked at the horizon, trying to understand why I was here, what my feet were doing, where my head was flying to.
Little by little a thick flow of anger and strength and power started growing inside me, erupting like a volcano and spilling out of my mouth every time I opened it. It wanted to come out as words, as screams, as a protest. Nothing. There was just anguish and silence. I could just stare ahead, my mouth wide open as in wonder. It was not wonder. It was fear.
I could see the horizon in front of me. I could see all that was wrong, all the things I wanted to be different, all I wanted to change. But I still couldn't move, say a word or take a step. And there I was, in front of a sea of wrong things, my feet soaked by it, and my intentions clear. I wanted another ocean. But I didn't dare. These waves were violent, but yet I knew them. And so I stayed . . . Just a bit more. I knew how to defend myself around there.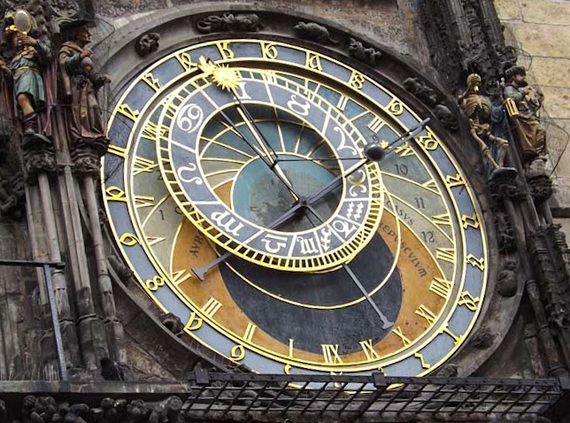 The clock struck forty-one. Bells began to chime from within. So was I still alive? Was I still good? And well? Was I still well? Were my values still there? And my desires? My dreams? My wishes? Was there any time left, or was I just turning my own personal corner? I had to do it. It was then. It had to be then. That then was my now.
I had to change that sad marine landscape of my soul, change it into a children's fairy tale. I needed that so I could be reborn, believe again. I had to go back to Wonderland and make a new beginning, there was still time to be me. I had to be me.
The clock struck forty-one and Prague was my gift. I let the magic of Medieval times cast its spell, take the darkness, the anguish, the shadows with them. Witches of the past came to me and we made a deal, they offered me trust and acknowledgement, and a whole new wisdom, self-approval, self-understanding. In exchange, they could feed from my fears, my insecurities, my teen reminiscences. They made me promise myself I had to be where I wanted, and that I was not going to negotiate. Not anymore. They knew I was a mother, a wife, and had a well-established career. But, they also told me not to forget that I was also a woman.
I buried the past and cried over it. I will never forget the tears of Prague. They were copious and bitter. But necessary.
They gave me strength. The power to come back and make changes. If that ocean in front of me was not what I needed, I just had to go in the opposite direction, go south instead of north. Be where my heart told me to go and not where others wanted me to be.
Six months have passed since that day, and changes are starting to be seen. I have come a long way; or is it a just a short way, but this time it's my way. The ocean is calm, clear, and it does not hit me anymore . . . it just reminds me that wet does not always mean tears. It can be rebirth as well.
Intoxicating things are over. It was painful, even economically painful; however I still remember the voice of Prague begging me never to lose faith in myself. New things are coming. New expectations, dreams and horizons. This time, I won't let go.