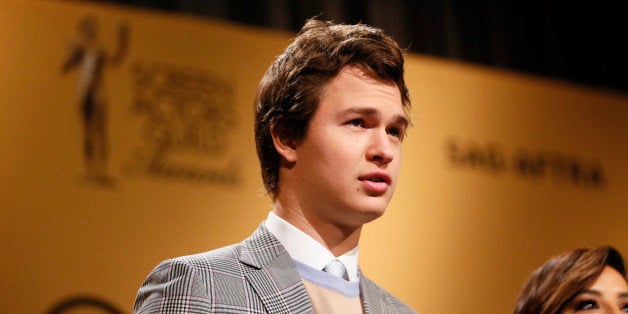 Actor and music producer Ansel Elgort has gotten back together with his high school sweetheart, Violetta Komyshan, after a brief breakup back in August. It was reported that the couple allegedly spilt because the Fault in Our Stars actor felt he was too busy to maintain a relationship while touring nonstop for movies and continuing to work on his music. A lot of times these first love relationships hit fast and furious, but when high school ends, many of these connections also come to an end, not by choice, or because they are unhappy, but rather because of practicality. As a result, the longing for the opportunity to maintain the relationship can live on.
Because they are recently out of school, Ansel and Violetta are still able to tackle some of the obstacles that need to be dealt with in order to see if they can keep their relationship going. Many people don't get that opportunity. So as a result, for some there is a real feeling of loss and sadness, and even longing for that person or relationship that was left behind. So if your first love is continuing to cause you feelings of regret, what can you do?
It is a topic we revisit over and over again in poems, books and movies. From Splendor In The Grass to Endless Love to The Fault In Our Stars, it is fair to say we are taken with young love. Everyone remembers their first love, so everyone can relate to this. As all these movies show, it doesn't always end well. Or at least, in many cases the young lovers don't end up together, whether due to parental disapproval, distance, college choices or whatever other reason.
For many, it brings unwelcome heartache. It can be hard to keep the unhappiness from lingering. The challenge is to hold on to the thrill and excitement that the romance brought you, and remember how you experienced yourself come alive with this first intimacy. Embrace and celebrate what it was rather than dwell on the pain of what no longer exists. Reflect on what you gained and how it transformed you into the person you are today. In other words, as William Wordsworth wrote in his poem Splendor In The Grass, which is quoted in the movie, "Though nothing can bring back the hour of splendour in the grass, of glory in the flower, we will grieve not, rather find strength in what remains behind."
While some are left with never knowing how it could have been, Ansel and Violetta are lucky to be able to take the opportunity to give their relationship a chance and find out.
Please tune in to the Doctor on Call radio hour on HealthyLife.net every Tuesday at 2:00 p.m. EST, 11:00 a.m. PST. First and third Tuesdays are Shrink Wrap on Call, second Tuesdays are HuffPost on Call and the last Tuesday of the month is Let's Talk Sex! Email your questions dealing with relationships, intimacy, family and friendships to Dr. Greer at askdrjane@drjanegreer.com.
Connect with Dr. Jane Greer on Facebook, at www.facebook.com/DrJaneGreer, and be sure to follow @DrJaneGreer on Twitter for her latest insights on love, relationships, sex and intimacy.
Popular in the Community