Playwright Branden Jacobs-Jenkins's "An Octoroon" was met with lusty laughter at the Wilma Theater with its scabrous reimagining of an 1859 minstrel play about slave life on the plantation. One thinks of the epic satire of Swift and the unhinged cheek of Springtime for Hitler.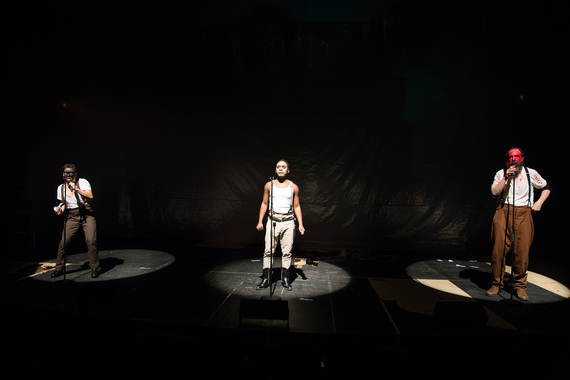 James Ijames saunters onstage in white underwear as BJJ, a struggling black playwright who is fed up with the struggling part, so he tells his therapist, a white woman, who tells him he is probably blocked because he has hidden anger against white people. He tells her that actually he has been obsessed by the characters and implications of a minstrel melodrama by Irish playwright Dion Boucicault. He slugs down half a bottle of vodka and puts on white face makeup and the play unfolds as a scathing expose of America's manifest racist past.
The Philly band Ill Doots hangs out upstage and accompanies with rap-rock-folk soundtrack as BJJ's trippy version of antebellum phantasmagoria commences.
Ed Swidey staggers on as the proxy Dion Boucicault drunk off his ass bragging about the Winter Garden Theater (where Boucicault's play opened under police guard) and gets into an F-bomb shouting match with BJJ.
Swidey, a white actor, is putting on redface make-up to play Wanotee, a Native American character and Justin Jain, who is Asian American, is getting up in blackface to play Pete, Terrebonne's head house slave in minstrel extremis and Paul the 'slow' slave fieldhand.
In whiteface, Ijames plays George has just returned from France, to help his dying relatives who are about to loose the plantation and also portrays the white slave trading villain M'Closky, who is circling the plantation like a vulture in heat. Meanwhile, Dora, the unctuous belle, played with icy reserve by Maggie Johhson, tries to woo George into marrying her in between spewing racist bile toward any slave in sight. George though, has fallen in love with Zoe, who has 1/8 black blood but otherwise usually can 'pass' for white.
As the plot continues to thicken, Dido, Minnie and Grace are house slaves who fill each other in on the doings of the white masters and in between backbreaking work, humiliation and the threat of being raped, put all this swampy melodrama into hilarious perspective Zoe is so distraught after her first time on the auction block that she tries to poison herself. Dido asks Minnie "why does she keep calling me mammy, she's as old as me." Minnie sums up 'she a mess.'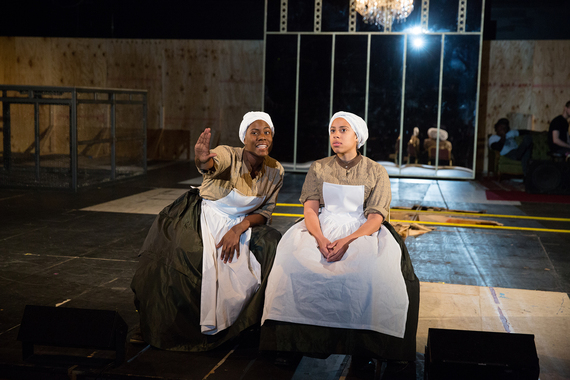 Alina John is the pregnant Grace who is unsure who the might be. Jaylene Clark Owens is the practical Minnie and Taysha Canales the hapless Dido and all three actors are equally good conveying the absurd comedy and the towering pathos of their lot in life.
But how many jokes can be comfortably milked about slaves being sold, abused and considered property? At what point is it a question of buying in to the need to laugh at this history instead of really dealing with the reality of it? The play pushes it right to the boiling point to wake everyone up to its core issues with characters slinging racial slurs and demeaning depiction of black stereotypes meant to cut to the heart of racial divides and throws all of the hubris at the audience.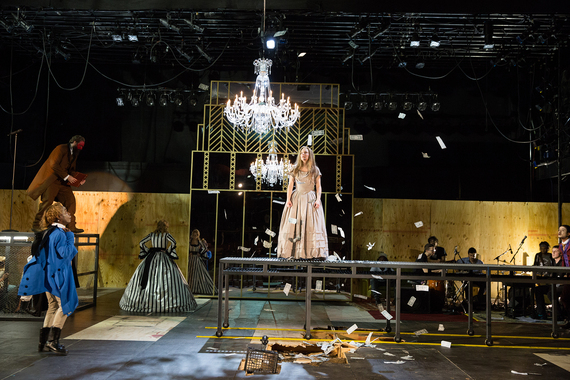 Enter Br're rabbit, the symbolic trickster, stoically hops around and surveys the mayhem. Choreographer Ayo Janine Jackson devises uniquely character for actor-dancer Aaron Bell who gives Br're chilling mystique.
In the slave auction scene James Ijames (in a split costume) plays both George and M'Closky at once in a knife fight with himself. It is the capper of an altogether tour de force performance by Ijames. Campbell O'Hare is equally good playing straight period melodrama as the self-loathing Zoe. Jain also brings scathing dimension to the minstrel stereotypes of Pete and Paul.
The entire cast is builds these out-sized characters with invention. Director Joanna Settle orchestras this fine cast through Jacobs-Jenkins' demanding, and often knotted balancing act between minstrelry and his brilliant theatrical polemics.
Matt Saunder's dilapidated 'backstage' set with floorboard, chicken coop/holding cell and a runway slave ramp is inspired. It is given added dimension by Thom Weaver's lighting and Zachary Beattie-Brown sound design. Tilly Grimes wry costume designs- from torn slave skirts to Dora's scary enough hoop dress and Br're's icy Mad Hatter/Prince garb- keep giving. ILL DOOTS (by all accounts one of best new band in Philly) add a vital dimension to this monster of a play.
REAL LIFE. REAL NEWS. REAL VOICES.
Help us tell more of the stories that matter from voices that too often remain unheard.