Through the years Anthony Anderson said he has been mistaken by fans for quite a few famous names, including Ruben Studdard, Ice Cube and Cedric The Entertainer. However, there was one particular case of mistaken identity that left the actor a bit confused.
During an appearance on "Jimmy Kimmel Live," on Tuesday night, the "Black-ish" star recounted a recent experience in South Africa where someone thought he was Idris Elba.
"While I was in Africa this summer, I was in the lounge flying back from Cape Town, I was taking pictures with the employees there and this lady walked up and was like, 'Who is that, who is that,'" Anderson said to Kimmel. "And they were like, 'Oh, it's an American actor.' And she was like, 'Oh, yes! Mandela!'"
Anderson went on to say that it appeared that the star struck woman was referring to Elba's role as Nelson Mandela in the 2013 film "Mandela: Long Walk to Freedom." 
"I was like, 'does this woman think I'm Idris Elba?' Either I've had a stroke of luck and upgraded, or Idris Elba fell the hell off! But out of all places -- in Africa, I was confused as Idris Elba."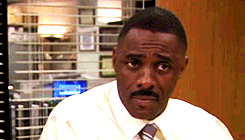 Check out Anthony Anderson's "Jimmy Kimmel Live" segment in the clip above.
PHOTO GALLERY
Idris Elba Photos
REAL LIFE. REAL NEWS. REAL VOICES.
Help us tell more of the stories that matter from voices that too often remain unheard.