It's the president's birthday! And what better way to celebrate than with a surprise party?
Except at this surprise party, all that awaits the guest of honor is an empty Queens diner, a few balloons and a cake. The attendees, with the exception of the party's organizer, the vice president, are missing in action. After only a few minutes, the commander-in-chief has had enough. With a temper as short as the guest list, his disappointment explodes into an orange rage. He smashes the cake to bits, throwing what's left of the frosty carcass onto the floor.
At what should be a joyful gathering, the devastated president dictates a twisted executive order to his No. 2: "Lick it up!" Thus, a pious man, who normally reserves time on his knees for prayer, reluctantly bends down to do as told, "like a dog."
"Happy birthday, Mr. President" never felt so disquieting.
This isn't a moment from the real life of President Donald J. Trump (as hard as it may be to believe), but part of a fictitious segment called "Donny Goes Home" from "The President Show," the Comedy Central series starring Anthony Atamanuik with Peter Grosz playing Vice President Mike Pence.
Atamanuik, with his pitch-perfect Trump impression, is at the center of something unlike anything else on TV: a comic send-up that imagines the now president and former "Apprentice" star hosting another TV show, this one a weekly late-night series in which he holds court with the American people directly from the Oval Office. It's a bizarro fireside chat perfectly suited for an unhinged political reality.
The kind of grotesque caricature of Trump in "Donny Goes Home" isn't the exception to the show, but the rule.
"I like the darkness," explained Atamanuik, the show's creator and star.
In an interview with HuffPost, the comedian broke down why such unsettling material can be so valuable.
"We don't have to look at the bad things. We don't have to look at our history," Atamanuik asserted. As he put it, American citizens safely ignore the "ill that our society is built on," preferring to remain in a state of blissful ignorance and repression. By addressing this ill head-on and "putting a fun spin" on it, Atamanuik said it's possible to understand it in a deeper way and "have ownership and authorship over how it gets presented."
The Upright Citizens Brigade veteran often explored uncomfortable themes in his shows at the New York City improv theater.
"Some things were very dark," he explained. "I delighted in showing sort of the dark edges of us and our society and myself and ideas, you know, that circulate in our world now."
His penchant for deconstructing the disturbing with humor, a thread that runs from his time at UCB to his current show's fictitious Oval Office, all started in Atamanuik's native Massachusetts. Born in the town of Topsfield and raised in the city of Chelsea, his family lived in a double-decker house — he lived downstairs with his mother and stepfather, who were often away teaching and studying for a doctorate, respectively, while his grandparents lived upstairs. He spent a good amount of time with his grandparents, who owned what was ― in the early 1980s ― a cutting-edge technology: cable TV.
"I'm like weirdly almost multi-generational because I spent so much time with [my grandparents], so like I watched 'Burns and Allen' and 'Dick Van Dyke' and 'Your Show of Shows,'" Atamanuik recollected.
Even in this classic comedy fare, Atamanuik recognized a disconcerting edge.
"If you go back and actually watch a lot of those, they're very dark. You know, 'Jack Benny' is a dark show," he said. "There's a lot of darkness there. It's just wrapped in very sort of light, smart writing."
As a young kid stewing in both classic and modern television, he began to develop his own personal comic idols. "I was a huge fan of, like, Marty Feldman and Gilda Radner and Madeline Kahn and all the Mel Brooks movies, and you know, 'The Twelve Chairs,' which barely anybody knows."
Besides the comedy he was consuming at home, Atamanuik started to find outlets for his own early attempts at performance, too, doing stand-up in the junior high talent show, always setting his ambitions toward something in "acting or film or comedy."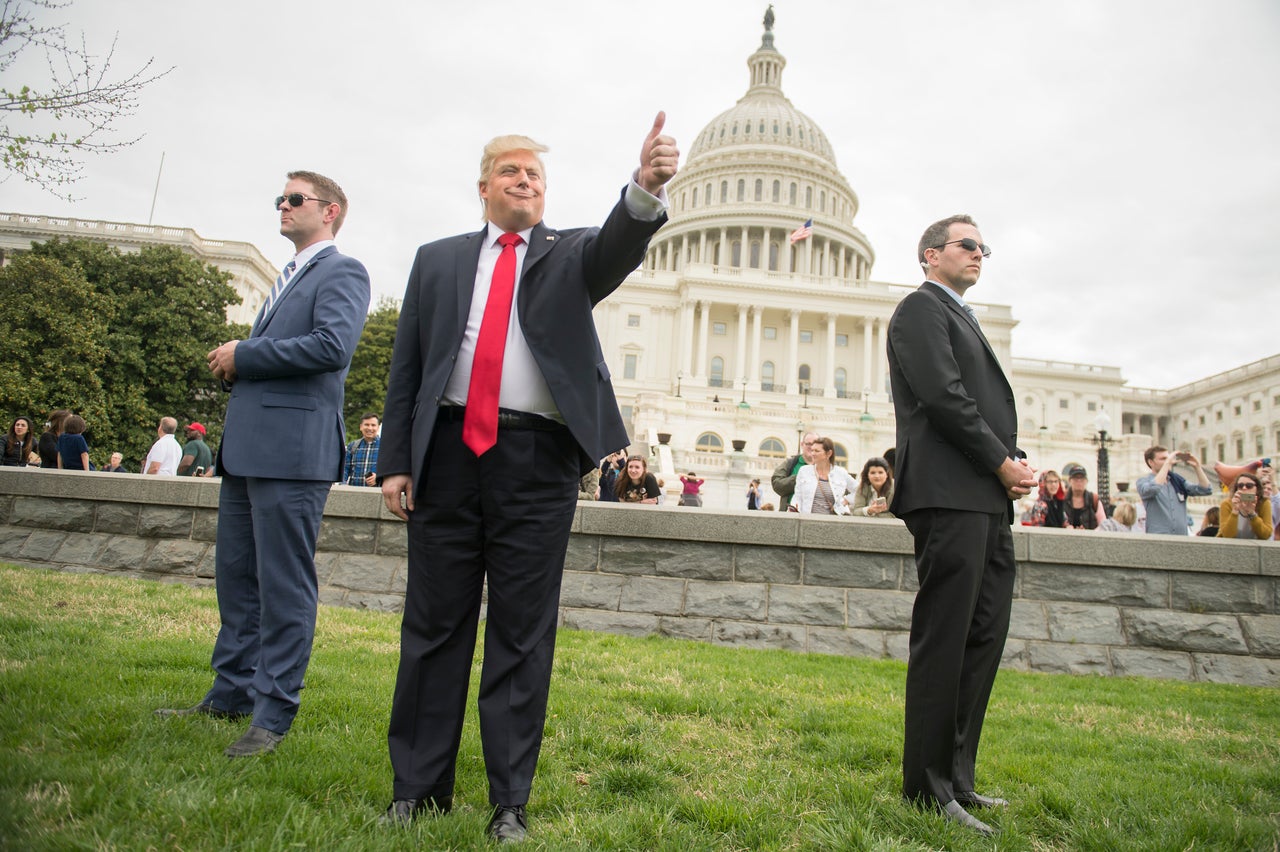 He wound up at Emerson College in Boston and, through a school program, landed a job in the mid-'90s at the internet division of The Jim Henson Company in Los Angeles. It was there that the budding entertainer began to find artistic inspiration, again from the past.
"I actually used to watch a lot of Jim Henson's short films that are not available," he recalled.
Watching old material by Henson and Frank Oz, he was enthralled by their "funny art, punk, comedy" material, describing the two as "acid heads" in their tone. Inspired by the legends behind the Muppets, he began to envision an artistic path for himself through comedy, becoming less interested in making his way through the tedious hierarchy of the motion picture industry.
In 2000, Atamanuik moved to New York, where he eventually landed at the UCB theater after a year-and-a-half stint of classes at the now-defunct Gotham City Improv, "because the classes were $50 cheaper than UCB." He'd seen shows at UCB starring future collaborators like Curtis Gwinn, John Gemberling and "President Show" executive producer Adam Pally, and had been impressed by how "cool" the place was. He took classes there and wound up on a Harold improv team, performing three to four times a week while waiting tables to pay the bills.
Atamanuik ended up joining the existing improv team Death by Roo Roo, which included Gemberling, Gwinn and Pally, along with Brett Gelman, Jackie Clarke and Neil Casey.
"Not to be too grandiose," said Atamanuik, "but that was, I think, one of the best improv teams that's existed."
Another of his exploits at UCB was the recurring "Tony & Johnny Show!," which Atamanuik said was billed as "the worst variety show you'll ever see." Onstage, Atamanuik and "Johnny" Gemberling explored dark themes and had stand-up comics fill in empty spots of time. Some of those performers, such as Rae Sanni and Noah Garfinkel, wound up on the writing staff of "The President Show."
By Atamanuik's account, the show was made up of "sort of punk rock stuff" that sometimes "alienated the audience," including a sketch that parodied "The Nutty Professor" starring a character named "Buddy Fuck" (a take on "Buddy Love") that satirized Catholic molestation scandals. For the performers, "The Tony & Johnny Show!" was "a resource center where everyone showed up and just tried out shit."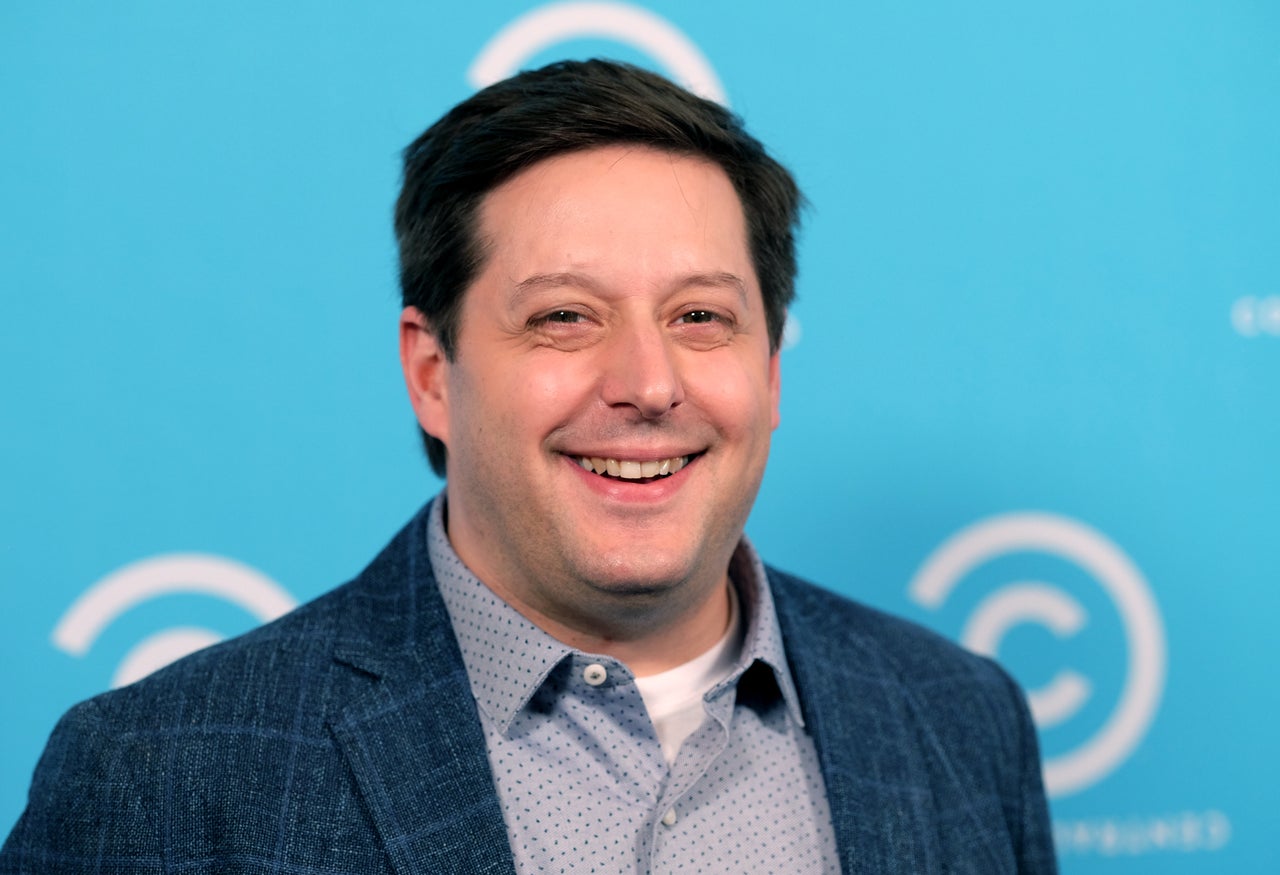 All of the comedian's past performing experiences came together in a way he couldn't have envisioned in 2015. Atamanuik, by then a veteran improviser, was performing in UCB's flagship improv show, "ASSSSCAT," when someone in the audience threw out a suggestion: "Mr. President." Trump had announced his candidacy about two months prior, and Atamanuik took the cue as an opportunity to do what, at the time, was his best version of The Donald.
"I did probably a very poor man's sort of generalized version of Donald Trump," he said.
Soon after, UCB New York's artistic director, Shannon O'Neill, approached him about doing a one-man show starring the brash businessman and then–presidential candidate. He put the show together in a week.
"I didn't even look like him. I wore a surfer wig, a blue suit and, like, bronzer I bought at a CVS," he said.
He wrote the show, entitled "Trump Dump," imagining how policies Trump had been proposing at the time would come to their logical ends. Naturally, the show concluded with a Trump-initiated nuclear war.
The character, as the comedian played him onstage, had a perspective fluctuating between that of Trump and that of Atamanuik ― but always with Atamanuik behind the mental control panel. It was "mixing and free-styling" in real-time.
"I wouldn't disappear," he said. "I would just simply allow another part of myself to show up."
Atamanuik struck a chord with his savage impersonation of the reality TV show host. He soon portrayed the character in a mock debate at UCB, facing off against Bernie Sanders, played with pitch-perfect curmudgeon flair by master impressionist James Adomian. The pair was a hit. They took their cartoonish duo on the road across the country, onto a Fusion TV special and on the late-night Comedy Central show "@midnight."
During the debate tour, Atamanuik spotted HuffPost's Global Editorial Director Howard Fineman at a bar in Manchester, New Hampshire. Being a political "fanboy," he approached the frequent MSNBC commentator, introduced himself and invited Fineman to one of his mock face-offs. Fineman wound up moderating a live recording of "Trump vs. Bernie" in Brooklyn, and currently serves as Senior Political Consultant on "The President Show."
"Anthony is not only a great comedian, impersonator and improv guy, he's a political junkie who knows the minute-by-minute stuff, the morality of the issues, and the history," said Fineman.
Sometimes the depth of Atamanuik's political knowledge catches the political guru by surprise.
"He tells me things about, say, Richard Nixon, that I don't know. Or voting rights. Or the budget," Fineman added.
He pointed out something central about Atamanuik's presidential portrayal. "Improv has given him an acute feel for the personalities of politicians, who, after all, are live performers," noted Fineman. "All of that is why his Trump is so layered, funny and unnervingly spot-on."
And indeed, Atamanuik captures something that's so deep and dark about the current president, it's uncanny.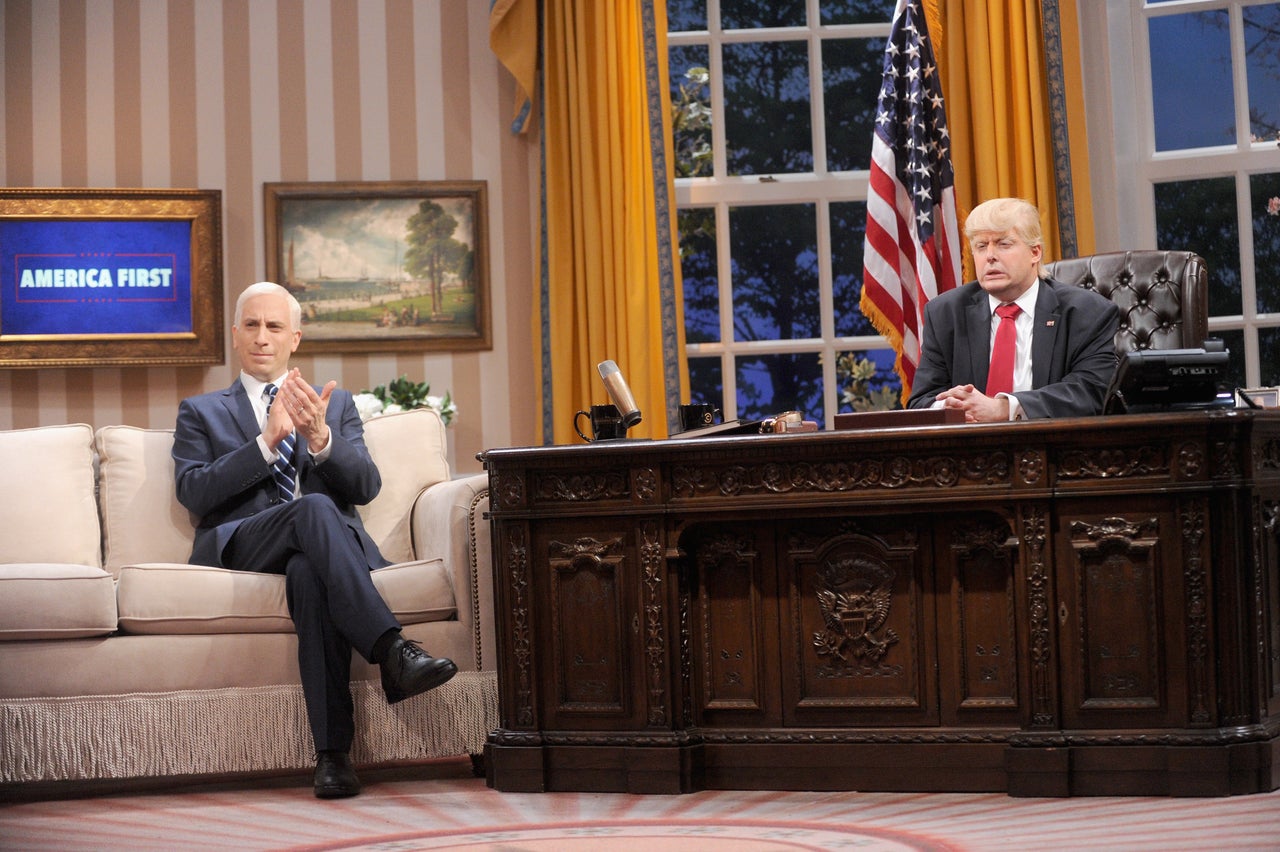 The actor, in developing characters, picks three or so essential attributes that he finds interesting and uses his improvisation skills to shape them. With Trump, he treated the role like any other part, watching the candidate's rallies and reading up on him.
Atamanuik also reached into his own past, mining personal experiences to render the unflattering personality quirks of his fictitious chief executive.
"I had a period of my life when I was a young guy, and like any young person, I screwed up, like anyone did, and I definitely got a little into harder narcotics, and I was moving around with a lot of women," Atamanuik said. "Kind of going over the edge."
"So I understood that sense of indulgence and entitlement and I understood the idea of recklessness and not worrying about what the impact of your behavior is, you know, on other people, and just simply pushing forward," he continued. "I understood, as you would say, being 'braggadocious.'"
"Braggadocious" is certainly an operative word in any discussion of the current president, and Atamanuik saw it in his past self as well as in others. In the mid-2000s, he worked at a Times Square pizzeria, where the owner displayed some of that Trump-like self-regard.
"He was very Trump-y, just very sort of grandiose, and wanted everyone to love him, and ... didn't really know what he was doing, didn't know how to run a business, but he traded purely on his personality," Atamanuik recalled. "And so I sort of borrowed from my experience, and I borrowed from my own psyche, and sort of also watched him."
Atamanuik's Trump, like the real thing, is a deeply insecure figure ― an immature child with the confidence of a god and a shocking level of selfishness. His complete lack of impulse control is always on full display, as exemplified by the aptly-named "President Show" segment "Screaming at the TV!," in which Atamanuik's Trump literally watches TV news clips and yells at the television set like an angry second-grader ― an absurd premise drawn straight from the real thing.
Ultimately, the point of the exercise, whether Atamanuik was debating onstage or, as he is now, sitting behind the desk in his televised Oval Office, is to defang Trump, now at the pinnacle of power.
"The most important thing is to litigate him, rob him of his macho identity and try to replace it with the person who I think he is, which is a little more weak and petty and a little more self-involved and self-loathing," he explained.
The mission statement, combined with Atamanuik's buffoonish impression, makes for a character that is equal parts repulsive and endearing.
On Nov. 8, 2016, an American day that will live in infamy, Atamanuik was in Trump-mode, appearing on ABC's "The View" election night special in character. Once the direction of the evening became clear, Atamanuik had to throw all his material ― built around an assumed Hillary Clinton victory ― out the window and take an improvised detour. This wasn't how the night was supposed to go.
"I kind of shut down for like three or four weeks [after Trump's election]," he remembers. "I mean, my wife can tell you. I'd sit in the house and play video games for weeks and just was like, what am I gonna do?"
For Atamanuik, Trump was never a character he wanted to be stuck with. Optimistically, he'd hoped to depart from the repugnant businessman-turned-politician, perhaps parlaying his recent successes into a chance to take something like "The Tony & Johnny Show!" to the small screen.
Even while achieving success by taking Trump on the road and on TV, he felt it was in some ways a "deal with the devil," where he was profiting from the exploitation of Trump's clown show, although not in the deeply self-serving way that TV news outlets were profiting from Trump's daily slime.
"It's not lost on me that I, too, was a participant in that," Atamanuik said.
But by using Trump as a vessel to satirize and critique a broad set of issues, including the hypocrisy of cable news–owning corporate conglomerates and liberal self-righteousness, Atamanuik was able to make peace with his creation.
"I have no issue with turning to my own kind, you know, saying to people who agree with me, 'You guys have your head in the sand,'" he said.
Atamanuik was ultimately able to keep his "nose clean" by finding a balance that utilized the character for the greater good. "I didn't use my Trump to reinforce him. I used my Trump to co-opt him to put a message out that actually undermined him," he explained.
When it comes to Trump loyalists, Atamanuik has no illusions. He knows from talking with Republican family members and right-wing guests on his show the value of civil communication, but there are some people that he will never reach.
"I know some hard-core sort of, like, blind, crazy Twitter-troll Trumper is not going to see what I see," he admitted.
Nevertheless, if there are open minds on the other side, he hopes to impart the basic hypocrisy that underlies Trump's presidency.
"I can say to someone, 'Hey listen, I don't think we need to change what you think, or what you feel or how you see the world,' because that's not my job, but what I can say is that the person who you're putting your eggs in their basket ... they're not doing the thing that you wanna do to even represent your ideals."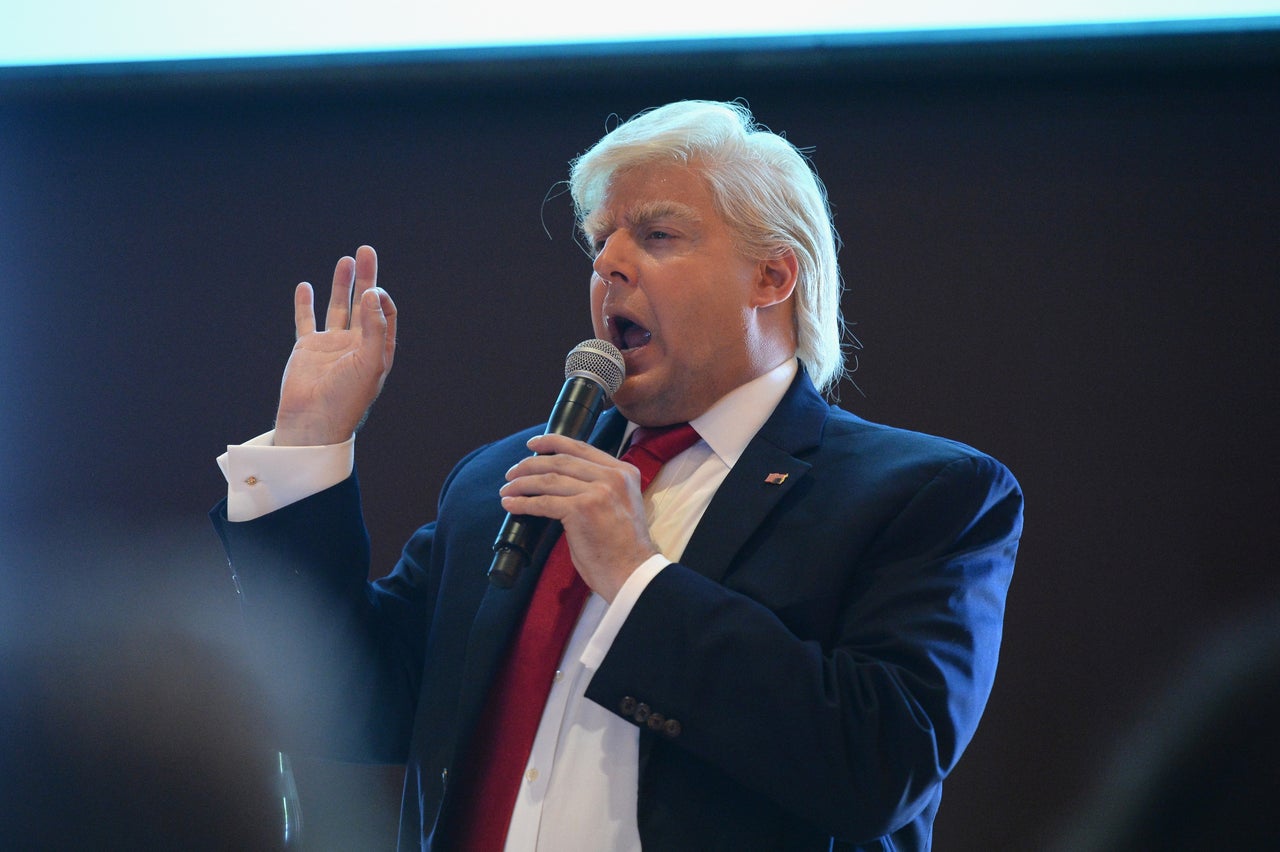 After some post-election wallowing, Pally, his old Death by Roo Roo friend, shook him out of it backstage during an "ASSSSCAT" performance, encouraging him to do something with the Trump character.
Together with Pally and Grosz, Atamanuik talked out a project, and the group pitched it around. It would be a weekly late-night show hosted by "the president" and set in the White House, actively satirizing the current administration. A supportive Comedy Central picked it up, and "The President Show" was born.
When it came time to put together a writing staff, Atamanuik knew how important it was to have a diverse group behind the scenes. He wanted to have "every voice represented" if they were to effectively tackle the Trump administration.
"I wanted at least an equal or majority-female writing staff because I think women understand Trump's voice so much," he reasoned.
Atamanuik recalled complimenting his head writer, Christine Nangle, on how well she writes the president's utterances, and her explaining how often she hears Trump's voice in other men. "They hear it from every man they meet, basically," he said.
In his estimation, the team makes the show the "antithesis" of the real White House. "We're like a diverse, connected group of people, of artists, of every stripe, and every person in that building makes the show good, and without them I'm no good."
Before "The President Show," Atamanuik worked for years in a small role on "30 Rock," which he saw as a kind of graduate school in working on TV.
"From Tina Fey as a boss, I took that you're respectful of people, you're respectful of your writers, you're friendly with everyone, you approach people with loving kindness," he noted. Now that he has his own show, he doesn't understand why anyone would want it otherwise.
"This is your opportunity to make this great thing with these people," Atamanuik said. "Why would you approach it in any other way than with complete openness and love?"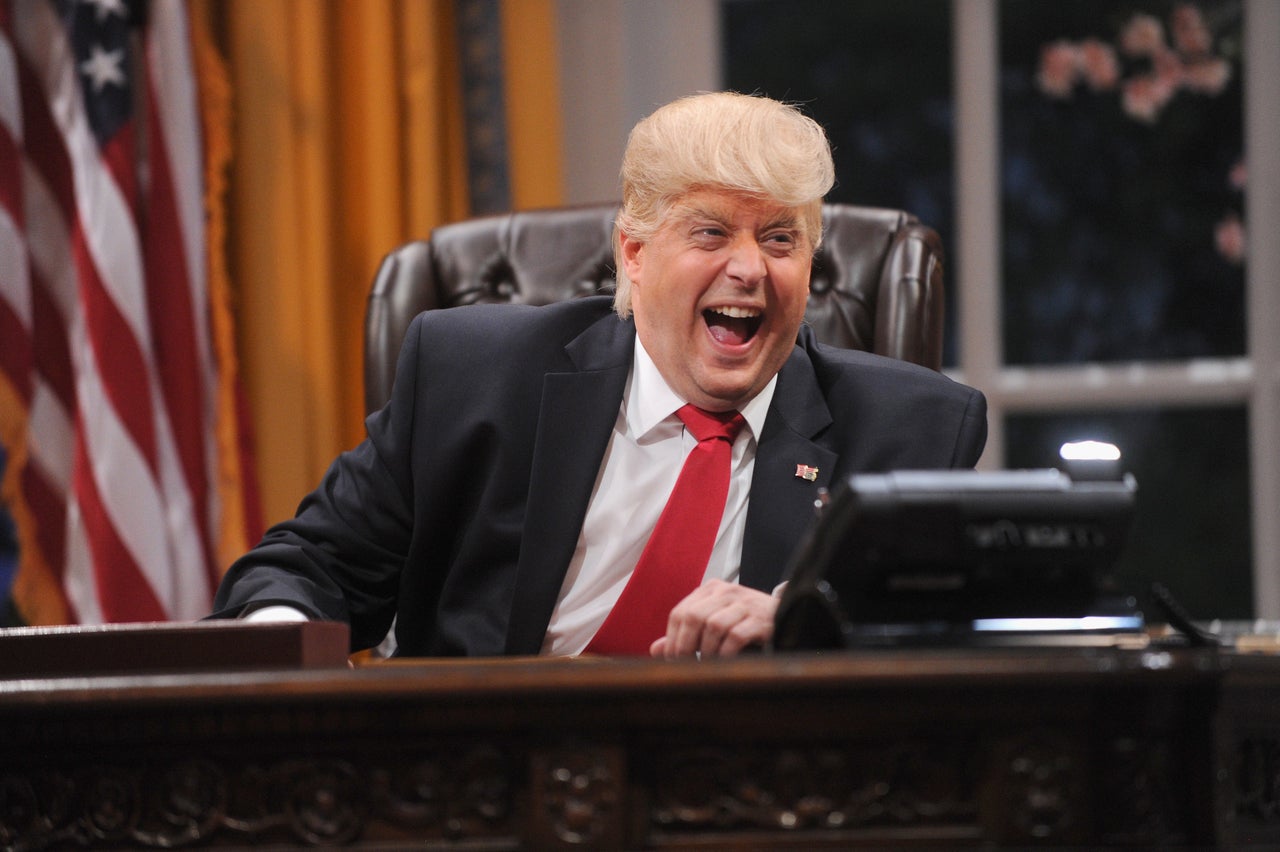 A week working on "The President Show" is full of long hours and constant change. The news cycle, turning over every 24 hours with a new horror or deranged tweet, keeps Atamanuik and the show's writers on their feet right up until the moment cameras roll.
"We've had things [go] into the prompter five minutes before we taped," the comedian revealed. He called the writing process for the show "sedimentary," explaining that, as the week progresses, "we basically write five shows and layer them on top of each other."
While the in-studio portions are pre-written, each week contains a new pre-recorded field piece, such as the aforementioned "Donny Goes Home," in which Atamanuik's Trump revisits his childhood Queens neighborhood. These pieces are a weekly showcase for Atamanuik's brilliant improvisation talents, as well as those of Grosz, whose Pence is the Ed McMahon to Trump's Johnny Carson.
But even during the writing process, his improv skills come into play. Often, in a throwback to his days touring for the "Trump vs. Bernie" debates, he'll stand behind a podium improvising while his writers take and give notes. This official-seeming touch extends to the entire operation.
"I said early on let's just treat this like an alternate White House," Atamanuik explained. "So like my office is technically like the Oval Office, and my EPs are my closest advisers, and the writers are in the Cabinet, you know? And not that we play, you know, role playing, but we try to sort of just approach it that way."
Atamanuik even gets daily briefs and sees the actual president's daily schedule, trying to get as close to the real thing as he can so the show, as absurd as it is, is grounded in reality. In strange instances of life imitating art, then imitating life, Atamanuik has even made eerie, inadvertent predictions on the show that have come to pass in Washington.
In the show's first episode, for example, Atamanuik, as Trump, quipped: "I'm the president, can you believe it?" Then, exactly one week later, in a Rose Garden address celebrating the passage of a House health care bill, the real-life Trump exclaimed, "Hey, I'm president! Can you believe it?"
Atamanuik took the cue and began using the phrase to kick off every episode.
"The President Show" writers come up with an explicit theme for each week's episode, which the fake Trump lays out during his opening press conferences. These days, even though distractions are too multitudinous to count, Trump's real administration does the same, whether it be "Infrastructure Week" or "Energy Week." On a recent episode, Atamanuik's team again took advantage of reality mimicking fiction by simply parroting the same theme as the White House, "Made in America."
The tonal blend of real current events and warped, live-action cartoon, the on-set camaraderie, and the lessons and sensibilities from Atamanuik's past and the political present combine to make for a piece of entertainment that is less traditional and more "punk rock," as Atamanuik might put it. From his perspective, it's subversively sneaking "basement art house comedy" onto corporate-owned TV ― a renegade, UCB-like performance beamed into American living rooms via Viacom.
Reveling in his current success and enjoying the high-profile platform, Atamanuik isn't thinking too much about what comes next in his comedic journey.
"I mean, I'm generally in the present, because that's, you know, sort of improv 101: Stay in the present. And also just that life is too overwhelming to try to think about more than that."
In a time of "alternative facts" and unprecedented cynicism, Atamanuik and his merry band of pranksters are doing something entirely uncynical. Even joyful.
"We're having a great time," he affirmed. After watching him and his skilled TV family take on Trump each week, that much is crystal clear.
"People seem to like it," he observed. "So that's good."
Popular in the Community