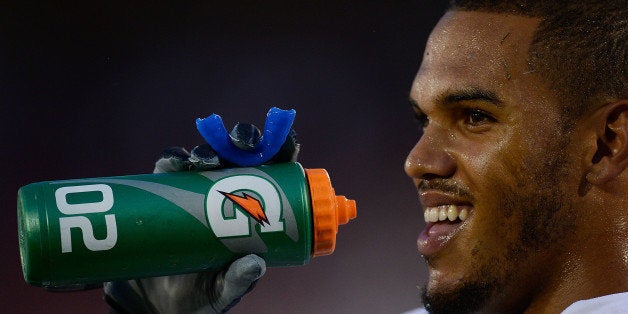 When the Minnesota Vikings selected Anthony Barr with the ninth overall pick in this year's NFL Draft, their choice vindicated one of Barr's most difficult decisions. Partway through his college career at UCLA, the 6-foot-5, 255-pound running back was unhappy with his playing time and the Bruins' lack of success -- and he was starting to wonder if all the practice time, all of the hits and all of the travel were still worth it.
"I wasn't having fun, we were losing," Barr told The Huffington Post the day before the draft. "I wasn't contributing. From that standpoint I was pretty upset. I said, 'I can't stop playing the game, because I don't know what else I would do.' It's just been such a big part of my life. Every decision I have made over the past 10 years has been based off of football ... It came down to my obsession and passion for the game."
"I was like, 'Man, I got to make a change,'" he said.
So Barr switched positions from running back to outside linebacker -- and that change turned Barr into one of college football's best and most electric defensive players.
As a senior last season, he recorded 20 tackles for loss to go along with his second-straight double-digit sack total, which helped to lead the Bruins to a 10-win finish. Barr's incredible athleticism and production made him the highest-drafted UCLA player since 1996.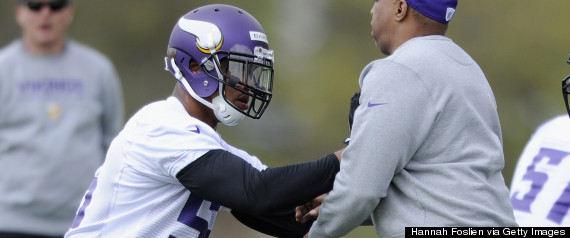 While playing linebacker may lack the glory of scoring touchdowns, the position has become second nature to him. "I think you kind of get addicted to [scoring] -- that limelight, the notoriety," he said, "but I enjoy shutting down the offense."
The 22-year-old former All-American now heads to a Minnesota team in desperate need of a playmaker in the middle of the field, where it will likely employ him as a pass-rushing outside linebacker. Last year the Vikings surrendered a league-worst 480 total points, notching only five wins for last place in the NFC North.
Head coach Mike Zimmer raves about Barr's raw talent while acknowledging his inexperience: "He's like a fawn," Zimmer told ESPN.com. "He's just learning some of these things. It's not that he is so raw that he is not a good football player, because he is a really good football player."
Barr is also realistic about the flaws in his game: "I need to use my hands better to get defenders and blockers off of me," he said. But he's equally confident about his ability to address them: "I'm sure that will come, just like the rest of my game has."
Email me at jordan.schultz@huffingtonpost.com or ask me questions about anything sports-related at @Schultz_Report and follow me on Instagram @Schultz_Report. Also, be sure and catch my NBC Sports Radio show, Kup and Schultz, which airs Sunday mornings from 9-12 ET, right here.
Popular in the Community