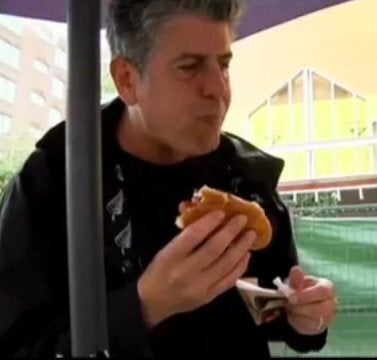 It will be easy to reinvent your hot dog recipe this summer after you watch the below compilation of hot dog joints that Anthony Bourdain has visited over the years on No Reservations.
His first stop is Fat Johnnie's in Chicago where he samples a tamale topped with chili and served in a bun titled Mother-In-Law. "Mother-in-laws aren't easy to handle and this one is no exception...It's called the mother-in-law because it is supposed to give you indigestion, the way only a mother-in-law can."
Next, Bourdain is in Vancouver and chowing down at Japa Dog, where the hot dogs are topped with Japanese ingredients such as nori, daikon, teriyaki sauce and wasabi mayonnaise.
In Iceland, Bourdain's hot dog has multiple condiments. In addition to ketchup and mustard, his dog also contains curry sauce and remoulade.
The last stop on Bourdain's hot dog tour is in Sweden, in which the hot dog has both mashed potatoes and shrimp salad. In fact, there are so many add-ons to the hot dog that a fork is definitely required.
Watch this compilation below.