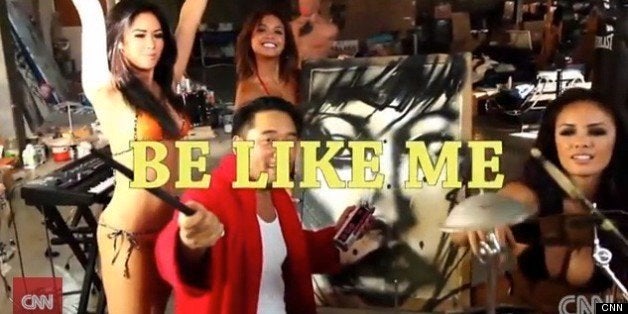 Los Angeles is full of some VERY bad Korean-Americans -- at least according to Anthony Bourdain.
The subversive food and travel show host paid a visit to LA's Koreatown neighborhood for Sunday's episode of "Parts Unknown," where he met up with the worst Koreans of all: multimillionaire artist David Choe and world-famous Kogi chef Roy Choi.
Prestige in the creative industries doesn't exactly evoke failure for most people, but in the eyes of conservative Korean culture, their vocations were huge risks. But, as Bourdain notes, it's "bad Koreans" like Choe and Choi, who eschewed traditional career paths like medicine or the law, that are continuing to shape Koreatown and LA culture as a whole.
So what can aspiring Korean-American children learn from these trailblazers? For one, never date anyone from the Korean community, deadpanned Choe.
"OK, I try to be open-minded [about] things, right? But, oh, I'm racist," admitted Choe. "For me, I've given it a shot and I end up with a situation where I feel like I'm dating my mom ... If you're a woman, I would never recommend dating a Korean guy."
Yikes. If you haven't gotten the point by now, this episode of "Parts Unknown" isn't a touchy-feely celebration of multiculturalism.
See Choe's downtown LA den and watch him play the drums, paint and dance with bikini-clad ladies in the clip below:
Bourdain also went deep into meatier subjects like race and resentment after the 1992 Los Angeles riots from the point of view of Korean-Americans -- an unusual way in to Koreatown's epic food scene.
Yes, Bourdain featured Choi's four-restaurant empire (Kogi, Chego, A-Frame and Sunny Spot). But before that, he and Choi went up on a rooftop so the chef could explain how he guarded Koreatown businesses from looters at 22 years old.
"Everything you see here, all this was being looted," recalled Choi as he pointed to the streets. "Chairs and rocks, and everything being thrown through walls. If you go straight down Western on Venice, the whole plaza burned on fire. We were calling 911, and there was no response."
During the three days of fire and looting that killed 55 and injured 2,000, the LAPD abandoned Koreatown, leaving its residents and business owners to fend for themselves.
"I was here all three days. I didn't see any cops," said Choi, who later added that the cops set up their front line on Rodeo Drive in Beverly Hills.
Whoa. And you thought you were just watching a food show.
Viewers can thank CNN for that, notes LA Weekly food editor Besha Rodell. The news network's searing footage of the 1992 LA riots, coupled with unvarnished, sprawling interviews with Choe and Choi, fully realizes Bourdain's vision of "food as a form of social anthropology," according to Rodell.
"Last night, Bourdain effectively got an audience who think of themselves primarily as food-lovers to revisit the L.A. riots and take a deeper look into the psyche of Korean-American culture than I've seen explored anywhere in mainstream media, ever," writes Rodell. "It was refreshing, and pride-inducing, and incredibly well executed. Thank god, someone finally got an L.A.-based food show right."
Take a look at CNN's travel guide to learn more about the restaurants Bourdain visited in Koreatown and check out the video below to see his visit to Beverly Tofu House.
Calling all HuffPost superfans!
Sign up for membership to become a founding member and help shape HuffPost's next chapter
BEFORE YOU GO
PHOTO GALLERY
One Perfect Day In Koreatown