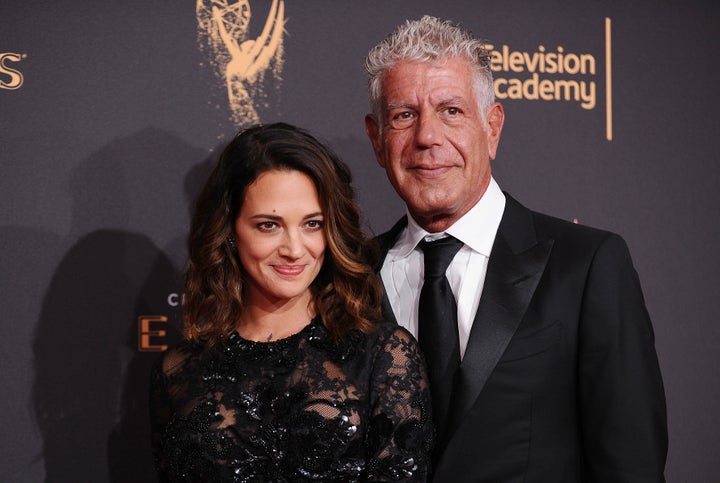 Sounds like Anthony Bourdain and his new girlfriend Asia Argento are perfectly suited for one another.
In a new interview with People, the "Parts Unknown" host opens up how the Italian actress has injected new energy into his work and travels since they began dating earlier this year.
"[Asia] has spent a lifetime in film since she was 9 years old. She comes from generations of filmmakers on both sides of the family," Bourdain told the magazine. "She's a really accomplished director and writer along with being a longtime actress and a real sponge for culture, music, literature. So she's enormously helpful and inspiring."
Argento is best known in the states for her role as Yelena in the 2002 action film "xXx." She won the David di Donatello award (Italy's version of an Oscar) in 1994 and 1996 for "Perdiamoci di vista" and "Campagna di viaggio."
Bourdain also credits Argento ― who appeared in the Rome episode of "Parts Unknown" in season eight ― with giving him great travel recommendations for 10th season of the hit CNN show.
"We were shooting in Nigeria and I get a text [from Asia] saying, 'Are you aware of the Nigeria psychedelic rock scene from the 1970s?' and I'm like, 'What? No!'" he said. "This was an enormously helpful, inspiring thing that altered the sound for the show and changed up a lot."
And while Bourdain travels more than 250 days a year while filming, the couple take the distance in stride.
"We both work a lot," he told People, "and we're both away from home a lot so we're both circus freaks in the same circus—or different circuses I guess."
Sounds like a perfect match. (Plus, it probably doesn't hurt that the chef "spends a lot of time in Italy" with the actress.)
The travel-loving couple made their relationship Instagram official last May, with his-and-her versions of the same pic on their personal accounts:
They made their first red carpet appearance earlier this month at the annual Creative Arts Emmy Awards in Los Angeles. Bourdain lost in all five categories his show was nominated in, but it sounds like the pair had an amazing time anyway.
"Best Emmys ever," Bourdain tweeted with a pic of the couple all dolled up on the red carpet.
He and Busia have a 9-year-old daughter together. Argento has two daughters of her own.
Popular in the Community