There's only one man who has "more enemies than Todd Akin at a Planned Parenthood rally." That man is Anthony Bourdain. The announcer of The New York Wine & Food Festival's $400 charity event, "On The Chopping Block: A Roast Of Anthony Bourdain," knew how to get the crowd riled up for a night of dick jokes, drug references and jibes at Mario Batali's rotund belly.
Before the roast began, HuffPost Food chatted with some guests about the nice aspects of Bourdain -- we figured he'd get enough ragging later on. Both Eric Ripert and Andrew Zimmern called Bourdain an extremely loyal friend. "I actually think he's a very nice man," said Ted Allen, "I think what makes him upset are phonies."
The few bones his friends had to pick with Bourdain were relatively mild. "As soon as you walk on a plane with him, he falls asleep. You can't have a discussion with him," lamented Ripert.
But once the roast, co-hosted by Willie Geist of MSNBC and Mario Batali, officially started, gloves were off and Bourdain's loyalty didn't come up once. That being said, the roasters actually seemed to have an easier time skewering each other than they did Bourdain (after all, how many drug jokes can you make?). Everyone from Guy Fieri to Rachael Ray was getting called out by their fellow roasters, and after all the mean things Bourdain has said about both of them, we have give them some serious props for dishing it back to him. The nice guy award goes to Eric Ripert, who seemed to genuinely feel a little bad every time he said something mean.
Here were the best zingers:
On Eric Ripert:
"The only thing he knows how to butcher is the English language." -Willie Geist
"I don't speak French but I assume 'Avec [Eric]' must mean 'incredible boring.' -Ted Allen
On Rachel Ray:
"We also have some people here that play chefs on TV...Ladies and gentlemen, Rachael Ray. -Willie Geist
"I haven't seen a rack like that since the one Batali ate on the way to the stage." -Eric Ripert
"I don't have to write jokes. I don't have to write insults. If you ask the man of the hour in the hot seat, my mere existence is clearly insult enough." -Rachael Ray
On Guy Fieri:
"What can you say about Guy's cooking that hasn't been printed on a packet of cigarettes?" -Willie Geist
"Guy Fieri's hair is the front lawn to hell." -Willie Geist
"In case you're wondering why Guy Fieri is here, he won a contest." -Mario Batali
"I think he wears his sunglasses backwards so he doesn't get punched in the face." -Bonnie McFarlane
"You look like a diabetic strip club owner." -Jim Norton
"His ancestors come from the part of Italy that has never been exposed to food." -Mario Batali
"Why the f*ck did you invite me?" -Guy Fieri
"You've got balls inviting me here." -Guy Fieri
"You dropped a 500-seat deuce on Times Square." -Anthony Bourdain
"When do you stop to de-douche?" -Anthony Bourdain
On Mario Batali:
"You look like Kiefer Sutherland but twice the size. You could star in a show called '48.'" -Artie Lange
"Now that you can find your penis on your own, what do you need Joe Bastianich for?" -Ted Allen
"Mario you are a great chef but you look like a homeless James Gandolfini." -Jim Norton
On Ted Allen:
"'On The Table' is coincidentally Ted Allen's favorite way to get f*cked." -Eric Ripert (his YouTube show is "On The Table")
"What can I saw that's worse than what your producers do to you every day at 'Top Chef?'" -Anthony Bourdain
On Anthony Bourdain:
"You invented butt chugging, is that right?" -Bonnie McFarlane
"Anthony, is there anything you can't do? I mean, besides cook?" -Bonnie McFarlane
"You really are a badass, edgy guy who tells it like it is...about couscous." -Jim Norton
"You've taken cooking, TV and comedy without ever being good at any of them." -Guy Fieri
General Comments:
"I am so honored to be here with so many men who would never get laid if they didn't cook." -Eric Ripert
"You don't f*ck with Martha [Stewart]. As we say in French, she'll 'cut a b*tch."' -Eric Ripert
When Bourdain finally got his chance to fire back at his haters, he definitely made sure to have the last word. He thanked everyone for his "public colonoscopy" and ripped into Mario Batali for once kissing Paula Deen on "The Chew." But, of course, Bourdain saved his biggest whopper for Guy Fieri (who was nice enough to give Bourdain a bleach blond, Guy Fieri-esque wig, by the way). Somehow, Bourdain equated Guy Fieri's new "Terror-Dome" to porn, and showed a photo to the whole audience. Proof: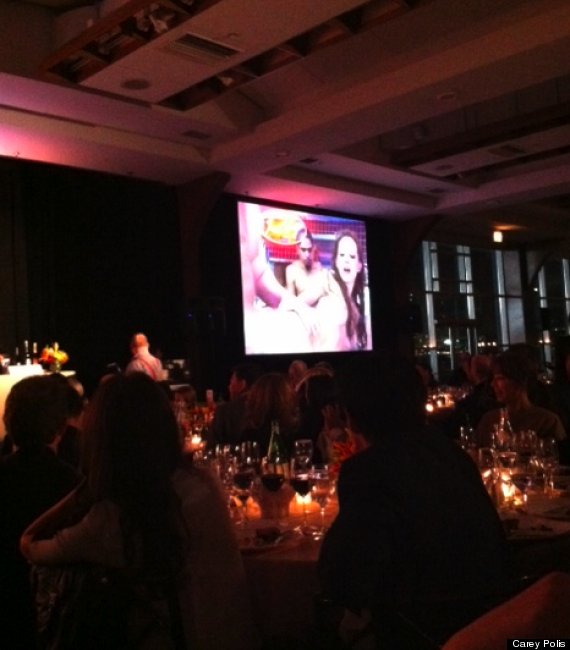 And, at the end of the night, all was well, as Bourdain helped himself to some ice cream from the Big Gay Ice Cream truck:
Check out some of the food personalities at the roast:
PHOTO GALLERY
Anthony Bourdain Roast
And here's the "Today Show" on the roast:
Visit NBCNews.com for breaking news, world news, and news about the economy
Calling all HuffPost superfans!
Sign up for membership to become a founding member and help shape HuffPost's next chapter