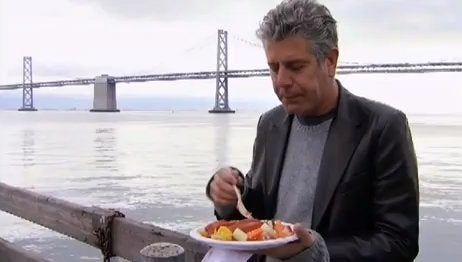 It's no secret that Anthony Bourdain has been in town.
For the past week, every food blog in San Francisco has been chasing the man around the city as he's been filming his new show, The Layover — a more attainable version of his popular show, No Reservations. (As Bordain described on his blog, the show sprung from a desire to create something "faster, more democratic and caffeinated than No Rez. But just as obnoxious.") And one of his first locations: Our hometown.
And, as far as we can tell, this time was different.
According to Bourdain's Twitter feed, the crew visited an absolutely exhausting list of unpredictable restaurants, bars and coffee shops, and proved that they seriously know how to party. Just check out this video of Bourdain and crew swimming in the pool at the Tonga Room. (Where were we?!) And though the Tonga Room is most certainly touristy, we still felt a pang of jealousy over the photos of Bourdainers donning nothing but Fairmont robes and sticky tiki drinks.
In true San Francisco style, tweets started as tame: "Terrific, freshly made Mexican food at Chaac Mool in Dolores Park. Festive beverages at Toronado." Quickly, however, they advanced to suspicious: "Li Po, the Comstock, Mr. Bing's, then Sam's Burgers. Woke up with a brain ache, covered in mustard." A certain midnight retweet sparked our interest: "And then the night got really weird #thatsnotaswimmingpool." Well played.
Among the stops were classics (Swan Oyster Depot, Tonga Room, Blue Bottle), scene spots (Comstock Saloon, Toronado, Rosamunde), food trucks (Chaac Mool, Azalina's Malaysian Crepes), dives (Mr. Bings, Sam's), and even local favorites (Molinari Deli).
We've no doubt that once the episode airs, cynicism will abound. Maybe we're drinking Tonga kool-aid, but for now, we're excited. And for those who don't believe that Bourdain knows this city, we found this post from the Travel Channel blog:
Let me come right out and say it. I love San Francisco. I am helpless and unwavering in my affection -- in spite of every effort over the years to find fault, to dismiss, to sneer. And there's surely lots to sneer at, San Francisco and the Bay being pretty much the epicenter of so many of my most cherished aversions: political correctness, veganism, rich hippies, sanctimoniousness about food, food fetishism, animal rights terrorists, gastro-dogma, and loud locavores who actually get their produce flown in from Chino Farms in San Diego. But at this point, I bore even myself railing against the above...I guess it's like any love that's true -- sooner or later you learn to accept the good, bad and silly all together. It's all part of the package when you know, without any question, that you want the package. It doesn't even matter if one's love is returned...It may be the town of Alice Waters but it's also home to Dirty Harry. The Grateful Dead? Yes. But also the Dead Kennedys. The excrutiating and treacherous lite FM sounds of the Jefferson Starship? True enough. But also Blue Cheer, the Count Five, Big Brother, Sly and Family Stone and the greatest band that never was: the Brian Jonestown Massacre. None of these entities could have come from–or taken root–anywhere else. I don't think you could have one San Francisco without the other.
We couldn't have said it better ourselves.
Check out our slideshow of venues from the crew's adventures below:
Popular in the Community