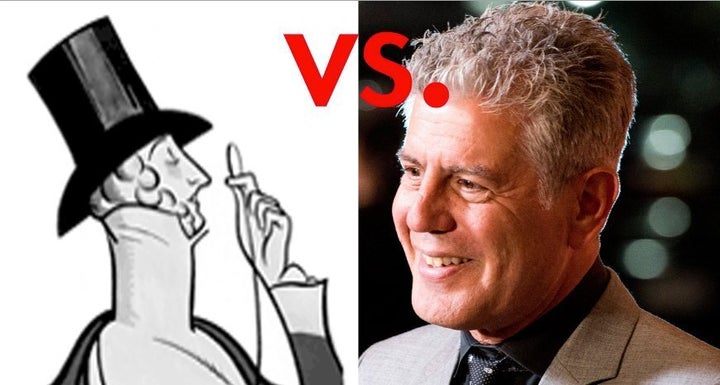 There is undeniable power to Bourdain's vulgarity, but a lot of it reads as entitled immaturity. Suggesting that aggression is the only appropriate existential response to the demands of restaurant cooking—that hardened hands and focus are best matched with hardness throughout one's life—he simulates teaching sophistication, then teaches solipsism. What it shows, mostly, is a lack of self-respect.
Adler goes on to state that Bourdain has "banked on the fact that Americans aren't well-traveled and that we're easily convinced to approach newness pugnaciously," thus succeeding in convincing throngs that "eating is best understood as a competition or conquest—man versus food."
Them's fighting words. We have to wonder if Adler is confusing Bourdain for Adam Richman, a fellow Travel Channel star whose show is actually called "Man v. Food." Just saying.
Never one to shy away from controversy, Bourdain has opted to respond to the critique in the article's comment section. Here it is, in full:
To dislike my sentences is a perfectly reasonable position. To find them hyperbolic, badly written, crude or offensive also seems reasonable. But to accuse me of attempted "manliness" is beyond the pale. I fail to see how the eating of meat or tripes or bones has any gender association--and am baffled by this ham-fisted attempt to suggest that I do. I have never seen the enjoyment of food as competitive--or aggressive--or as an indicator of virility. If anything, the opposite is true. Nor, for that matter, do I see how being deliberately crude in the interests of comic effect has a gender. When I say to the camera that "I'd jerk a rusty butter knife across my best friend's throat " for a spoonful of pho--that's not hate speech. It's not bluster. It's called a joke. The author seems to imagine me as a tragic, Mailer-esque--or worse, cut-rate Hemingway wannabe. When I'm far more likely to look to Joan Rivers or Sarah Silverman (or Joan Didion for that matter) for guidance. I wish I could take myself half as seriously as the author of this article seems to.
Bourdain hasn't said anything else about the matter on Twitter or Facebook as word of this mini-spat has spread (and he's never quiet), so we're inclined to think this response is genuine.
Plenty other commenters have come out on Bourdain's side (and a few on Adler's as well), but we were most tickled by a Twitter response from indie food magazine Lucky Peach -- which is admittedly run by David Chang, Momofuku chef/owner and noted Bourdain pal:
We admit that Adler may have a point or two, but her rant seems a bit overblown. What do you think about the Bourdain/Adler spat? Read the full New Yorker article here.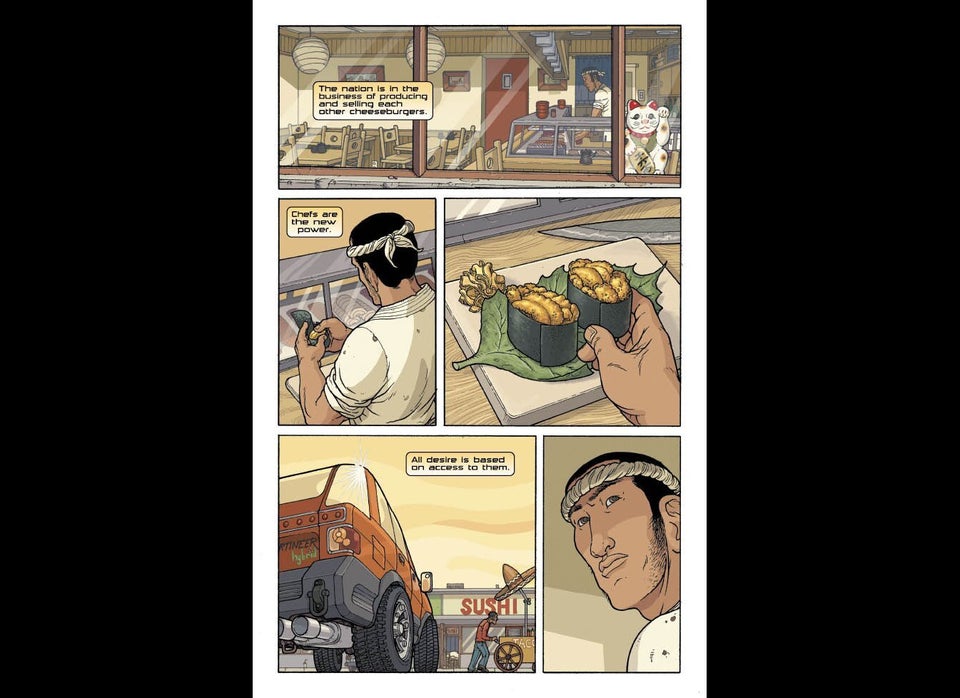 Get Jiro
Popular in the Community