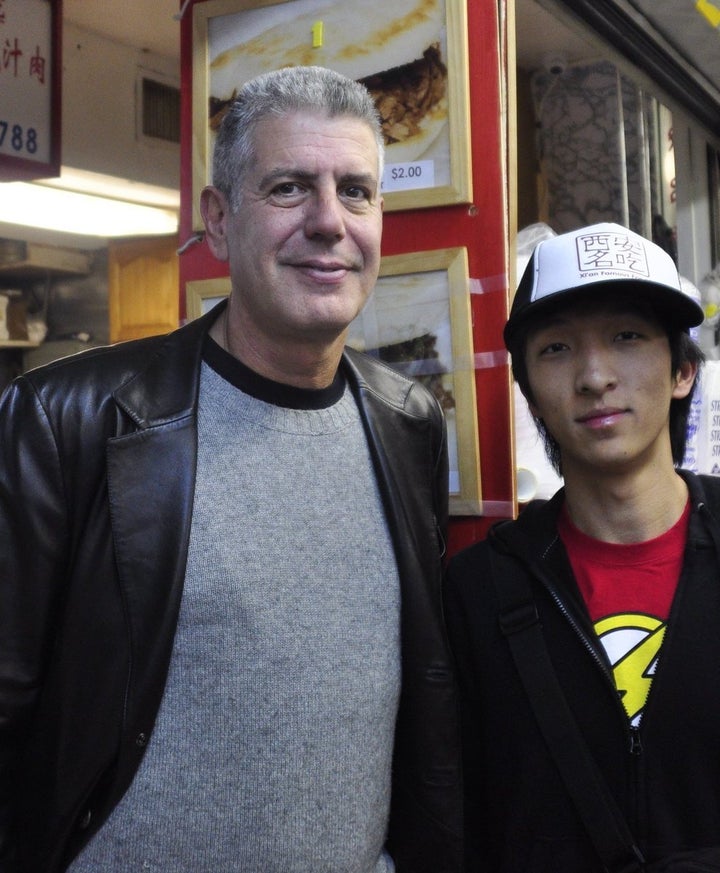 On June 8, I woke up to the news of Anthony Bourdain's death and thought it was a cruel joke. It was not, and I found myself simply lying there trying to make sense of the news.
To many, Tony was a figure of inspiration. He was someone who was relatable for his sincerity and personal flaws. He was able to bring people together through food. I share these sentiments. But to me, Tony was our company's 伯乐 (bo le) ― a discoverer and promoter of potential. Without a bo le, our company would not enjoy the level of success we achieved. And through this role, he also changed my family's life.
Xi'an Famous Foods was founded in 2005 by my father, David. It was not established from a well-conceived business plan or by a serial restaurateur riding a culinary wave, but with the modest savings he had from over a decade of working in Chinese restaurants on the East Coast as a delivery person, dishwasher, busser, cook and server.
With me off to college, he was finally able to take a risk and opened a small shop of his own in Flushing, the biggest Chinatown in New York City, selling dishes made with family recipes from our hometown of Xi'an, China. It was a move that stretched his financial means.
Opening the 200-square-foot space in the basement food court of the Golden Shopping Mall meant he had to move from our "cushy" one-bedroom basement apartment to living in one room inside a shared apartment. It was from that original restaurant location that he made and sold dishes to other immigrants from northern China who were familiar with our cuisine. It was good to see guests come in from the community, but he felt the food could and should be enjoyed by more people.
In 2007, I was in my dorm room in St. Louis when I received a call from my father, who wanted me to help him identify someone who seemed to be famous visiting our store with a film crew. Before the prevalence of camera phones, he simply described the person to me as "a tall white guy with white hair." I asked my roommates for help, and one said, "Dude, that's Anthony Bourdain. Don't you remember seeing him when we watch the Travel Channel?"
In the segment, Tony munched on one of our spicy cumin lamb burgers and said, "This place is unbelievable. This place is great." Thus started the wave of foodies and media coverage. They decided if Tony liked it, let's check this place out and give it a chance.
Our lines grew longer with guests from places beyond Flushing. My father happily chatted with guests of all backgrounds about their dish choices, happy to see them trying food familiar to him but foreign to them. Expansion was imminent, and after graduating from college and working a stint in a corporate job, I came back home to work on expanding the business.
As we opened more locations, Tony and his team always kept us in mind when calling out favorite eats in New York City, and considered us as one of the first vendors during the planning of the Bourdain Market project.
After six years of expansion, I was able to sit down with Tony for an interview with WSJ Magazine in 2015 at our Upper East Side location. When the interview was over, we stood around chatting, and I told Tony I needed him to know something. I told him his visit to our store in Flushing changed our lives and helped us get to where we are today ― from living in one room in Flushing to living the American dream. I looked him in the eyes and told him, "I want you to know my family will always be thankful for that, Tony."
He simply replied, "I'm just calling out good food like it is, that's all."
It seemed like he didn't feel deserving of thanks. He wouldn't have said it was good unless he actually enjoyed it. That's the type of person Tony was ― real.
After coming to terms with Tony's passing, I felt our company had to pay tribute to our bo le in a meaningful way. We pledged our June 8 net sales from all 12 locations to the National Suicide Prevention Lifeline. Through the support of our guests, we were able to generate significantly higher net sales of $73,509.76 to be donated to the Lifeline. It's our hope that by donating to such an organization, individuals in need of support may find relief from their internal struggles.
Tony, may you rest in peace. And condolences to his family and friends.
Support HuffPost
At HuffPost, It's Personal
Popular in the Community