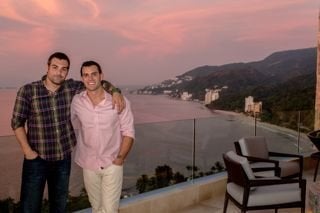 Last year when Ellen DeGeneres surprised a Pittsburgh family with a kitchen overhaul, she called in HGTV design stars the Kitchen Cousins (Anthony Carrino and John Colaneri). But when the cousins learned about the family's financial challenges and employment struggles, they ended up transforming their entire home instead.
And just this past November, when a New Jersey couple whose house was ravaged by Hurricane Sandy, once again, DeGeneres and the Kitchen Cousins joined forces to help the family rebuild.
So who are these design heroes who star on the HGTV show, Cousins on Call?
Carrino and Colaneri are are actually real life first cousins and besties who run a New Jersey-based family construction company. They traverse the globe sprucing up all varieties of spaces -- often in a matter of days.
While the first two seasons of their show focused just on kitchens, this new season they kick things up a notch (or five). This time they're getting radical, transforming entire homes.
Always game for a challenge, Carrino and Colaneri recently headed to Garza Blanca Preserve Resort & Spa, just outside Puerta Vallarta, to work on the 5,000-square-foot penthouse duplex of resort owner Fernando Gonzalez Corona. On this week's show, the cousins reveal how they redesigned the aesthetics of massive space in the oceanfront resort in just five days.
I caught up with Carrino and Colaneri to talk about the new season, get a preview of this week's Garza Blanca episode and score some practical design tips.
Jeryl Brunner: We know that you are first cousins, but have you always been close?
Anthony Carrino: Always. Our families have been going camping in Cape Cod since...
John Colaneri: You were four or five. I was two, three...
Anthony Carrino: See. We literally finish each other's sentences. I used to drive this guy to high school every day.
Q: What do you adore about each other?
John Colaneri: Well, it's not as if Anthony is a lot older than me, but I've always looked at him as an older brother. I aspired to be like him. Yes, he's my cousin but he's also my best friend who I can always turn to for advice.
Anthony Carrino: That goes both ways. We've been best friends for a long time. We have a very similar design aesthetic, but beyond that we've built an implicit trust. I don't think either one of us could be doing this individually and I don't think either one of us would want that. It's a lot of hard work with 12- to 16-hour days. But to do it with your best friend is pretty cool.
Q: I've heard that you've never had a serious knock-down, drag-out fight.
John Colaneri: Well, no blowouts. If we have any disagreement or if I don't like something I just tell him, "this is how I feel."
Anthony Carrino: It's always on a professional level and for the betterment of our client. But on a personal level, no. I don't think I've ever had a fight with him.
John Colaneri: I don't remember any.
Q: This week, we're going to find you working on Fernando Gonzalez Corona's penthouse at Garza Blanca Preserve Resort & Spa. What about the experience stands out for you?
Anthony Carrino: The ceiling is so high with a palapa-style roof. We don't get to play with that element in the United States. And we wanted to accentuate that. So the up-lighting you see, especially as the sun goes down, has same tonal quality as the wood. When you look up, especially at night, the lights shine up. It's absorbed by all the thatch, so it's has a golden glow. You see all the posts and beams wrapped in traditional twine.
John Colaneri: It's gorgeous. Also, the resort is amazing. The staff is so genuine and welcoming. The food has been phenomenal
Anthony Camino: I'm going to have to work out a little extra harder. The fish hamburger is to die for and the braised short rib burrito is... just forget it.
Q: So what can we expect from the episode?
John Colaneri: Probably the craziest thing is that my cousin drove a crane on the tower 150 feet in the air.
Anthony Carrino: Well, we had to get a swing onto the balcony.
John Colaneri: And let me tell you, that was an amazing feat.
Anthony Carrino: My cousin has a fear of heights, so he was petrified watching me climb the ladder. But it was necessary to get this piece up there. As boys you grow up playing with Tonka trucks. And now that we're in construction, everything is life size Tonka trucks. I'm pretty mechanically inclined and we have a couple of pieces of big equipment at home. But I've never driven a tower crane, so...
John Colaneri: You have now.
Q: What else did you do with the penthouse?
Anthony Carrino: There's a lot of marble and stone in the space, so we wanted bring in some woods to warm it up. Marble and the wood play so well together. In fact, one of our signatures is mixing materials -- whether it's contemporary and traditional, organic versus inorganic. We're about melding things. Matchy-matchy has never been our style. We always tell people things do not need to match. We don't do much with rules.
John Colaneri: People always ask us about making everything look very similar and cohesive. We say, have one element that stands out and totally jumps at you. Make people say, "Wow! I can't believe that they put it in there." That one element makes you remember the room. It can be a wall feature or piece of furniture. It's something that will make you remember that area of the house.
Q: What do you recommend to someone who wants to change a room but can't spend a lot of money?
John Colaneri: If you're working on a very tight budget, I always tell people what's overlooked is lighting. But we focus on lighting all the time. You don't need to spend a lot of money. A chandelier or pendant lights in the kitchen can be transforming.
Anthony Carrino: And that really translates to any room in the house. Think about a great, ornate, glass chandelier fixture in a small bathroom. It adds a new level of vertical interest and sophistication. Fixtures run the gamut, but you can find reasonably-priced ones and change them right out. Scour the Internet for great deals.
Q: So this season will have lots of surprises. I've heard that you're working with Khloe Kardashian Odom and Lamar Odom.
John Colaneri: We're doing their entertainment center/movie theater room.
Anthony Carrino: They have a beautiful house.
John Colaneri: The room is purple and gold, but they want to do away with that. So we're putting our twist on the space with something warmer and cozy that feels more contemporary, like a second living room.
Anthony Carrino: We also did an episode this year in conjunction with the American Cancer Society that will air May 2013. You'll see the whole story unfold, but we work with a family with a 28-year-old son who beat Hodgkin's lymphoma. And we did a project with Hope Lodge, a lodging facility in Buffalo run by the American Cancer Society where we created a zen garden, meandering path and fire pits. It's so great when you can really help people.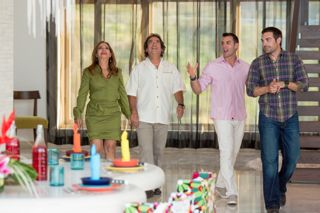 Kitchen Cousins, Anthony Carrino (far right) and John Colaneri (second from right), reveal the newly designed penhouse to Garza Blanca's owner, Fernando Gonzalez Corona and his wife, Eva.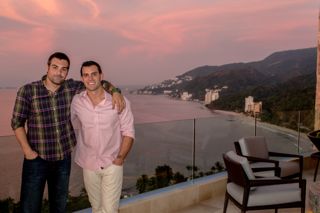 Anthony Carrino (left) and John Colaneri soak up the Garza Blanca sunset.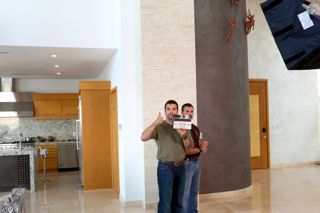 Carrino (left) and Colaneri during the penthouse filming.
Cousins on Call airs Wednesday evenings on HGTV, for more information, visit facebook.com/cousinsTV
(All photos used with permission)
Editor's note: A previous version of this post incorrectly claimed the Kardashian's house was built in the 1800s and excavated underneath.