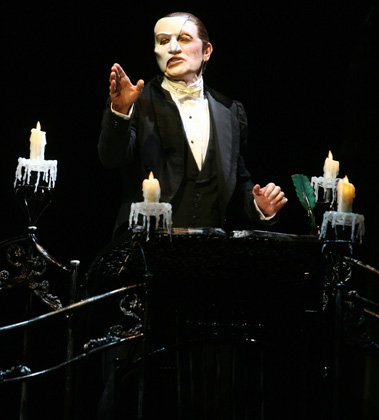 "If anyone had told me I was going to spend one day of my career in Las Vegas, much less six years, I wouldn't have believed it. But these last six years have been amazing."
The speaker is Anthony Crivello. For six years, beginning in June 2006 he was the title character in Hal Prince's Las Vegas production of Phantom. In Las Vegas, the show lasted 95 minutes, all the songs were included and it played with no intermission. The full name of the show on The Strip was Phantom: The Las Vegas Spectacular. While the stunning theater, sets and effects, gave credibility to that title, so did Crivello's performance. At first alternating in the role, he quickly became the show's sole Phantom, playing the part more than 2,300 times. The fact that he did so is a testament to pure talent and plenty of determination.
A self-described "street kid," Anthony Crivello grew up in what he says is a music-loving family in Milwaukee. During the 1960s riots in that city, he saw Molotov cocktails thrown in front of his home and was present when a stray bullet went through his window. During the latter incident, Puccini was playing on the family stereo. (He did say they were a "music-loving family.")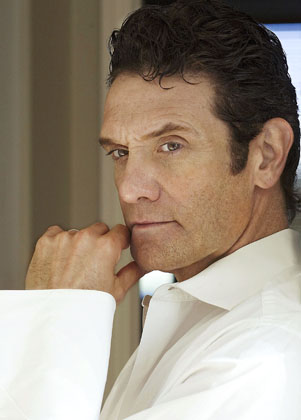 Crivello was turned on to theater by one show: "The most significant musical experience I ever had was seeing West Side Story. That's why I do what I do. The jagged edges of the conflict and the classic love story really got to me.
"I went to Marquette University, but I retained that street edge, that attitude. So, when I got to Chicago to try out for the role of Agustín Magaldi, a popular singer with whom Eva Perón had an affair. in Evita" .
The character of Magaldi had a song in the show called On This Night of A Thousand Stars and Crivello says, "I had to sing that and, also, I was told to sing a Tom Jones song because of his strong voice. They wanted Magaldi to have that same strong quality. So I sang Delilah.
"I didn't get the part, but I got a call-back to understudy the part of Che. So I went back, did the audition and didn't get the part."
It turned out that the Che they had cast proved unsatisfactory and ultimately, Crivello won the role. After Chicago, he transferred to the Broadway production.
Che Guevara, the Cuban revolutionary, in reality never met Eva Peron and was, seemingly, just added to the production for the sake of having a moral commentator on stage. Frank Rich, then drama critic for the New York Times who had no love for the show, wrote on October 17, 1982:
Anthony Crivello, a performer new to me, is easily the best Che I've seen in New York or London: not only does he have a supple voice, but he also moves with such grace that he lightens the heavy, moralizing tone his character must bear. He's so effective, in fact, that he almost convinces you that there is a sound reason for Che Guevara to be dragged into the Perón saga.
A man of remarkably diverse talents, Crivello got his start in TV soap opera on the soap opera One Life To Livein 1968. He went on to do TV movies and theatrical films. His range included Jim Abrahams' Jane Austin's Mafia!, Roland Emmerich's Independence Day, Crocodile Dundee II and many, many more.
On TV, Crivello's been seen guest-starring on shows including Seinfeld, Frasier, Law & Order, Crossing Jordan, Miami Vice, CSI NY and dozens of others.
You can see some of Crivello's comedy clips below. The short segment in Italian is from Jane Austen's Mafia!(If you think you don't know who he is, it's a good bet you'll recognize him.)
Through all of this Anthony Crivello has returned repeatedly to the stage. Evita marked Crivello's meeting with legendary director Harold Prince. In 1993 Prince cast Crivello as Valentin in the Broadway musical adaptation of the film Kiss of the Spider Woman. Working with Chita Rivera and Brent Carver, Crivello won the 1983 Tony Award as Best Featured Actor in a Musical. He was granted another honor -- the third such honor for him -- when fabled "Line King" Al Hirschfeld drew the cast for the Sunday New York Times.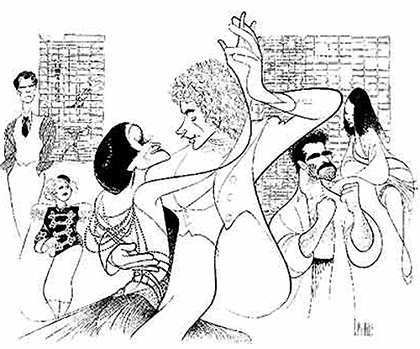 Hirschfeld had drawn Crivello before. The actor explains that when he heard about the first drawing, "I did research on Mr. Hirschfeld and realized the magnitude of his work and then I saw his 'vision' of me in the role of Che. I was honored, humbled...and flabbergasted. He captured a combination of things that were true to my portrayal of Che in black and white. His use of negative and blank space still has such energy. He was just a master of his craft.
"The three Hirschfelds I have (Che in Evita,the killer in the Broadway show The News, Valentin in Kiss of the Spider Woman) are a permanent record of my Broadway history, And, for that I will always be indebted to the great artist that he was. I am proud that Mr. Hirschfeld's work hangs in my home today." (In the Kiss of the Spider Woman drawing below, Crivello is second from the right.)
In addition to the theatrical works mentioned thus far, Anthony Crivello has worked at Lincoln Center, the Goodman Theater in Chicago, the Geffen Playhouse in LA and, in addition to the Broadway Tony Award, has won prestigious honors for his work elsewhere. He is a member of the Actors Studio in New York and Los Angeles and has been taught by Estelle Parsons, Harvey Keitel, Martin Landau and Barbara Bain.
His is also a member of the Dramatist Guild of America and is writes plays and films.
Now back in New York talking to casting agents about his next experience, Crivello laments the fact that. "Casting agents for Broadway tend to see me as solely a musical actor, and the fact that I can do straight drama and comedy seems not to have registered with them. I hope that changes."
Reflecting on his career and the last six years in Las Vegas, he says, "The journey took a long time. Meeting Hal Prince and doing Che in Chicago and on Broadway started it all.
As Phantom was ending its Las Vegas run, Prince said of Crivello, "I think he's a protean performer. He's got a wide range of capability and he's charismatic, He's very strong. I would always cast him in something where he was a force."
Crivello has proven such a force that several hundred fans of the show greeted him most enthusiastically when they came to Las vegas in 2009 for what was supposed to be an annual event, a Phantom Fan Week. At the time, I wrote on BroadwayWorld,
"There were actual gasps when Anthony Crivello walked onstage, reed-thin, dark hair and eyes - every inch the ideal guy to play the role. [And, I must note, there was a great deal of talk about the various actors who have played it. The fans, gathering during breaks, showed off memorabilia, autographs and photos, all the while talking about "Michael," "Colm," "Chris," "Howard," and so on. These people love the show and treat the actors like family.""}
Asked his favorite part, this actor, who made his stage debut in a school production of a play about Pocahontas and John Smith told the audience, "My favorite role is Che Guevara in Evita. I'd like to play Willy Loman in Death of a Salesman and Alvaro Mangiacavallo in The Rose Tattoo. Burt Lancaster was miscast in the role [in the film version]. It's very operatic, very Italian. I'd like to try it. I'd also like to play Teach in David Mamet's American Buffalo."
While sad to see the Las Vegas production end, Crivello is anxious to continue his journey. He and his wife, actress Dori Rosenthal, were married shortly before the run began and, while living here, have added Enzo and Charlotte ("Charlie") to their family.
A week before he left Las Vegas, Crivello filmed a short scene with Matt Damon for the HBO movie Behind the Candelabra, starring Michael Douglas as Liberace. He is enjoying New York "catching up with old friends (The photo at left of Crivello his Marie Christine friend co-star Audra McDonald who is now in the revival of Porgy and Bess on Broadway was taken last week) with and making the rounds."
By any measure, Anthony Crivello is prodigiously talented and will soon find another venue to entertain us and continue on the career journey that has, thus far, been so very successful. Look for him soon.
[Photos: Anthony Crivello as the Phantom. Photo Credit: Joan Marcus; headshot of Anthony Crivello and photo of Crivello with Audra McDonald courtesy of Mr. Crivello; Al Hirschfeld drawing of Kiss of the Spider Woman courtesy of the Margo Feiden Galleries All photos used by permission.]
Popular in the Community