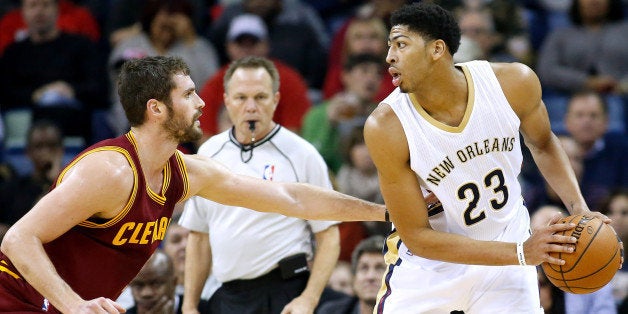 When New Orleans drafted Kentucky's Anthony Davis first overall in 2012, they did so in the hopes that he would become the NBA's next dominant big man. But even the Pelicans' front office probably didn't think it would happen so quickly. Now in his third season, Davis -- 21 years old, 6 feet 10 inches -- has become a superstar on and off the floor, signing sponsorship deals with American Express and Nike while also averaging 24 points, over 10 rebounds and a league-best 2.67 blocks per game. In fact, on Tuesday, he became just the third player ever to score 35 points and collect 10 rebounds, 8 blocks and 3 steals in a single game. Davis, who won a national title during his only collegiate season at Kentucky, also won gold medals with Team USA in the Olympics and FIBA games.
Shortly before last month's All-Star Game in New York City, the Chicago native spent some time with The Huffington Post to discuss his meteoric rise, why he likes seeing double-teams in the post, his trademark unibrow, Kevin Hart and why he's guaranteeing another Kentucky national championship.
This interview has been edited and condensed for clarity.
You have become an elite NBA player in a very short period of time. What was the progression for you, last summer to this season?
My mid-range jumper. I think that was my biggest focus last summer -- being able to knock that shot down consistently from anywhere on the floor.
I read somewhere that you take 1,000 jumpers a day. Is that right?
Wow, that's fantastic. How long does that take?
Well, it depends on if you're making them or you're missing them. It can go for an hour, 30 minutes, hour and a half. I probably have something new to work on every night.
Have you seen teams guarding you differently this season, respecting your perimeter shooting more?
Yeah, I'm starting to see more double-teams. I'm showing up on the scouting report and they're trying to make sure they know where I am at all times. It's a lot different from my first few years, and it's actually pretty cool seeing other teams getting ready for Anthony Davis and the Pelicans. I think that's pretty cool.
It's a compliment when teams are game planning for you.
It's exciting. Their coach is always telling me, like, 'Man, I'm glad he wasn't playing tonight.' It's crazy to hear. I never thought that would be me.
Consistency is a constant challenge for young teams. When you look at a franchise like the Spurs, how do you try to mold yourselves in the same way?
No matter if they're up 20 or down 20, they're going to stick to their game plan. They're always going to stay the course, stay up and do their own thing. They're going to stick with their game plan. So that's what we try to do -- even if we're down or we're up, we try to stick with the game plan that Coach has told us and try to go from there, and whatever happens, happens.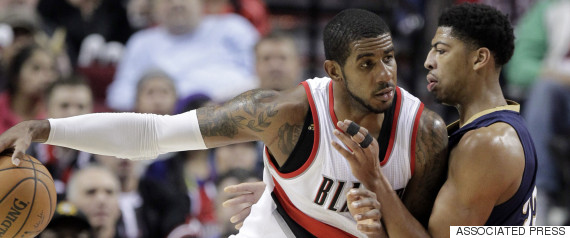 LaMarcus Aldridge [of the Portland Trail Blazers] seems to be the gold standard for offensive power forwards.
He can do so much. He's extended his 3-point range now, he has a turnaround, post, everything. He's a tough cover. And then you know, to top it off, he's 6-foot-11. So he's a tough guy to cover. He's got a lot of skill sets with a lot of moves. But I love playing against him. He's definitely a guy that I get up for and get ready to play against.
Who else is really tough for you on a nightly basis? The West has an array of quality bigs.
Blake [Griffin, L.A. Clippers], Dirk [Nowitzki, Dallas Mavericks]. Blake can get off the rim and get down the floor. He's strong, and he tries to bulldog you.
Where does DeMarcus Cousins [of the Sacramento Kings] fit into that conversation?
Yeah, DeMarcus. He can do it all. Best center in the league to me. You've got Dwight Howard [Houston Rockets], you've got Marc Gasol [Memphis Grizzlies], Zach Randolph [Grizzlies] -- all the bigs in the West are tough.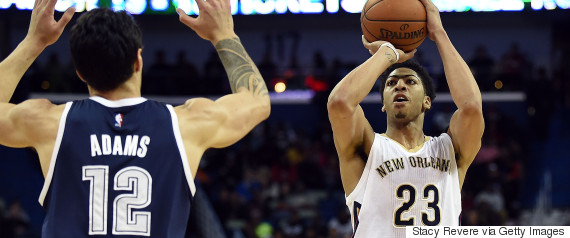 How much do you look into analytics -- your different percentages on the floor -- in terms of what's the best shot for you to take?
I don't look into it, but for me, somebody told me it's the top of the key.
I didn't see, what'd he say?
He said "I hate sabermetrics, I hate analytics."
I don't really get into all that. For me it's more about scouting reports and tendencies. I don't really care if guys shoot 100 percent from this spot and 75 percent from this spot. At the end of the day you've got to defend, and just knowing what moves he likes to use and what he likes to do, I think that helps you a lot.
With that in mind, how much are you able to watch the rest of the league? Are you a basketball aficionado where you will actually go home and watch other guys hoop?
Oh yeah. I try to watch teams that I know we're playing coming up, and try to see what they do, what plays they like to run.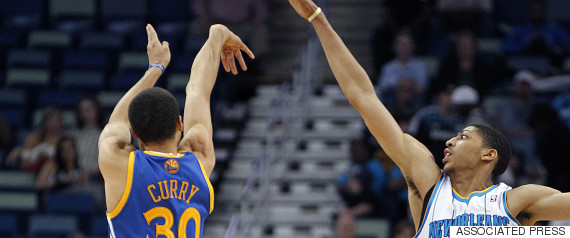 The league has an abundance of great point guards right now. Specifically, Steph Curry [of the Golden State Warriors] is having an unbelievable season. When you're guarding the pick-and-roll with a guy like Steph Curry, do you have a certain philosophy where you're trying to force him away from the hoop?
I mean, first off, his range is unlimited, so you can't just back up and let him get a shot off. You have to try to get the ball out of his hands, honestly -- try to get him to make another pass. And against Golden State, that's tough, because they can all do the same thing. But you just have to try to get the ball out of his hands and make somebody else beat you.
Is it also a physicality thing? Do you try to hit him a little or knock him off of his spot?
No, he can do a good job of creating fouls, so you don't want to [create] a foul call. You just want to try to get the ball out of his hand and make another guy shoot the ball.
Are you surprised when you're walking around and everyone seems to know you now?
Oh yeah. A couple years ago it wasn't like that. So now to get that attention, it's humbling. I see people walking around with posters and jerseys on and everything like that, so it's just crazy how I've gotten noticed and how far I've come in a matter of two years.
Who was the biggest celebrity that you were most excited to meet during All-Star Weekend?
I knew you were going to say that.
What is it about him exactly that's so appealing?
I think he just doesn't care. Whatever he wants to say, he'll say. I don't think he really has a filter, and everything is funny. So that's why everybody loves him.
What would you say to Jameis Winston as he's going into the NFL? What would be your advice to him, to be a super-high pick -- maybe No. 1 like you -- as he gets ready for the next step?
You just gotta stay locked in, stay focused. The league can get the best of you, and you just have to come in with the mindset that you're going to come in, work hard and compete at every workout, every practice. Make sure you're at the top of your game when your number's called or when teams are coming to look at you. Then you can be ready.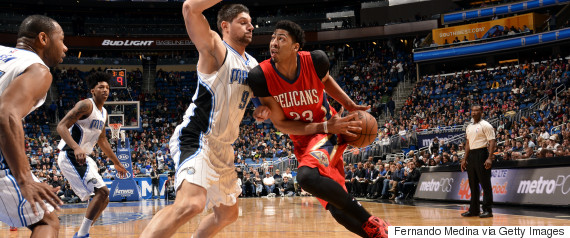 The "unibrow" has become not only a trademark for you, but a phenomenon as well. How much fun have you had with it, given the response it generates from fans?
It's tons of fun. Fans love it, I love it, family loves it. I did some marketing stuff for it. So it's getting a lot of notoriety and it's very marketable.
What have you seen from the Kentucky team this year? I know you've been asked what would happen if your national title squad played them.
They've yet to prove their greatness, but they're a good team. They compete, they play hard, they care about one another. And more importantly, they defend. They're huge, they've got a lot of great bigs and guards who can defend the ball.
Is there a similarity that you've seen between yourself and [Kentucky Wildcats center] Karl-Anthony Towns?
He plays hard. He's got a good skill set for a big. So I mean, we both have good skill sets, great hands for big guys.
Is Kentucky winning it all this year?
Guaranteed. Quote me on that one.
Are they going to run the table?
Man, that's tough. I mean, I thought we could pull it off, but the Christian Watford shot [against Indiana] -- you can't control that. It'd be crazy if they do. But I definitely guarantee they're winning it all.
When Indiana beat you that year, did that help you guys in a way?
I think it kind of hurt us. I think the Vanderbilt game [a loss in the 2012 SEC Tournament] really helped us going into the tournament. We lost in the SEC Championship and that got our minds back and locked in for the tournament. I don't think it's so much the Indiana game, but the Vanderbilt game in the SEC Tournament was a big factor in us winning it all.
Email me at jordan.schultz@huffingtonpost.com or ask me questions about anything sports-related at @Schultz_Report, and follow me on Instagram @Schultz_Report. Also, be sure to catch my NBC Sports Radio show "Kup and Schultz," which airs Sunday mornings from 9 to 12 EST, right here.
Calling all HuffPost superfans!
Sign up for membership to become a founding member and help shape HuffPost's next chapter