Chefs get their inspiration from so many sources. And Anthony Goncalves is now taking his inspiration from chefs who hail from the country of his heritage, Portugal. He's the chef and owner of 42, an upscale dining room perched in a soaring tower of the Ritz-Carlton Hotel in White Plains, New York. 42 offers diners awe-inspiring views of the Manhattan skyline that complement Goncalves' Mediterranean cuisine that's quite reflective of the flavors and ingredients found in the Iberian Peninsula, especially Portugal.
But, if this wasn't reason enough for Manhattanites to hop on a Metro North train bound for Westchester, there's another motivator: Goncalves recently started inviting some of his favorite chefs from Portugal to each whip up an eight-course tasting menu -- it's paired with fine Portuguese wines -- alongside him in the kitchen. The result is Divertimento da Cozinha (aka Kitchen Fun) in which Goncalves and the visiting chef each prepare four courses. 42 is holding these gourmet extravaganzas every few months and each is focused on a theme. At the one I recently attended, Goncalves collaborated with Marco Gomes, the chef who helms Foz Velha in Porto, to create Old World Portuguese fare with, of course, a contemporary twist.
What motivated Goncalves to plan such a time intensive endeavor? When I spoke with him recently, he told me that he likes the give and take between himself and the guest chef:
I hear their philosophies and what inspires them. I listen to their stories of growing up in Portugal. I was born here and grew up near great farms in Westchester. And, though I spent my summers in Portugal, it's not enough. The visiting chefs provide me with a window into their Portuguese culture. Gomes is more traditional then I am but tonight is a complete marriage between the two of us. And when he leaves, I'm inspired by his stories.

Marco Gomes is certainly passionate about food and cooking. "I was born in the interior of Portugal where cooking was part of everything," he said. And its these roots that he goes back to in the kitchen. "I give the food a different look but I keep the traditional flavors. It's important to be innovative without losing the traditional flavors."
Goncalves prepared the first course: an assortment of appetizers -- lupini beans with chile, marinated spicy mushrooms, grilled green peppers, shrimp with garlic and paprika, Iberian ham, quince and black olives, pear mostarda and Portuguese sausages -- which provided a wonderful medley of flavors.
The second course was a variation on alheira, a Portuguese bread sausage. Instead of using a crispy beef tripe, Gomes upped the sophistication factor by instead relying on a crispy phyllo dough shell -- it's filled with the same bread stuffing -- alongside a dollop of wild mushroom puree and a caramelized apple.
Next was grilled octopus topped with a sweet potato foam. The colorful dish was rounded out with pickled and crunchy sweet potatoes and a wafer-thin paper made from black olives and squid ink. Goncalves grew up eating octopus, sweet potatoes and olives so it's no wonder that they figure prominently here.
For the fourth course, Gomes made a timbale that relies on Portugal's signature fish, salt cod. Roasted potatoes sit on the bottom of the stack; an onion confit tops the dish; and broccoli rabe, wood roasted cod and cornbread with grilled green peppers make up the interior layers. Gomes chose this ensemble because he found these foods to offer the best flavors to complement the codfish. If this were prepared traditionally, each of the foods would appear separately on the plate. So Gomes kept the authentic flavors and made it more contemporary by stacking them.
Goncalves prepared the fifth course which, at first glance, hardly seemed Portuguese: fried rice with bits of pork belly, cuttlefish, sesame seeds, leek ash and a poached egg. But this dish is derived from Macau, a former Portuguese colony. And Goncalves added the cuttlefish because it's a food he remembers eating when he spent his summers in Portugal.
In the sixth course, Gomes served a pan fried breast of young chicken with broad beans prepared two ways: cooked and served cold alongside Portuguese chorizo, and also pureed. The chicken was flavored with a rub of salt, bayleaf, lemon and paprika while mustard greens adds a bit of spiciness.
Flavors from another Portuguese colony, Goa, made an appearance in the next to last course: Goan lamb shank served with curried acorn squash puree, curried Israeli couscous and drizzled with a coconut foam. Goncalves used Korean turmeric in the green curry.
In the final course, Gomes provided his contemporary take on Portugal's iconic egg-yolk, sickly sweet convent desserts. He told me that normally it's hard to reduce the sugar in the recipe because it's needed for the consistency. So, instead he made his monastery egg cream in a puff pastry with cinnamon and almonds and a little confectioner's sugar, plus a spoonful of strawberry soup on the side.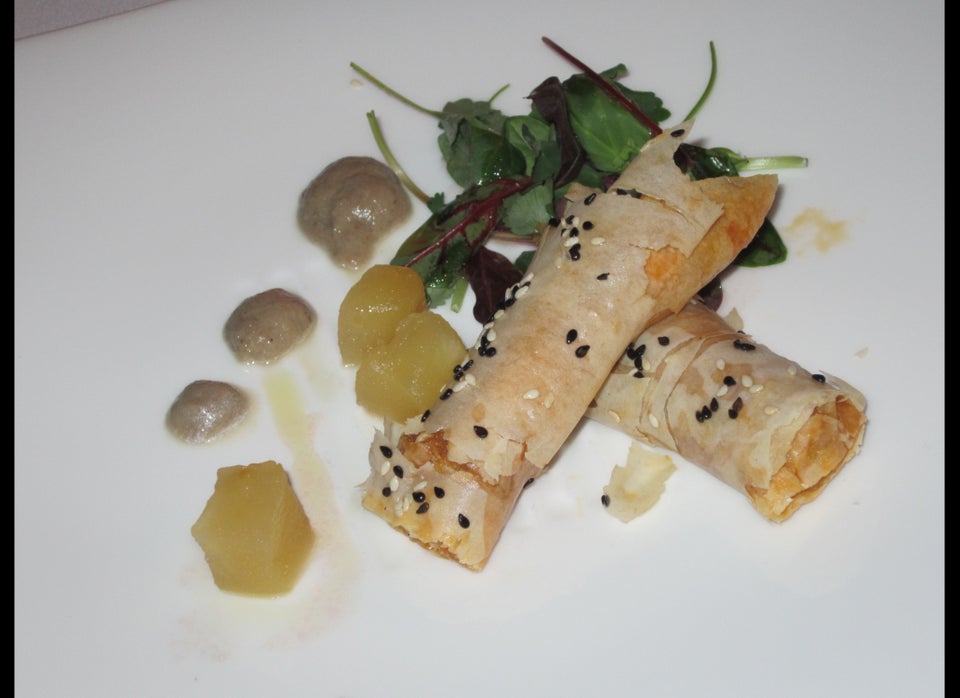 Gallery
Popular in the Community