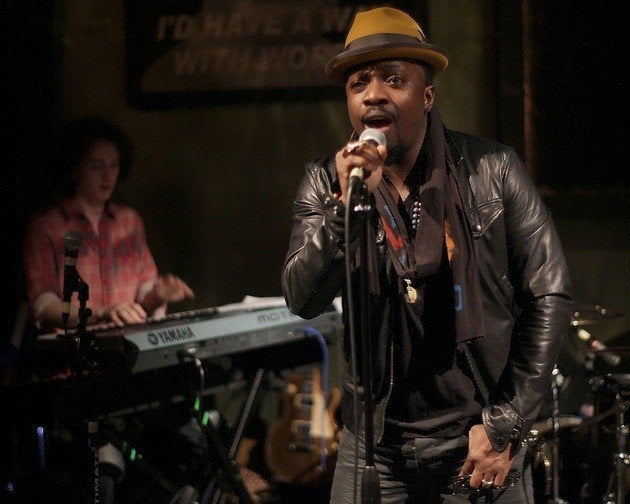 During a recent interview with The Huffington Post, Hamilton opened up on his contributions to the prestigious philanthropic organization, as well as revealing his involvement with the motion picture soundtrack for "Sparkle."
How did you get involved with UNCF's "An Evening with the Stars"?
It came about through a series of conversations, managers and people getting to know what's important to clients and day-to-day business. And I was asked to be a part of it and I said yes, because it's important. Not only am I a father, but it's so important for kids to be educated. I have a passion for not only my own kids but just kids in general. And for our people, we don't have a lot of the advantages, or we don't know about them. If I can bring awareness to it and encourage people to invest in it, then that's what I want to do.
Are you planning on being affiliated with UNCF on an ongoing basis?
I can see myself being involved with it. It feels good to know that you're invested somebody else's future, our future, and that they'll have access to help through the UNCF.
Out of your entire body of work, what inspired you to perform "Find Again"?
It's a song that encourages people that, no matter what we're going through right now, we'll be all right. And maybe pass our hugs to the thugs to heal their souls. Sometimes you have to reach out to people not only financially, but you have to encourage the spirit to even want to get up and seek those avenues or those moments or those chances to attain wealth. If the sprit isn't in the right place, then you don't really care about school or anything. First you encourage the man and the sprit, and then you encourage him to walk that walk and get what he needs, whether it's education or a haircut.
Speaking of inspiring people through your music, do you have a follow-up single to your latest album, "Back to Love"?
We're in between choosing the next single. Some people say "Pray For Me," some people say "I'll Wait to Fall in Love." I'm a big fan of "Sucka For You" as well. So it's just a matter of seeing what the people want. But I think in a minute we'll have the next single.
How has the album been received since its December release?
Ah man, people love it. They're like, "This is your best album yet." And I say, "Well, show me with the sales." [Laughs] But it's great to hear that people really enjoy it.
Would you consider it your best album?
I think it's a great body of work. But I don't know, that's a hard one. I'm still in love with "Coming From Where I'm From" and "Ain't Nobody Worryin'." I love those albums.
In the past you have toured with the Budweiser Superfest. Can fans expect to see you on any summer tours?
Anything that's packaged up nice like that, I don't want [to do] anything less than that. So anything that's remotely that special, I'm willing to bring to the people.
Are you working on any other upcoming projects or collaborations?
I wrote a song for Big K.R.I.T. and Rick Ross. My wife and I co-wrote a song together for "Sparkle." I don't know if it'll make the soundtrack or not, but it's a great song.
Are you and your wife performing on the "Sparkle" track or is it for someone else? And what's the title?
Actually she's singing it. I forgot the title. There's so many songs in my head right now.
What are your thoughts on Whitney Houston's passing?
I was with Whitney at the Kelly Price party, that was her last [public] sighting before going back to the hotel. It was just a terrible feeling to see this person and not knowing she was in that much pain. You always think, "I wish, if I had known, I would've said something to her to help her out."
What was your last conversation with her like?
I didn't talk to her that night. The last time that I talked to Whitney, she was like, "Hey baby, keep it up! Love what you're doing!"
What are your thoughts on all of the rumors and speculation surrounding her death?
People are going to bash you while you're alive and they're going to bash you when you're gone. I think she did a lot of positive [things] and she broke a lot of barriers, records and charts. And they should allow people to see that part of her, too. I mean, she's gone and she can't even defend herself. And to damage her family, I feel like it's a cheap shot at selling a magazine or a paper. Let her rest. Hopefully her daughter can gain strength and make wiser decisions while she's young.
Popular in the Community