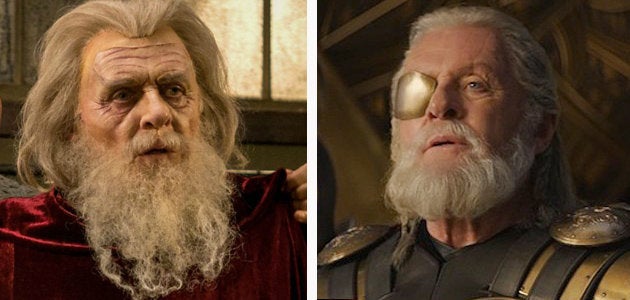 This news just might Rag-na-rok you. 
Anthony Hopkins once left a life in the theater due to the stressful schedule and the requirement to perform the same roles over and over. Well, so much for that idea.
In addition to semi-returning to the stage in a TV adaptation of "The Dresser," in which he plays a stage actor, Hopkins confirmed to The Huffington Post that he's also reprising his old role of Odin in the newest "Thor" installment, "Thor: Ragnarok."
"Yes," said the actor when asked if he plans on returning to film "Ragnarok." "In our studio in August, I think. July or August, yes."
His busy schedule wasn't the only thing making a return questionable. Up until now, everyone thought Odin was dead. Why? Mostly because Hopkins said so.
"He's dead. I've done two, that's enough," Hopkins said in 2013.
Yeah, sounds super dead to me. Or, he was anyway.
In "The Dresser," Hopkins plays Sir, an aging actor who's prompted by his assistant to perform despite losing his mind to illness -- not to mention bombs are dropping during World War II.
Hopkins said the return to the world of theater and the prospect of working alongside his co-star Ian McKellen was what drew him to the role. He described "The Dresser" as "a film devoted to the life [he] once lived," saying, "I just wanted to prove to myself I could do it." And that's exactly what he did.
"The Dresser" has been receiving rave reviews for the performances of both Hopkins and McKellen. Hopkins said, "It's the best thing I've been involved in in many years."
Or ... it will be until Odin returns.
Yep. I got chills. And it's not just from the frost giants.
"The Dresser" premieres Monday, May 30, at 9 p.m. ET on Starz.
Calling all HuffPost superfans!
Sign up for membership to become a founding member and help shape HuffPost's next chapter
BEFORE YOU GO
PHOTO GALLERY
"The Dresser"