WASHINGTON ― Democrats on Wednesday urged Republicans to delay replacing Supreme Court Justice Anthony Kennedy until after the November midterm elections, citing the GOP's refusal to give a hearing to President Barack Obama's high court nominee in 2016.
"Millions of people are just months away from determining the senators who should vote to confirm or reject the president's nominee, and their voices deserve to be heard now, as [Senate Majority Leader Mitch] McConnell thought they deserved to be heard then," Senate Minority Leader Chuck Schumer (D-N.Y.) said.
"Anything but that would be the absolute height of hypocrisy," he added.
Citing what he called the "McConnell Rule," Sen. Chris Murphy (D-Conn.) also said the Senate should postpone consideration of a new Supreme Court justice until next year.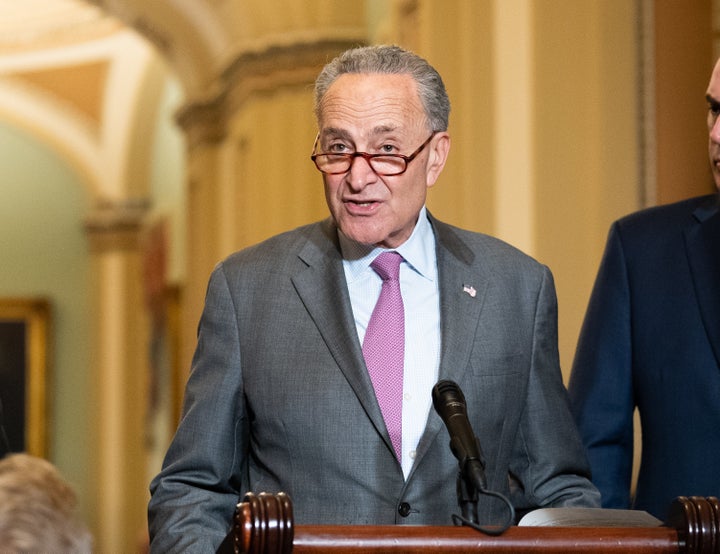 McConnell refused to give Obama's nominee, Merrick Garland, a chance at filling the seat vacated after Justice Antonin Scalia's death in February 2016. Garland never got a hearing or a vote, and most GOP senators refused to even meet with him. The GOP leader argued then that consideration of a new Supreme Court justice should not take place during an election year.
But Republicans on Wednesday said they saw no need to delay the process of confirming Kennedy's replacement ― even though the midterm elections are just a few months away.
"We will vote to confirm Justice Kennedy's successor this fall," McConnell said on the floor.
Sen. James Lankford (R-Okla.) sought to draw a distinction between confirming a high court nomination during a presidential election and confirming one during a midterm election.
"That was a presidential election year, so that was very, very different," he said of Garland's nomination. "We're not in a presidential election year. The last time it was a new president being elected. ... I would say, if you say 'Every two years you can't do a new nominee,' that would be a lot."
In reality, Democrats have little power to stop Republicans from pressing forward with confirmation hearings if they so choose. They failed to shame McConnell into giving Garland a hearing in 2016 ― an incredibly consequential gambit by the Kentucky senator that is now paying off for his party tenfold. Some Democrats this week expressed regret at how they handled Garland's nomination, wishing they had taken more drastic measures to get him confirmed.
"We should have shut down the Senate," Sen. Brian Schatz (D-Hawaii) said Tuesday.
Republicans have every interest in holding confirmation hearings as soon as possible. Doing so would put added pressure on vulnerable red-state Democrats facing tough re-elections to support Trump's eventual Supreme Court choice, bolstering the nominee's chance of passage.
Three Senate Democrats voted to confirm Trump's first high-court nominee, Neil Gorsuch ― Joe Manchin of West Virginia, Joe Donnelly of Indiana and Heidi Heitkamp of North Dakota. Republicans will be looking to win their votes over once more.
"Senators have a responsibility to do our jobs as elected officials and this includes our Constitutional obligation to advise and consent on a nominee to fill this Supreme Court vacancy," Manchin said in a statement Wednesday, disagreeing with calls to postpone confirmation hearings until January.
What could complicate matters for Republicans is the conservative bent of Trump's eventual nominee. If the person the president selects is viewed as too much of an ideologue, one who has a record of supporting the restriction of abortion rights, for example, they could lose the support of moderate women like Sens. Lisa Murkowski (R-Alaska) or Susan Collins (R-Maine).
"I view Roe v. Wade as being settled law," Collins said Wednesday, referring to the landmark 1973 reproductive rights ruling. "It's clearly precedent and I always look for judges who respect precedent."
But discerning how a nominee will rule on an issue in the future is difficult. Gorsuch, whom Collins voted to confirm in 2016, for example, joined the court's conservative justices in striking down a 41-year-old precedent concerning public sector unions just hours earlier on Wednesday.
Republicans, meanwhile, dismissed the notion that McConnell had set a precedent by blocking Garland's nomination during an election year.
"There's no justification for Democrats to obstruct here, so they're desperately trying to set a new standard as a political play to their base," Republican National Committee spokesman Michael Ahrens said in a statement. "Democrats must consider a nominee without delay."
This article was updated with comment from the Republican National Committee.