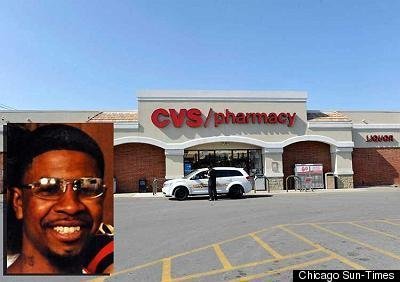 The death of a man who was detained and choked by a CVS employee after he allegedly stole crayons and toothpaste from the Chicago store has community members and politicians outraged, and on Wednesday, the man's father filed a lawsuit against the pharmacy.
Anthony Kyser, a 35-year-old barber, died on Saturday after he was chased out of a Little Village store and restrained by an employee of the store who saw him stealing, according to the Chicago Sun-Times. The employee then strangled him to death. It was later revealed that an off-duty Cook County Sheriff's officer was on the scene as Kyser was killed, but did nothing to stop it.
Michael Johnson, the father of Anthony Kyser, filed a lawsuit Wednesday in Cook County Circuit Court, claiming that the store's manager assaulted and battered Kyser, and the store is responsible for the manager's actions, the Chicago Sun-Times reports.
The manager applied a "choke hold" around Kyser's neck and failed to release him despite pleas that he could not breath, according to the suit.
The eight-count suit seeks more than $400,000 in damages from CVS and the unidentified manager.
Illinois Congressman Bobby Rush is also speaking out about the way Kyser's death was handled. He wrote a letter to Cook County State's Attorney Anita Alvarez Tuesday, outraged that charges had not been filed against the CVS employee.
"This man's murder was absurd," wrote Rush. "What kind of society are we living in where an unarmed man's life can be taken by a group of vigilantes, with eye witness accounts, and a ruling of homicide by the medical examiner and still no one is charged and brought to justice?"
"If he was stealing the police should have been called and he would have paid for his breaking the law--but I am sure his sentence would not have been death," Rush continued. "His actions, such as retail theft or running from the scene, do not justify him being chased down an alley to be beaten and strangled to death by store employees."
The Black Leadership Development Institute's Mark Allen also issued a statement calling for a full investigation into Kyser's death.
"It is irresponsible for our law enforcement officials to simply rule this death as an accident when there are so many important key factors that have been no official clarity and public policy resolve," Allen wrote. "If a shoplifter has clearly left the immediate facility, WHY would a CVS employee feel it was within their power to also leave the immediate premises to chase down the shoplifter and apply the kind of restraint that can kill them?"
Though the CVS employee has been placed on leave while the company investigates, Chicago Police have said that no charges will be filed in Kyser's death. Also, the Cook County Sheriff's officer who left the scene before uniformed officers arrived will not be investigated, a sheriff's office spokesman said.
Related
Popular in the Community