Anthony Levandowski, the head of Uber's self-driving car unit once described by CEO Travis Kalanick as his "brother from another mother," is stepping down from his position for a different role at the company.
Levandowski's new job will remain in Uber's Advanced Technologies Group, which researches self-driving technology. But he will no longer be involved in a key technology that allows autonomous vehicles to navigate, a company spokesperson told HuffPost. Eric Meyhofer, an Uber engineer and co-founder of Carnegie Robotics, will take over the division, Uber said.
The shift comes as a potentially devastating lawsuit against Uber involving Levandowski heads toward trial. The suit, filed by self-driving car rival Waymo, accuses former employee Levandowski of stealing trade secrets.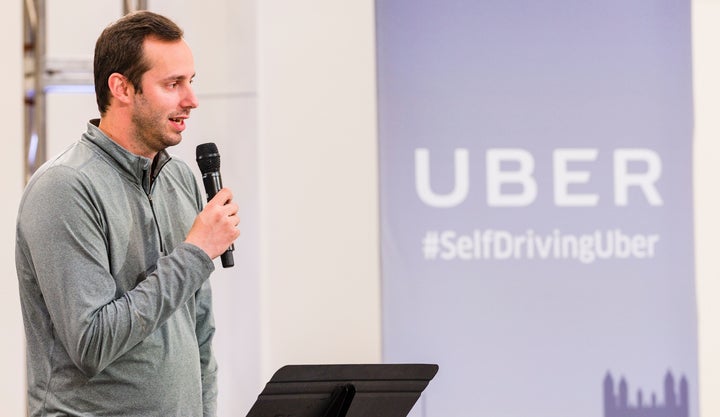 Levandowski played a key role in Google's self-driving car program, later spun off into Waymo. Central to the lawsuit is the design of a circuit board for an essential technology called LiDAR, which helps driverless cars map their surroundings.
Waymo claims Levandowski brought that circuit board design with him to Uber, giving the company a critical ― and illegal ― advantage. Uber has dismissed the claim.
In an email to his team on Thursday (read it below), Levandowski wrote that Uber's technology was built "independently, from the ground up."
A court hearing is scheduled for next week. The judge potentially could halt Uber's self-driving program until the outcome of the trial.
Team:

I want to let you know that Travis and I have decided that I will be recused from all LiDAR-related work and management at Uber, through the remainder of the Waymo litigation. This change means that Eric Meyhofer will be the head of ATG, reporting to Travis, and I will report to Eric. My other responsibilities will not change.

As you know, I currently don't provide input on detailed LiDAR design choices. But making this organizational change means I will have absolutely no oversight over or input into our LiDAR work. Going forward, please make sure not to include me in meetings or email threads related to LiDAR, or ask me for advice on the topic.

We all know the hard work that Eric, James and the LiDAR team have put into independently developing our technology over the past few years.

We should all be proud that our self-driving technology has been built independently, from the ground up. With this move, I hope to keep the team focused on achieving the vision that brought us all here.

Thanks,

Anthony
Popular in the Community