NEW YORK ― People tend to assume that the original stars of "Hamilton" walked away from the groundbreaking musical with a hefty paycheck. After all, the average ticket price for their acclaimed show eventually hit well above $1,000. And everyone from President Barack Obama to Beyoncé and Meryl Streep attended performances, beginning all the way back in 2015. It was, and still is, a phenomenon of a theater production.
In actuality, actor Anthony Ramos ― who originated the roles of statesman John Laurens and Hamilton's eldest son, Philip, in the Tony Award–winning show ― said he and his co-stars made just enough money to cover their rent, bills and daily expenses.
"On Broadway, we had to negotiate with our producers to share some [earnings]. That was an ongoing process, but everybody came to an agreement," he told HuffPost. "But we didn't ... the show didn't financially make any of us rich. It provided for us and helped open doors to create other opportunities that helped us make money. But the show itself didn't necessarily change my life or most people's lives in the cast [financially]. The checks we get after that long negotiation for profit share have helped us after."
Ramos didn't divulge exact salaries. The typical minimum salary for a Broadway star, he said, is around $1,800 a week, though people can reportedly negotiate up to $10,000 or even $20,000. Off-Broadway rates are anywhere between $300 and $1,000 a week, depending on the number of seats in a theater. Like in any other industry, Ramos believes success in the theater world hinges on an ability to fight for what you feel you deserve.
"People don't take into consideration that you won't be in the show forever. You're doing it eight times a week. You don't get paid when you get hurt. You have to earn every single dollar," he said. "Plus, when you leave the show, you don't get any of that money. That's it. You pay out your agent, your manager ― 10 percent, depending on what you're doing. After paying taxes, and after it all adds up, you're making good money, but you're making just enough to live in New York City."
At the end of the day, Ramos said he can only hope that the projects he takes on now create "an opportunity to do something better that will hopefully pay you more and also be just as creatively fulfilling or more creatively fulfilling than the last thing. A lot of the times that doesn't happen. It can take people years to get another great job. This entertainment game is a gamble."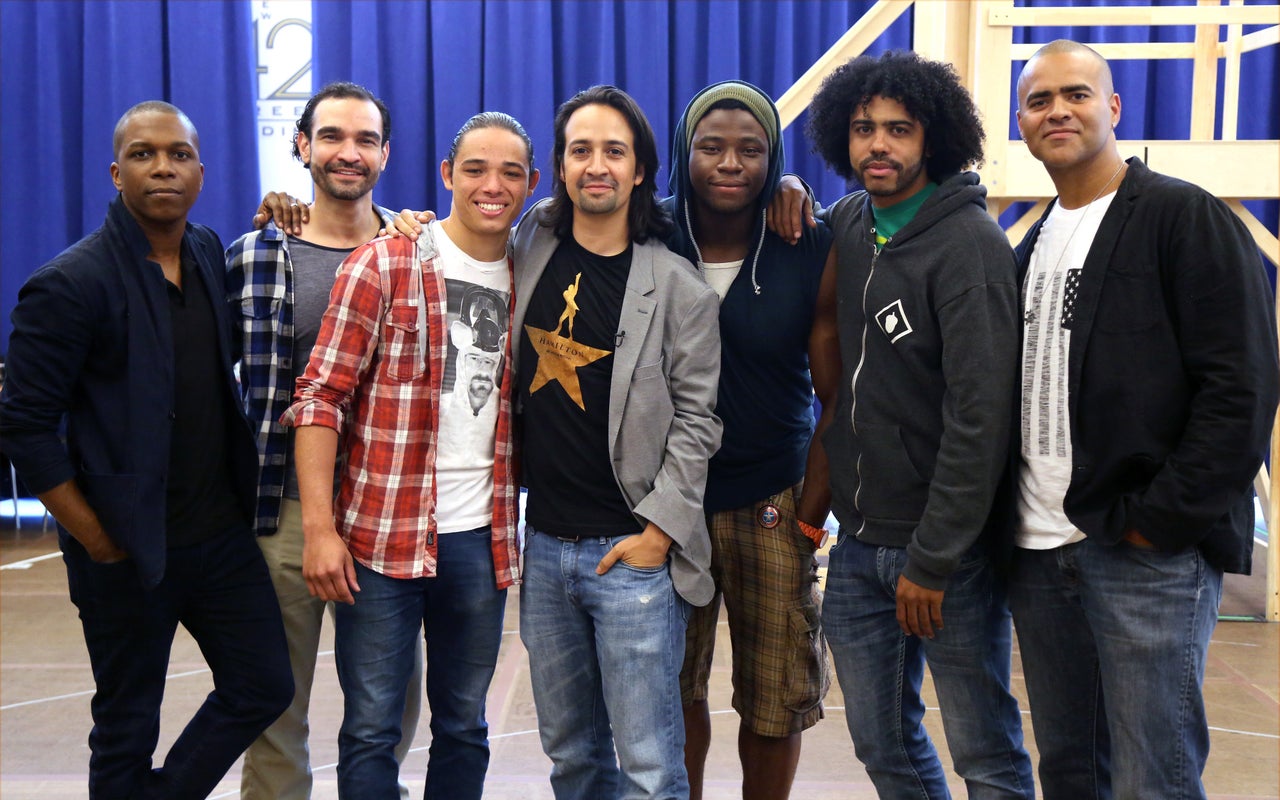 I met Ramos at Primrose Cafe in the Clinton Hill neighborhood of Brooklyn late last year, not long after his new show, the Spike Lee–directed series "She's Gotta Have It," hit Netflix. In it, he plays the lovable Mars Blackmon, easily the fan favorite among the suitors for the series' protagonist, Nola Darling. The role is one of several "great jobs" Ramos has taken on since he strolled off the stage of "Hamilton."
Ramos was chatting with Kate Fenneman Stokes when I arrived ― the woman, I would later learn, who helped secure him a college scholarship just a few years ago.
"I had applied to schools, but my applications had gotten withdrawn," he told me as he sipped a water at our corner table, "because we had some issues at home and we couldn't fax or get the applications in in time."
Back then, Ramos was an 18-year-old baseball player living with his two siblings and single mother in one of Brooklyn's housing projects. As a member of a low-income family, Ramos never saw college as a practical possibility, but the theater director at his high school, Sara Steinwess, encouraged the naturally talented Ramos to try out for the American Musical and Dramatic Academy (AMDA) in Manhattan anyway. She guided him through the audition process, helped him with his essays and paid for the application for the Seinfeld Scholarship Program, which Fenneman Stokes was overseeing at that time.
"If there was any time in my life to be honest with someone, it was then," Ramos said of his first meeting with Fenneman Stokes. "I just told her everything: I grew up in the projects, my dad was on drugs, my family's got a history of alcohol and drug problems. No pun intended, but I was like, all I need is one shot. I just need somebody to give me a shot. The next thing you know, she's crying, I'm crying, and a few days after that AMDA is calling me."
Despite his poor grades at the time, Fenneman Stokes gave Ramos the scholarship, which funded his tuition, fees, and room and board for four years.
"Anthony was so special, it's hard to explain," Fenneman Stokes told me over email. "He had a deep passion and love for performing, and he just needed someone to support him. It's hard to meet Anthony and not want to be that person."
Once at AMDA, Ramos said he worked harder than he'd ever worked before. "Always hustling," as he described it. In between spending hours upon hours in rehearsal spaces, Ramos was "cleaning toilets, mopping, vacuuming, anything to make money." He even worked in Victoria's Secret part-time on top of his gig as one of the academy's orientation leaders, in the midst of trying out for, and finally landing, a position in the school's dance workshop.
"Mars is kind of the voice of people from New York. All the side hustles, that was my real life. Spike made the character half-black, half-Puerto Rican. He sort of wrote the character with me in mind and developed it."
After putting his best foot forward, he graduated from a two-year program, got an agent and started going on any open call he could find, whether it was in New York or Ohio. The first role he booked was Paul San Marco in "A Chorus Line" at a summer stock theatre in New Bedford, Massachusetts. His audition was so memorable, in fact, that the producer offered him the part right then and there.
He accepted, then turned down the role a few days later.
"You got to be there all summer for $250 a week and I had just gotten agents at the time and they were like, 'We don't think you should do this job,'" Ramos explained. "I'm super green. I didn't really know anything about the business or whatever. So I was like, 'All right, my agent said I can't really do this job,' and the producer at that theater was super mad at me. Calling me, yelling at me, like, 'You can't say yes to a job and then back out!'"
That was the first of many valuable lessons Ramos learned about the life of a flailing actor. Two or three months later, his agents dropped him. "You got to tell your agents when you're going to Canada. You can't just go to Canada," he smirked.
Ramos was cast in a few low-paying "hanky" shows before he joined a regional production of Miranda's "In the Heights" at the Pioneer Theater Company in Salt Lake City in 2012. He went on to appear in Radio City's Christmas Spectacular in New York City and book a job as a singer on a cruise ship. The latter gig had him preoccupied for nearly 10 months.
"It was summer camp," he said of the overseas adventure. "I was 21. I was in Europe for six months. It was wild." When he finally returned to NYC, and another job with the Radio City Spring Spectacular fell through, Ramos was eager for any new opportunity.
"I went to audition at [talent agency] Telsey for a show that was at a signature theater," Ramos explained. "In an email, after I finish that open call, the casting director's like, 'We're about to call you in for this thing called "Hamilton's Mixtape."' And I was like, '"Hamilton's Mixtape"? OK, cool, yeah, sure.'"
Ramos auditioned for musical supervisor Alex Lacamoire and director Tommy Kail. Clearly, it turned out well.
"They gave me the part that I eventually originated on Broadway," Ramos said. "We did the four-week lab and then we had six months off. I worked at a bakery and a preschool. I shot my first super low-budget indie film in that time, too. Then, we were off-Broadway for six months, had a month off, and then we went on Broadway."
All in all, Ramos played his dual roles at the Richard Rodgers Theatre for 17 months before taking his final bow on Nov. 20, 2016.
Ramos was still acting in "Hamilton" when Spike Lee ― who apparently saw the Lin-Manuel Miranda creation seven times ― approached him about "She's Gotta Have It."
"Spike came to the Public Theater [where the production ran off-Broadway] and after the show, he stands up, in the second row, and is just clapping really aggressively and pointing and clapping and pointing," Ramos described. "And my boy Chris Jackson, next to me, whispered through the side of his mouth, 'He ain't pointing at me!'"
Lee greeted Ramos backstage that night and called him a month or so later to set up a meeting. Ramos went to his office and they got to know one another. ("It's a slow burn with Spike, he's really got to be sure," Ramos said.) The two kept in frequent contact over the next few weeks until Lee made a proposal Ramos couldn't refuse.
"We sat down again, he gave me a copy of the script for 'She's Gotta Have It' and he told me he was thinking about me for Mars Blackmon." Mars is the role Lee himself played in the original 1986 film, so Ramos, appropriately, freaked out. Fueled by nervous excitement, he began working with Lee on his tape for Netflix, who was backing the series.
"This all happened over the course of like six to eight months," he said. "[I was] still in 'Hamilton,' super on the low, wasn't talking to anyone about it until it was real."
Well, it got real. Ramos booked the role. Sadly, he said, he couldn't devote himself to both a high-profile musical and a highly anticipated TV show. "I think my zeal for ['Hamilton'] and my heart for the show wasn't as full as I'd like it be or how I wanted it to be," he said. "My bank account was thanking me, but my heart was like, 'Yo, my man, what are you doing?' Creatively, I wouldn't be my best in both places."
He decided to focus 100 percent on the Netflix series, which follows one woman (DeWanda Wise) and her varied relationships with three lovers. As a guy from Brooklyn, playing a character from Brooklyn, representing the people of Brooklyn, Ramos was stoked.
"Mars is kind of the voice of people from New York," Ramos said. "All the side hustles, that was my real life. Spike made the character half-black, half-Puerto Rican. He sort of wrote the character with me in mind and developed it."
"He didn't tell me that until after we started filming," Ramos added.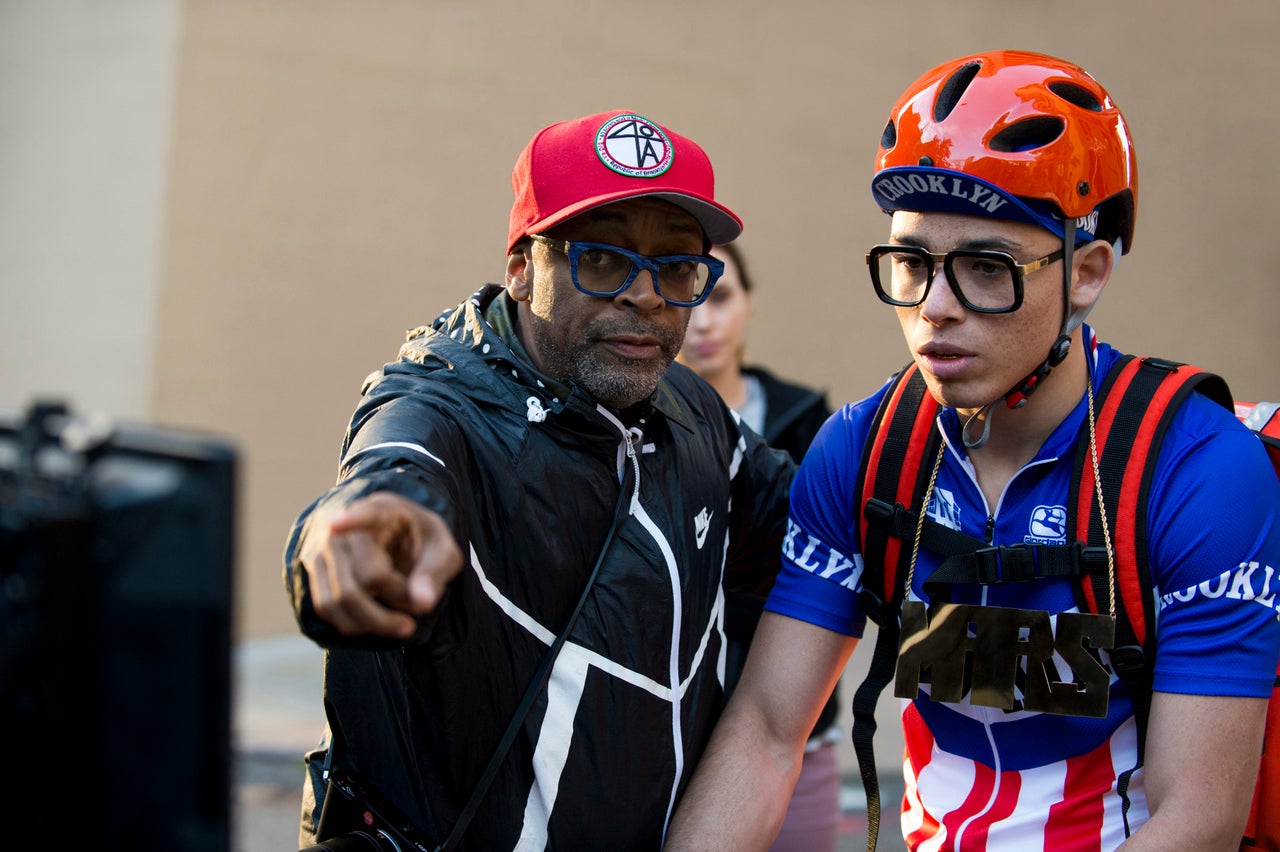 The 26-year-old, who also recently had a cameo in "Will & Grace" and is set to appear in big-budget films like "A Star Is Born" and "Godzilla: King of Monsters," is just happy to be working on stories that say something, particularly "She's Gotta Have It."
"There's a lot of content out there that, unfortunately, I don't feel is saying a lot," he said. "This show talks about issues that are going on in New York and all over the world: sexual harassment, verbal abuse, physical abuse, gentrification, the one percent, the tax break, all sorts of things. It speaks for a lot of people who feel like they can't speak up or don't know what to say or don't know how to express what they're feeling or can't quite define what they're feeling. I'm proud to be a part of a piece of art that's not only doing that but also giving people the courage to step out a little more and educate themselves on music, culture and political issues."
Ramos himself is attempting to say something in his own art. He's gearing up to release an EP of songs he wrote directly following the 2016 election. The "vibe" he was sensing from people around him inspired tracks including "Freedom" and "Common Ground," which touch on graver topics like immigration. Sitting with me in the cafe, Ramos spoke his lyrics: "I was told that a life has no price, you see / but the hate in your eyes put a price on me."
He'll drop the record on the one-year anniversary of President Trump's inauguration later this month.
"You can't just think that things will get better — it takes work," he said. "Hard things bring great humility and we need humility in this country. I'm grateful that we're having hard conversations and dealing with each other. Even if it doesn't seem like we're dealing with each other well, we're dealing with each other. We're actually hitting things head-on."
This kind of faith has helped the actor progress in both his life and career, and has allowed Ramos to envision himself as something more than just a "Hamilton" star.
"It's tough to get out of that box," he said, explaining that he must "take the chains off" in his own mind before anyone else can see him in a new light.
"My identity doesn't lie in 'Hamilton.' My identity is not in Mars. It doesn't lie in 'Godzilla' or whatever else I've been blessed to be a part of. People can label me however they want, but I know who I am at the end of the day and anyone who cares to come on the journey or get to know me will get to know me as an individual, and that's all I really care about."
Thankfully, Ramos has a great support system, which includes a partner who understands exactly what he's going through. Jasmine Cephas Jones also starred in the original cast of "Hamilton" as Peggy Schuyler and Maria Reynolds, and Ramos says she's there for him every step of his post-show journey.
"She keeps it real," he told me. "You have someone who you can bounce off of who's there constantly or someone who understands your point of view or where you're coming from or can rebut your point of view. Having someone who is supportive is number one."
As our nearly two-hour conversation came to an end and we got up to leave, Ramos informed me that he'd be heading to Puerto Rico to help out in any way he could after Hurricane Maria devastated his family's homeland. He's since returned from that visit, calling the experience "the most overwhelming, inspiring and beautiful thing I think I've ever seen." Alongside Miranda, who's reprising his role in "Hamilton" for a three-week run on the island, Ramos also took part in the all-star single "Almost Like Praying," which raised money for relief. He said he'll "do anything" he can to let Puerto Rico residents know they're not alone.
"The only thing you leave in this world is a legacy," Ramos said. "Eventually, your money gets spent. Eventually, your house gets sold. So what is your legacy going to be?"
This piece has been updated with further comment from Ramos on his "Hamilton" income.