A man in Jackson, Tennessee, who adopted a dog Thursday morning ended up being killed by the canine just a few hours later.
Anthony Riggs, 57, adopted the 5-year-old male Rottweiler from Jackson-Madison County Rabies Control, the area's animal control agency, shortly before 10 a.m., The Jackson Sun reports.
Riggs' ex-wife said he was a good man who loved animals.
"He never hesitated to be with dogs," Adrienne Riggs told the paper. "Sometimes I thought he related to dogs better than to people."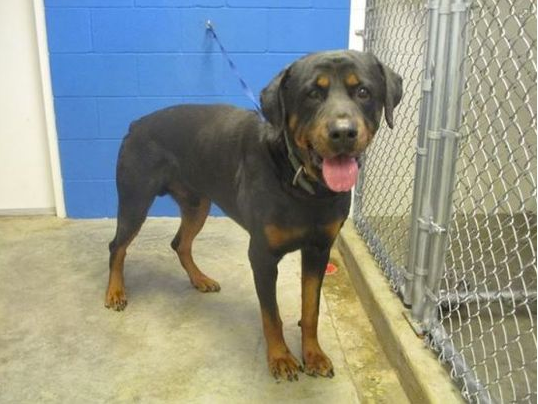 By 3:30 p.m., Riggs was dead in his home and officers were investigating the incident. His wife, Kathy Riggs, dropped by their home with a coworker in the afternoon and found her husband dead.
"The husband was all chewed up," Madison County Sheriff's Dept. spokesman Tom Mapes told The Huffington Post. "There was blood everywhere. The sheriff's report said [Riggs] was found 'mortally wounded on the floor from the dog attack.'"
The dog also bit Kathy Riggs and her coworker before running out of the house, where he was shot on sight by sheriff's deputies.
Deputies feared the dog would attack people gathered outside, Mapes told WBBJ-TV.
His wife's coworker, later identified as Teresa Sanchez, posted on the Jackson Sun's Facebook page that the dog wasn't growling or showing teeth, according to the paper.
"It was a stray running at large, so we have no idea if the dog had been vaccinated or not," she said.
Tennessee law requires strays to be held for at least three days and given food and water, but they are not required to be examined or tested, Tedford explained to USA Today.
She added that the Rottweiler who killed Riggs showed no signs of aggression while at Rabies Control, and there were no reports of the dog biting any officers.
However, Riggs' ex-wife, Adrienne Riggs, is skeptical.
"I don't believe what they said. I just don't," she told the Jackson Sun. "A docile dog does not turn in three hours and kill somebody. Something was wrong."
Popular in the Community