Anthony Scaramucci, the new White House communications director, recalled his own "personal incident" with CNN on Friday when the network's White House correspondent asked about the relationship he wants with the media.
"I thought I handled it well," he said of a now-retracted CNN story about him. "You guys said something about me that was totally unfair and untrue. You retracted it and issued me an apology. And I accepted the apology immediately."
Scaramucci, a financier and savvy pundit who has developed close relationships over the years with journalists, has lately become one of President Donald Trump's best advocates on television, repeatedly dismissing the Russia scandal dogging his presidency as "nonsense."
He also reportedly scored major points with Trump after pushing back successfully against CNN's flawed June article linking Scaramucci to a Russian investment fund ― an editorial debacle that led to the resignations of three prominent journalists.
"Trump advisers say that Scaramucci's stock climbed further after retracted CNN story," Politico reporter John Dawsey tweeted Friday. "Trump 'just loved it' and still talks about it."
Trump talked a lot about the CNN story on Twitter, seizing the screwup to attack Russia-related coverage more broadly.
"Wow, CNN had to retract big story on 'Russia,' with 3 employees forced to resign," Trump tweeted on June 27. "What about all the other phony stories they do? FAKE NEWS!"
Days later, Trump tweeted that he was "extremely pleased to see that @CNN has finally been exposed as #FakeNews and garbage journalism."
Scaramucci, who the New York Post reported was considering a $100 million lawsuit against CNN for the story, quickly accepted the network's apology when the story was retracted on June 24 and said he was "moving on."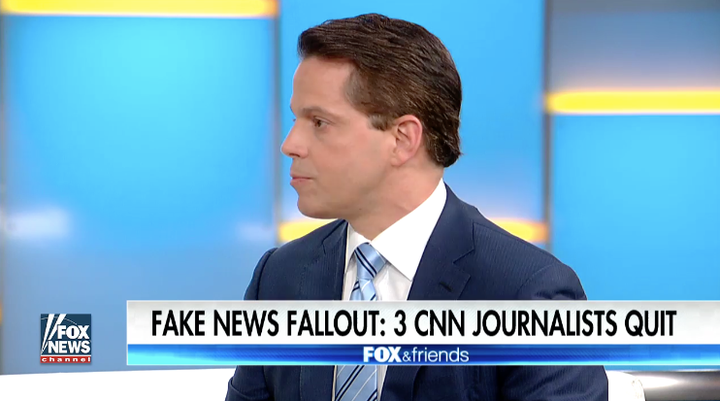 But the CNN debacle unsurprisingly kept resurfacing during Scaramucci's subsequent appearances on rival Fox News and Fox Business.
Scaramucci recalled during an appearance last month on Trump-favorite "Fox & Friends" that he made "it very clear to [CNN] that the story was not accurate and that it was a defamatory story." He said reports of lawsuit threats were overblown, but acknowledged reminding CNN "about my legal background."
He wouldn't get into specifics about his conversations with Trump about the CNN story. But Scaramucci said on "Fox & Friends" that "there's some level of vindication not just for the president, but for the entire team, that this is just a bunch of nonsense."
Scaramucci discussed his dispute with CNN later on Fox News' "Media Buzz," and described the media broadly as having an "an existential crisis" over Trump's victory.
Last week on Fox Business, Scaramucci said the experience with CNN has been part of "learning how to play the game here in Washington."
And he suggested Trump's defenders could push back more aggressively against flawed coverage.
"I think Donald Trump Jr. will have to use the same tactics, the same skill set," Scaramucci said. "This nonsense going on about Russia is, in my opinion, completely nonsense."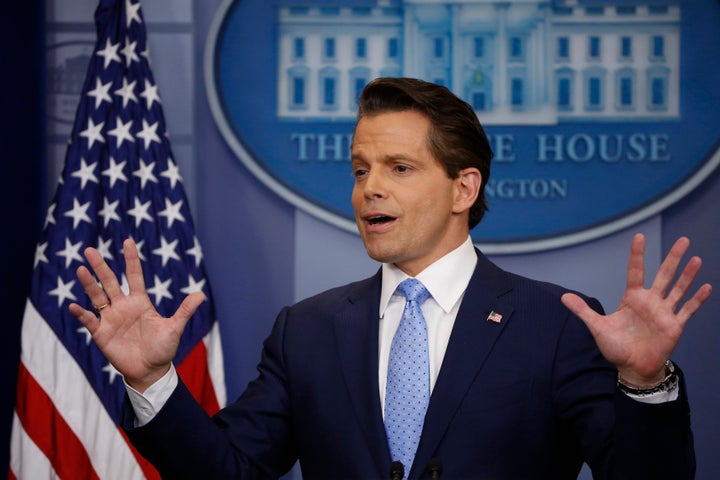 Scaramucci acknowledged on Friday that he has "never been a journalist," but has "played a journalist on television." He used the same line in recent Fox appearances discussing the CNN incident.
Scaramucci is a former host of Fox Business's "Wall Street Week," a role he said gives him "empathy for journalists in terms of sometimes they're going to get stories wrong."
"But I sort of don't like the fake news," he said, adding that it feels like "there's a little bit of media bias" in coverage of Trump.
"And so what we hope we can do is de-escalate that and turn that around and let's let the message from the president get out to the American people," he said.
Related
Popular in the Community