The wife of newly named White House communications director Anthony Scaramucci reportedly wants a divorce, just days after giving birth to the couple's son.
Ball's lawyer, Jill Stone, on Saturday confirmed the divorce story to The New York Daily News, but shot down rumors that Scaramucci's "naked ambition" and desire to be a fixture in President Donald Trump's administration drove a wedge between the couple.
"Whoever decided to state that that was the cause, that has nothing to do with her filing for divorce," Stone told the paper, declining to get into specifics.
"It's a private matter," Stone said. "She's focusing on the children. She really doesn't have a comment at this time. She's not going to turn this into a circus."
On Monday, Ball gave birth to James Scaramucci two weeks before the child's due date. Weighing 5 pounds, 13 ounces at birth, the boy is currently in a neonatal intensive unit, according to the paper.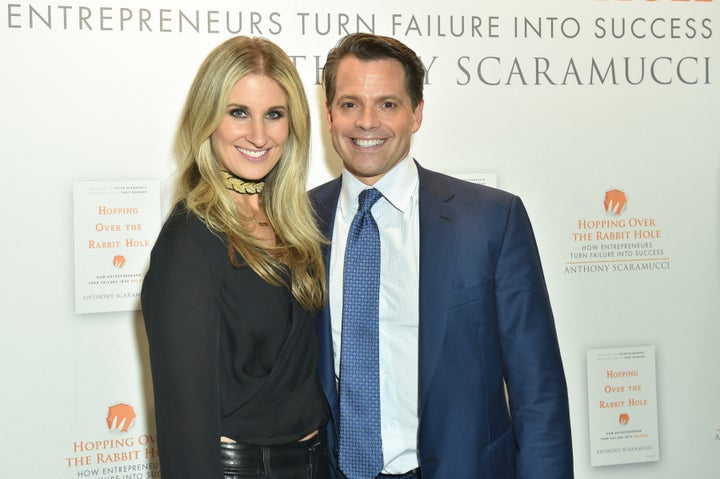 HuffPost reached out for comment to Ball via Facebook, to Scaramucci via Twitter and to White House press office via email. No responses have yet been received.
Scaramucci, who had a previous marriage end in divorce, posted two recent tweets that seemed to refer to the reports of domestic discord with Ball. The first came a short time after the Post's story.
The second came Saturday morning.
The Post said that Scaramucci had shed his wedding ring recently or was wearing it on his right hand.
"Deidre is not a fan of Trump, and she hasn't exactly been on board and supportive of Anthony and his push to get" a White House job, an anonymous source reported as close to Scaramucci told the paper.
Leonard Sperber, the lawyer hired for Scaramucci's first divorce, told the Daily News he had "no authority to comment on anything," including whether or not he had been retained a second time.
Ball's LinkedIn profile lists her as vice president of investor relations for SkyBridge Capital, an asset management business formerly run by her husband.
He sold his interest in the business this year in preparation for a job in the Trump White House. After initially serving in a post at the Export-Import Bank, he was appointed to his communications job on July 21, sparking the resignation of press secretary Sean Spicer.
On Thursday, the New Yorker magazine published a profanity-laced interview with Scaramucci in which he attacked in vulgar terms then-White House chief of staff Reince Priebus and Steve Bannon, Trump's chief strategist. Priebus resigned from his job Thursday night and on Friday Trump named as his replacement John Kelly, who had been secretary of the Homeland Security Department.
Popular in the Community