After just 10 days on the job, White House communications director Anthony Scaramucci on Monday was forced out of his position as retired Marine Corps Gen. John Kelly took over as chief of staff.
Here are some highlights from Scaramucci's brief but memorable tenure.
He pledged his loyalty and proclaimed his love for Trump.
On his first day, he addressed reporters at a White House press briefing, repeatedly channeling his new boss and declaring: "I love the president."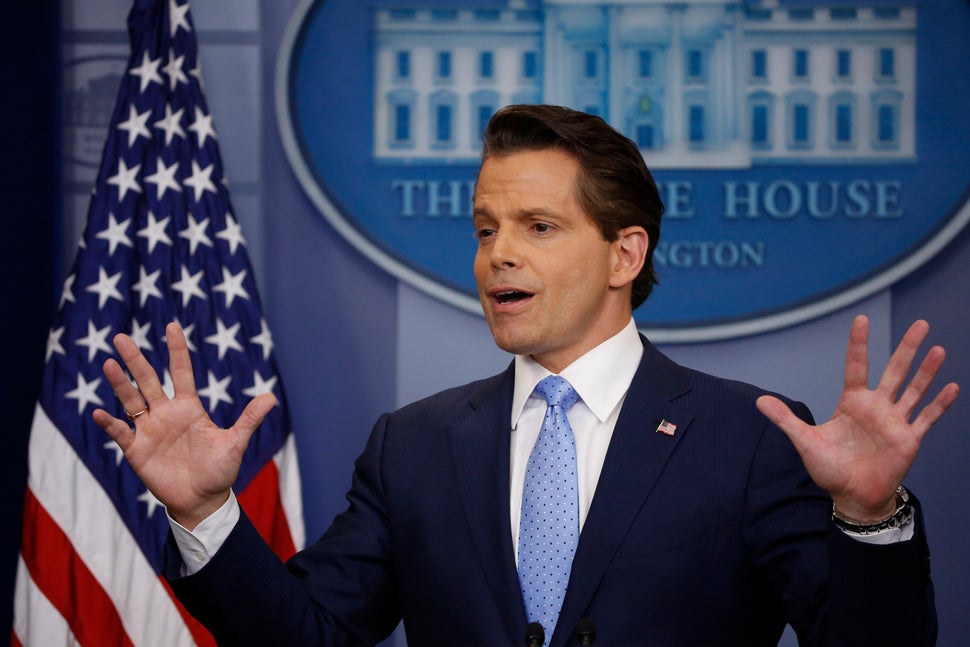 He deleted old tweets that criticized Trump and expressed divergent views in the name of "full transparency."
Scaramucci's Twitter feed featured many tweets from the presidential campaign that were critical of Donald Trump. Scaramucci also expressed support for policies and views that were at odds with those of Trump, such as stricter gun laws and combating climate change, which Trump has called "a hoax."
He claimed "a source" told him there was questionable evidence for Russian meddling in last year's election.
Days after he began his new job, Scaramucci went on the Sunday political talk shows to discuss the position and defend his boss.
On CNN's "State of the Union," he claimed an anonymous source told him that if "the Russians actually hacked this situation and spilled out those emails, you would have never seen it."
When pressed by host Jake Tapper, Scaramucci admitted the source was Trump.
"He called me from Air Force One. He basically said, you know, this is, maybe they did it. Maybe they didn't do it," Scaramucci said.
He recommended press secretary Sarah Huckabee Sanders focus on her hair and makeup.
Scaramucci complimented press secretary Sarah Huckabee Sanders on her hair and makeup after she took over for Sean Spicer, who resigned over Scaramucci's hiring.
"I want to do everything I can to make her better at that podium," Scaramucci told Tapper in the same interview. "I think she's phenomenal there now, but like every athlete training for the Olympics, every day we've got to make ourselves incrementally better.
"The only thing I ask Sarah, Sarah if you're watching, I loved the hair and makeup person that we had on Friday. So I'd like to continue to use the hair and makeup person."
Later, he claimed he was talking about makeup for himself.
He defended Trump as "not elite" because the president eats cheeseburgers and pizza.
In an interview with the BBC, Scaramucci criticized "the elites" for focusing too much on "the Russia story," referring to the ongoing investigations into whether Trump's campaign colluded with Russia during last year's election.
"What part of Trump is not elite?" BBC host Emily Maitlis asked, noting that before Trump became president, he was a real estate mogul and reality TV star, who inherited his family's business. "The business side, or the politics side, or the inheritance side?"
"There are so many things about the president. How about the cheeseburgers? How about the pizza that we're eating?" Scaramucci replied.
"Everyone eats cheeseburgers and pizzas," Maitlis said. "What are you talking about?"
Scaramucci accused her of being "a little bit elitist," and said Trump "has unbelievable empathy."
He equated repeal of the Affordable Care Act to abolishing slavery.
Also in that BBC interview, Scaramucci discussed Senate Republicans' efforts to repeal the Affordable Care Act, comparing it to Abraham Lincoln's quest to abolish slavery.
"If you've read Team of Rivals," he said, referring to historian Doris Kearns Goodwin's biography of Lincoln, "it took Lincoln three or four times to get what he wanted from the Senate and House of Representatives, which was the full abolition of slavery. That was a much tougher thing to do than what we are doing now."
He suggested then-Chief of Staff Reince Priebus was leaking confidential information.
"When I put out a tweet and I put Reince's name in the tweet, they're all making the assumption that it's him, because journalists know who the leakers are," he said. "If Reince wants to explain that he's not a leaker, let him do that."
He compared the dynamic between him and Priebus to that of Cain and Abel.
"When I said we were brothers from the podium [during his first White House appearance], that's because we're rough on each other. Some brothers are like Cain and Abel. Other brothers can fight with each other and get along," Scaramucci said. "I don't know if this is repairable or not. That will be up to the president."
In the biblical story, Cain ended up killing Abel.
He held up disgraced Penn State football coach Joe Paterno as a role model for "honor."
Also in his CNN call-in segment, Scaramucci implored White House staffers to "honor the job," citing Joe Paterno, the late Penn State football coach who was implicated in the coverup of the Jerry Sandusky sex-abuse scandal.
"Why don't you honor the job? You remember Joe Paterno? What would he say? Act like you've been there before," Scaramucci said of White House staffers. "Act with honor and dignity and respect, and hold the confidence of the presidency in his office. Why don't we do that?"
He gave a profanity-laced interview to The New Yorker.
He called Priebus "a fucking paranoid schizophrenic, a paranoiac," and again suggested Priebus would "leak something." He claimed he would fire White House communications staffers.
"They'll all be fired by me," Scaramucci said. "I fired one guy the other day. I have three to four people I'll fire tomorrow. I'll get to the person who leaked that to you. Reince Priebus — if you want to leak something — he'll be asked to resign very shortly."
He had an even more vulgar description of White House chief strategist Steve Bannon.
"I'm not Steve Bannon, I'm not trying to suck my own cock," Scaramucci told Lizza. "I'm not trying to build my own brand off the fucking strength of the president. I'm here to serve the country."
The interview was so shocking it may have been the final straw for Scaramucci.
Bye, Mooch!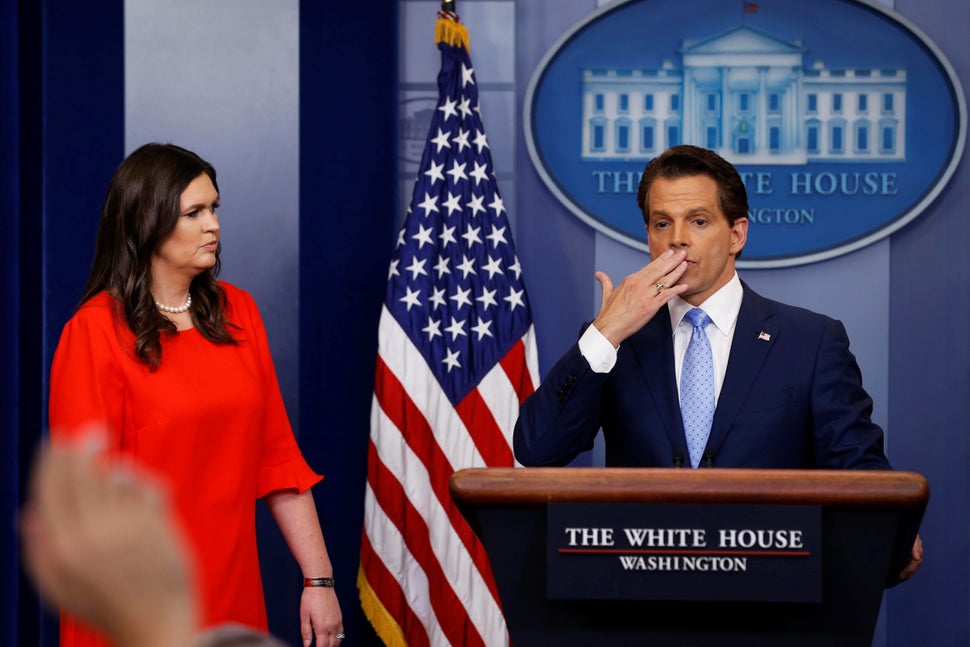 Calling all HuffPost superfans!
Sign up for membership to become a founding member and help shape HuffPost's next chapter
BEFORE YOU GO