White House communications director Anthony Scaramucci wants the FBI to investigate "felony" leaks ― but he is denying reports that he is calling on the agency to target chief of staff Reince Priebus.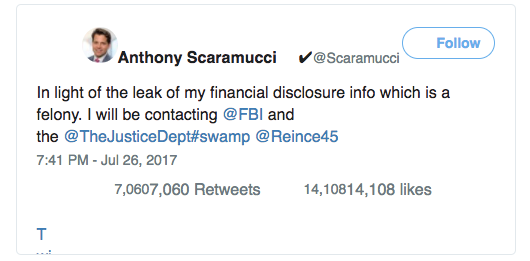 However, Scaramucci denied it in a follow-up tweet:
The Washington Post's Philip Rucker said there is an effort underway inside the White House to pin leaks on Priebus:
It's not clear whether the leak of his disclosure form is a felony, as Scaramucci indicated.
The Washington Post reported earlier this week that Attorney General Jeff Sessions would soon announce a criminal investigations into leaks of sensitive intelligence information.
And Wednesday evening, following Scaramucci's appearance on Fox News' "Hannity," the Department of Justice released a statement backing the communications director's concern over national security leaks.
"We have seen an astonishing increase in the number of leaks of classified national security information in recent months," spokeswoman Sarah Isgur Flores said. "We agree with Anthony that these staggering number of leaks are undermining the ability of our government to function and to protect this country. Like the Attorney General has said, 'whenever a case can be made, we will seek to put some people in jail,' and we will aggressively pursue leak cases wherever they may lead."
Scaramucci has not yet elaborated on his latest call for an investigation, and Priebus has not responded.
Last week, Scaramucci downplayed reports of tensions between him and the chief of staff, saying the two were "personal friends."
Ryan Reilly contributed to this report.
UPDATE: This report has been updated with additional information from Scaramucci.
Popular in the Community