Former White House communications director Anthony Scaramucci condemned President Donald Trump's racially charged attacks on a group of Democratic congresswomen of color, calling the comments by the man he briefly worked for "racist and unacceptable."
"Would @realDonaldTrump ever tell a white immigrant ― whether 1st, 2nd, 3rd or 4th+ generation - to 'go back to your country'?" Scaramucci tweeted on Tuesday. "No. That's why the comments were racist and unacceptable."
He continued: "America is a nation of immigrants founded on the ideals of free thought and free speech."
Trump on Sunday launched a racist tirade against freshman Reps. Alexandria Ocasio-Cortez (N.Y.), Ayanna Pressley (Mass.), Ilhan Omar (Minn.) and Rashida Tlaib (Mich.).
All four have been outspoken critics of the president, particularly over his handling of immigration and the humanitarian crisis at migrant detention centers along the U.S-Mexico border.
The president in his series of hate-filled tweets referred to the women as foreign-born and told them to "go back and help fix the totally broken and crime infested places from which they came."
Three were born in the U.S. Omar was born in Somalia, immigrating to the U.S. with family when she was a child.
Facing backlash over the racist comments, Trump had doubled down on his attack, saying on the four lawmakers: "These are people who hate our country."
In a series of fresh tweets on Tuesday, he also falsely accused the women of being "pro-terrorist" and "anti-USA."
Trump's comments have sparked a wave of outrage among Democrats, but Republicans have been largely silent ― or issued cautious rebukes, at best.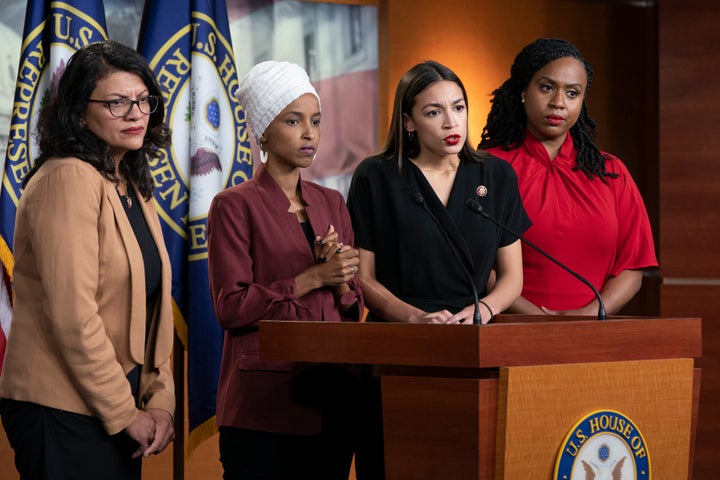 Scaramucci has repeatedly called Trump a "liar" in the two years since he resigned from his 10-day stint as the president's communications director in July 2017.
His own tenure at the White House was marked by some of the Trump administration's more bizarre moments, including profanity-laced tirades against other staff members. Scaramucci was ousted from his post following a rant to The New Yorker in which he slammed then-chief of staff Reince Priebus and then-White House chief strategist Steve Bannon and threatened he would "fucking kill" leakers within the administration. 
Scaramucci has also sparked controversy since leaving the White House. In October 2017, his newly launched media organization asked its 24,000-plus Twitter followers how many Jews they thought had been murdered during the Holocaust.
Twitter users swiftly accused The Scaramucci Post of pandering to Holocaust deniers, and the poll question was taken down after about 90 minutes.
Calling all HuffPost superfans!
Sign up for membership to become a founding member and help shape HuffPost's next chapter