A top aide to New York City mayoral candidate Anthony Weiner had harsh words for a former intern on Tuesday, calling the woman who wrote about her experience working on the former congressman's campaign a "slutbag" who "sucked" at her job.
In an interview with Talking Points Memo, Weiner communications director Barbara Morgan attacked Olivia Nuzzi, the former intern whose story on the campaign was published by the Daily News Tuesday. In the story, Nuzzi accuses Weiner of incorrectly calling several female interns by the name "Monica," and claims that many interns joined the campaign with hopes of landing in the good graces of Weiner's wife, Huma Abedin, a longtime aide to Hillary Clinton.
In the interview with TPM's Hunter Walker, Morgan lashed out at Nuzzi for taking her story to the press.
"Fucking slutbag," she said. "Nice fucking glamour shot on the cover of the Daily News. Man, see if you ever get a job in this town again."
Morgan denied many of Nuzzi's claims in her Daily News piece, as well as additional accounts she published on the site NSFWCORP, including a story on multiple departures from the Weiner campaign.
According to Morgan, Nuzzi stopped interning for the campaign "like four weeks ago." Nuzzi's story on NSFWCORP described her as having spent "four weeks" as a Weiner intern. When asked whether the claims in Nuzzi's stories were true, Morgan suggested many of them were "bullshit."

...

Morgan also expressed disbelief that Nuzzi criticized her credentials.

"And then like she had the fucking balls to like trash me in the paper. And be like, 'His communications director was last the press secretary of the Department of Education in New Jersey," Morgan said. "You know what? Fuck you, you little cunt. I'm not joking, I am going to sue her."
Morgan also characterized Nuzzi's work on the campaign as subpar.
"She sucked. She like wasn't good at setting up events. She was clearly there because she wanted to be seen," Morgan said.
According to the New York Observer's Jill Colvin, Morgan believed her colorful remarks to Walker were off the record.
Weiner, who previously led the pack of candidates running for New York City mayor, has taken a dramatic hit in the polls since admitting to sending inappropriate messages and photos to several women after his resignation from Congress in 2011. A Quinnipiac University poll released Monday found the former Democratic congressman in fourth place.
Despite calls to drop out of the race, Weiner has remained defiant. On Tuesday, his campaign released a new ad insisting he would not exit the race.
"Quit isn't the way we roll in New York City," Weiner says in the ad. "We fight through tough things. We're a tough city."
UPDATE: 10:09 p.m. ET --Morgan apologized for her remarks in a statement Tuesday evening.
"In a moment of frustration, I used inappropriate language in what I thought was an off the record conversation," Morgan said. "It was wrong and I am very sorry, which is what I said tonight when I called and emailed Olivia to apologize."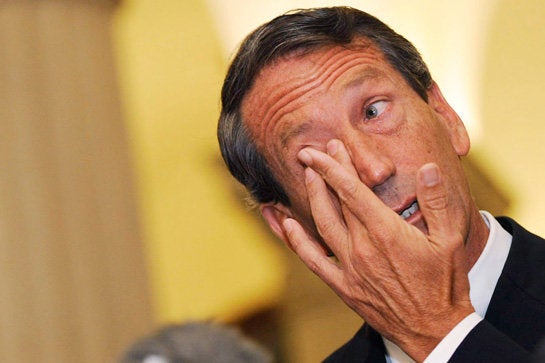 10 Dumbest Excuses for Political Sex Scandals