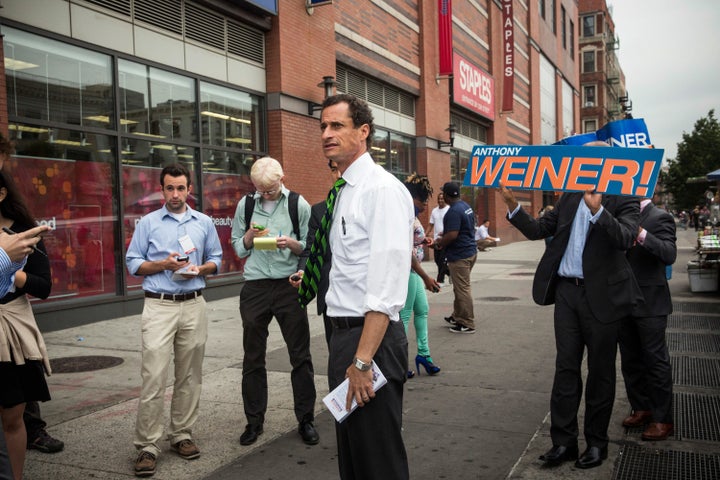 In the spring of 2013, as he embarked on a campaign for mayor of New York City, Anthony Weiner dutifully shook hands with subway commuters, rattled off policy proposals — and anxiously awaited the day his life would blow up.
Weiner had experienced turmoil before. His career in Congress ended in scandal in 2011 over lurid tweets and texts. After first claiming his online accounts had been hacked, he eventually confessed before a phalanx of news cameras and a giddy Andrew Breitbart. Once outside the spotlight, Weiner focused on his home and family. But a year after his banishment, he began looking for a comeback.
He decided to seek one of the toughest jobs in politics, in the country's most intense media environment. Weiner had long wanted to run City Hall, and amid a crowded field of flawed or unfamiliar mayoral candidates, he saw an opportunity — a long shot, to be sure, but a path to victory nonetheless. He still had natural talent. And he still had the ego that went with it.
"I'm probably the best campaign politician you will ever interview. I'm like perfectly evolved. I'm like the Arnold Schwarzenegger Terminator," Weiner said in this week's episode of HuffPost's Candidate Confessional podcast. "I love it. ... I'm just really good at it and take great joy in it."
For a while, Weiner led in the polls and seemed to be relishing the rat-a-tat of retail politics. His decision to run seemed shrewd. Still, in the back of his mind, he was plagued by bits of scandal that had yet to surface.
Speaking to Candidate Confessional, Weiner described this "perpetual anxiety" he felt on the campaign trail.
"It's kind of like PTSD," Weiner said. "I knew that behind the headline could be this hammer that could come down on me."
Ultimately, the sexts he worried about did surface, in big splashy headlines and NSFW photos. Weiner said that he'd always mentioned the possibility that another shoe would drop. But he'd implied that he had stopped the texts when he resigned from Congress. He hadn't.
"I obviously knew it was bad," said Weiner. "There was not a list of 17 different options of what to do. What I had been doing on the campaign up until then was every day, have this idea book, every day I was rolling out another idea, talking about it. ... I could not realistically do it that way now. I had to confront this thing."
Looking back now on his failed run, Weiner doesn't see any particular lessons to draw from his race, other than that his scandal may well have been the last obsession of the dying world of tabloid journalism -- a way to boost newsstand sales.
Still, his campaign showed the limits of retail politics; that even the most skilled politician can be overwhelmed by character failings. Weiner's run for mayor ended up being heavy on anguish and light on redemption. It didn't just result in another sad press conference. It forced him to realize that he would never be elected to his dream job, and that he had only himself to blame.
The new revelations turned his campaign into a media circus. The weeks that followed were agonizing, filled with tense interactions with voters, suffocating news coverage, and declining poll numbers. He even got into a shouting match with a customer at a Kosher bakery.
"I was just falling apart at that point. I mean, I was just falling apart."
"I was just falling apart at that point. I mean, I was just falling apart," he said. "Now admittedly the guy — he was a racist asshole and he said something very nasty about my wife and I snapped. But yes, it was a function of me just kind of being at my wits' end."
"I would be a better elected official than a lot of these people are," Weiner said of the possibility of yet another comeback. "But I think I'm practical enough to realize it is not going to happen."
Listen to the podcast above, or download it on iTunes. And while you're there, please subscribe to, rate and review our show. Make sure to tune in to next week's episode, when our guest will be Martin O'Malley, the former Maryland governor, on his run for the White House.
Popular in the Community