NEW YORK -- Anthony Weiner, the son of a former public school teacher, said his views on education run "deep in my bones."
Fresh off the announcement of his campaign for New York City mayor and Tuesday's promising poll numbers, the disgraced former congressman spoke at the first mayoral debate of his 2013 run. The debate, hosted by the union-funded New Yorkers for Great Public Schools, focused on education in the nation's largest school district.
Weiner sought to situate education within his middle-class message. The "pillars of the middle class ... are under duress, and it starts in our schools," he said.
The debate format cut candidates off fairly quickly and allowed little depth. Still, it became clear that Weiner joins other mayoral candidates who have articulated views counter to New York City Mayor Michael Bloomberg's polarizing policies on education.
Bloomberg's administration has stressed hiring and firing teachers in accordance with test scores, expanding charter schools and closing schools found to be underperforming city metrics. Now, most candidates are calling for a moratorium on charters and locating them in the same location with public schools. New York has long been the stronghold of these ideas, adopted across the country under the education reform movement. Now, these self-styled reformers are keeping a close eye on elections in cities such as New York and Los Angeles, where the future of the reforms, and their political clout, are in question.
On Tuesday, Weiner called the cycle of closing traditional public schools and replacing them with charter schools a "self-fulfilling prophecy."
"We say, you know what, that school is empty. Let's put a charter in there. Yay, we win!" Weiner said in a mocking tone. The diminishing involvement that leads to those closures, he said, "is because we abandon them [the schools] in the first place." Weiner stressed the importance of adding resources, such as "chemistry labs" and "gyms." Echoing U.S. Secretary of Education Arne Duncan, Weiner said teachers who choose to teach in these tough schools should be rewarded with bonuses.
Weiner said he supports competition with charter schools, but "I don't think they compete on a level playing field."
Weiner appeared with four Democratic candidates vying to replace Bloomberg: Comptroller John Liu, Public Advocate Bill De Blasio, former Comptroller Bill Thompson and former city council member Sal Albanese. Notably absent -- moderators still asked questions addressed to her -- was city council leader Christine Quinn, whose spokesman Mike Morey told GothamSchools that "organizers were informed last week we would not be able to make this one work." (Moderator Zakiyah Ansari said the event was rescheduled twice to accommodate Quinn's schedule). Quinn leads polls in the race.
As Capital New York's Azi Paybarah notes, Quinn's absence made Weiner the frontrunner in the room. Monday's Marist poll gave Weiner 19 percent to Quinn's 24 percent, and found that 53 percent of voters indicated he deserves "a second chance."
Throughout the debate, Weiner distinguished himself by standing up to answer each question. ("Is that a thing?" he later told reporters, when asked. "It's just my natural posture.")
The candidates generally decried the state of standardized testing. Weiner said he would test students annually and "I don't have a problem with that." He said current tests are too narrow. The "curriculum has to match the testing," he said.
De Blasio reiterated his plan to raise taxes on the wealthy to fund early childhood education, and focused on funding and class size. "Nothing will help our schools more than reducing class sizes," he said.
Liu criticized the Bloomberg administration for its treatment of special education students and for "treating our schools as if they are corporate subsidiaries of Bloomberg Inc."
In an earlier interview, Quinn told HuffPost her goal would be "trying to help the parts of our system that are the weakest do better," focusing on middle school. "We have become obsessed with the concept of closing schools," she said.
At the end, candidates were asked why they would be the best candidates for education. "I don't want to be the education mayor," Thompson said. "That ship has sailed. I want to make New York City the education city."
Before You Go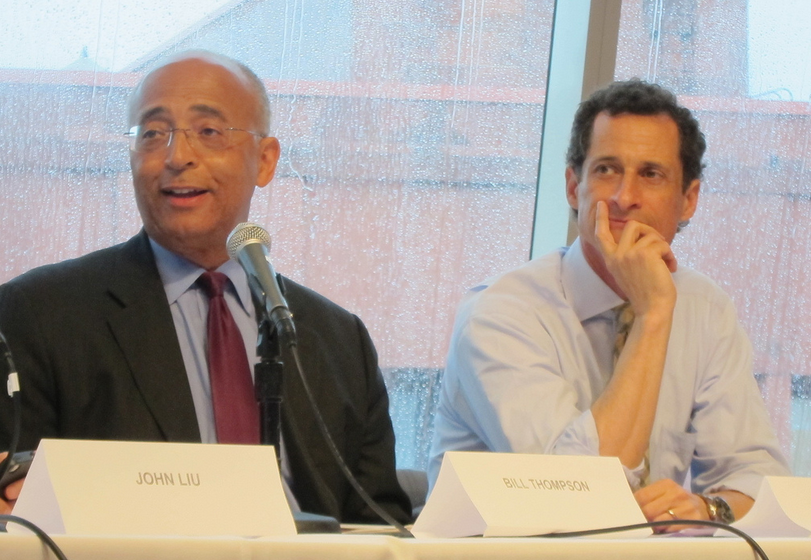 Anthony Weiner's First Mayoral Debate
Popular in the Community