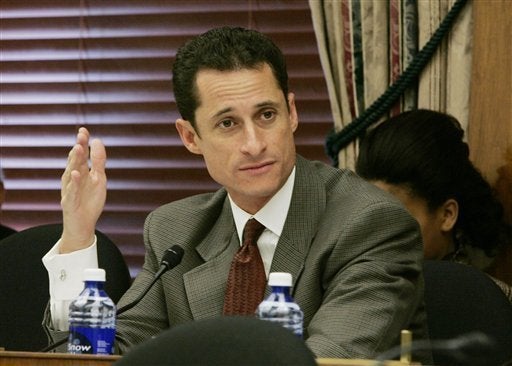 Advancing his campaign against one of the top advertisers on Fox News's Glenn Beck show, Rep. Anthony Weiner (D-N.Y) penned a letter to the head of Goldline International this week demanding some explanations for the company's controversial business practices.
The New York Democrat, who has already announced committee hearings into the precious metal dealer, wrote Goldline CEO Mark Albarian this week, seeking formal explanations as to why there have been 17 consumer complaints about the company over the past four years.
Goldline, Weiner notes, has been accused of persuading investors that there is major profit in purchasing collectable coins rather than gold bullion itself and then subsequently overcharging for their coins. The company's pitch, he adds, is based in part on the insistence that during the Great Depression the federal government took gold bullion from private citizens and could do so again in current times.
"Do Goldline International sales staff receive a different commission rate percentage when selling bullion than they do when they sell collectable coins?" Weiner writes, in one of five questions he presents in his letter. "If so, what is the difference in the commission rate between bullion sales and collectable coin sales?"
"Do Goldline International sales staff reference government confiscation of gold as a rationale for purchasing coins rather than bullion?" he asks in another. "If so, is this practice taught or encouraged by management in staff trainings or in sales meetings?"
Goldline officials have strenuously defended their practices ever since the company came under sharp scrutiny for its pervasive advertising on Fox News. The simple explanation offered is that they are providing a wide range of investment advice to viewers.
The company's somewhat symbiotic relationship with Beck has thrown an unmistakable element of political intrigue into the matter. The Fox News host, in many ways, has created a television program that perfectly suits the paranoia of government manipulation and overreach that would encourage people to buy collectible coins. He has shot a promotional video on Goldline's behalf and his testimonials are featured on its website. When Goldline first received scrutiny for its business practices, it was Beck who sounded the loudest defense.
"They are going to nudge the gold industry out of business," he said. "They are going to regulate it and regulate it and regulate it, until you won't be able to buy gold anymore. This is what I'm telling you -- they can't have people buying gold. They need to own all the gold. They're going to nudge us. Mark my words."
Weiner, who is no shrinking violet when it comes to political fights, has embraced the quarrel with the Fox News host. In addition to raising serious question's about Goldline's practices, he has scheduled a hearing into the matter for the Subcommittee on Commerce, Trade and Consumer Protection. The answers he is seeking from Albarian are meant to serve as a foundation for those hearings.
Support HuffPost
The Stakes Have Never Been Higher
Popular in the Community