WASHINGTON -- About 10 minutes into "Weiner," a new documentary chronicling Anthony Weiner's failed 2013 New York City mayoral bid, a familiar face appears within a chorus of voices chastising the former New York congressman for the sexting scandal that precipitated his downfall.
"We don't want perverts elected in New York City!" Donald Trump, seated on a plane, says of Weiner. "No perverts!"
Trump's video is part of a montage of critical newspaper clippings, late-night television monologues and cable news footage that sets the scene for Weiner's uphill climb.
In the tradition of fly-on-the-wall political documentaries like "Primary" and "The War Room," the film, which won Best Documentary at this year's Sundance Film Festival and hits theaters later this month, traces Weiner's attempted political comeback by intimately following his campaign.
But while watching it, it's hard not to think of the then-New York real estate mogul, now-presumptive GOP presidential nominee. As Weiner himself noted on HuffPost's "Candidate Confessional" podcast in March, there are parallels between their two candidacies.
In the film, Weiner's loyal supporters -- like Trump's -- adore him for his brash, defiant style and are undeterred by skeptics. One supporter approaches Weiner on the street and tells him not to worry about "everyone else" who is counting him out of the race.
"Bullshit everyone else!" she yells.
Both Weiner and Trump are ready-made candidates for the age of social media and viral sound bites because they thrive on provocation.
Trump's frequent mode of attack is Twitter. He mocks rivals, admonishes the press and lauds positive polls to his millions of followers, and the tweets often take on a life of their own. Some people perceived last week's much-discussed taco bowl tweet as manipulation and trolling rather than a tasteless attempt to reach Hispanic voters.
Weiner acknowledges in the film that "politicians are wired in some way that they need attention," and the documentary is filled with examples of him stoking that attention. But unlike Trump, his penchant for provocation often backfires. In the process, it lays bare the complicated and symbiotic relationship between candidates and the press.
In Trump's wall-to-wall television interviews, hosts have faced criticism for not questioning his extreme and/or inconsistent policy positions and instead focusing on his antics.
Weiner, by contrast, hopes for more substantive coverage of his campaign. His perpetual challenge is diverting the media narrative away from his scandal, and throughout the film, he longs for an opportunity to even mention his policy positions. In one scene, he calls a press conference to introduce a tax plan and is visibly frustrated when none of the reporters' questions are about that topic.
His major Achilles' heel is that he seems to crave confrontation and has a bad habit of engaging in it when the cameras are rolling.
Outside the bakery, the filmmakers interview an eyewitness to the fracas, who is dumbfounded at Weiner's behavior.
"Why didn't he just walk away?" he says, shaking his head. "Why did he need that? It was going nicely!"
Afterward, Weiner seems to regret how he escalated the situation. Yet his first reaction upon seeing the video, which has gone viral, is one of vanity: he complains about the "terrible shot" of his bald spot.
Trump's and Weiner's patterns of provocation feeds into the idea that politics can take on aspects of a performance. Though it is a documentary, the film often depicts Weiner as a character in his own tragicomedy -- a fact referenced early in the film, when he reads from an article describing him as "the protagonist of his tale."
Nowhere is that more evident than during an angry interview with MSNBC's Lawrence O'Donnell. The documentary cuts between Weiner's end of the interview -- him sitting alone in a New York studio, with O'Donnell's voice in his earpiece -- and the actual footage of the interview.
Without hearing O'Donnell's end, it looks like Weiner is delivering a monologue, his voice echoing in the empty studio, bringing to mind Shakespeare's "Macbeth," who laments that he is "a poor player who struts and frets his hour upon the stage and then is heard no more."
Like many moments in the film, it is simultaneously comical, and, as Trump would probably tweet, "sad!"
Before You Go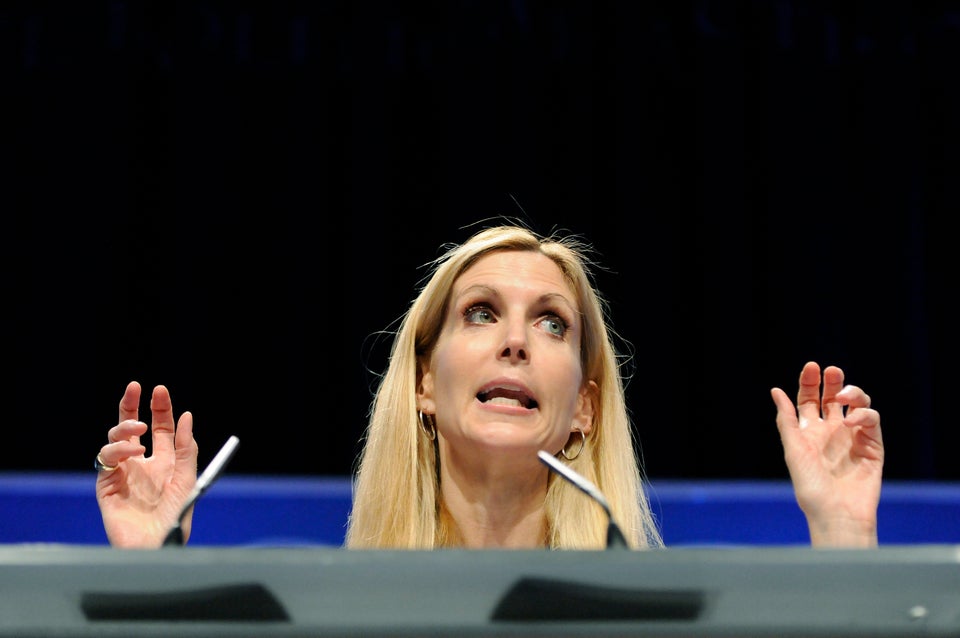 Celebrities Who Have Endorsed Trump
Popular in the Community