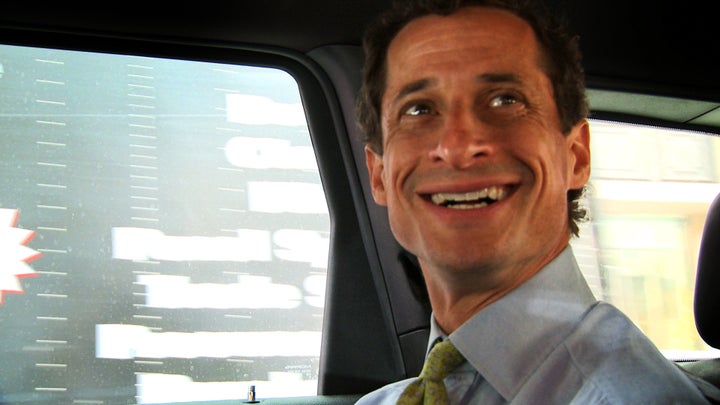 "Shit. This is the worst."
Those are the first words that escape Anthony Weiner's mouth in the new documentary "Weiner." Holding a phone to his ear and looking exasperated, he repeats, "This is the worst. Doing a documentary on my scandal." Someone apparently comes on the other end of the line, and Weiner feigns enthusiasm. "Hi," he exclaims as a pinched look of anxiety sets in. Whatever news he's awaiting can't be great, but Weiner is trained in the fine art of politics. By this point in his career, all the world's a stage.
"I don't know," he says, addressing the camera after the call has ended. "I guess the punchline is true about me: I did the things. But I did a lot of other things too." Weiner looks down longingly.
This is the first of countless "holy shit" moments in "Weiner," the entire 96 minutes of which is really just one long onslaught of "holy shit" moments. The fact that it exists at all is flooring. No movie since "The War Room" -- the 1993 documentary detailing Bill Clinton's first presidential bid -- has provided such a frank look at the inner workings of a political campaign. It just so happens this one descended into one of the most embarrassing and degrading scandals of our time.
The phone call that opens the movie? That's Weiner learning he's about to be embroiled in yet another career-threatening scorcher. After that, it becomes impossible to decide which "Weiner" scenes are the most shocking. Is it the meeting where dejected campaign staffers air their candid frustrations? Is it the sight of him laughing at footage of his own cringeworthy implosion on MSNBC while his wife, longtime Hillary Clinton aide Huma Abedin, looks on in disbelief? How about rehearsing the inflections he will choose when informing the public he is "profoundly sorry"? Maybe it's Abedin refusing to appear in one of his final campaign ads? No, in reality, none of those compare to the footage of Sydney Leathers, the young porn actress Weiner had sexted during his second scandal, stalking him on Election Day. Leathers is seen chasing him through a McDonald's near the site of his concession speech.
Co-director Josh Kriegman gained such unbridled access to Weiner after working for him during part of Weiner's 12 years as a New York member of the House of Representatives, even as Weiner's chief of staff during the 2005-06 term. When Weiner resigned in 2011 after tweeting a suggestive photo of his groin, Kriegman approached him about a documentary outlining the aftermath of the scandal. Upon deciding to run for New York mayor in 2013, Weiner agreed to let Kriegman and Elyse Steinberg, the director of PBS' "The Trial of Saddam Hussein," document what he hoped would be a comeback story. And at first, it was.
Despite the apprehension of many pundits, the Brooklyn native gained rapid momentum. His platforms, largely built on aiding the middle class, lent him the lead in multiple polls. As evidence, the film juxtaposes a spirited Weiner rally with a near-empty one for Bill de Blasio, who ultimately won the election. But three months after his campaign began, Weiner was caught once again sexting younger women, this time under the all-too-perfect alias Carlos Danger. Here is where the story kicks into high gear.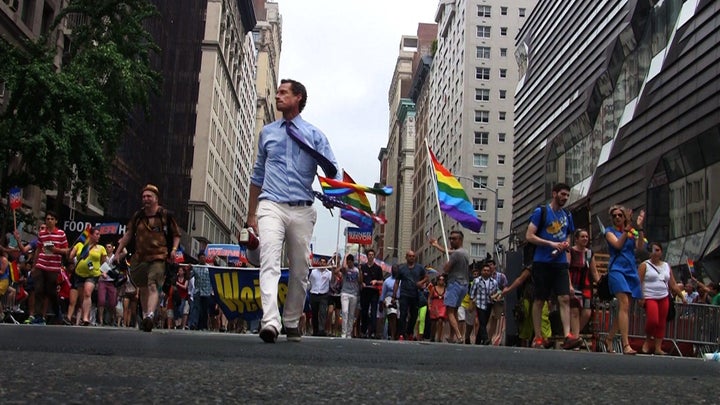 But "Weiner" goes beyond the salacious evidence of a disgraced politician melding a public battle with his private demons. It may have seemed foolish, but letting Steinberg and Kriegman in so thoroughly proves the best decision Weiner could have made, as the greatest achievement of this movie -- culled from 400 hours of footage -- is that it humanizes him without being deferential. Arriving amid arguably the wildest presidential election in history, "Weiner" charts the theatrical nature of a grueling political bout and the media's culpability in glamorizing public figures' transgressions. It is also relentless in its honesty about a man desperate to redeem himself and nearly incapable of speaking truthfully about the timeline of his lewd flirtations.
Even when the second scandal broke, Weiner didn't relent and the directors' access endured. They still showed up at their own will to chronicle campaign stops, media appearances and the goings-on at Weiner's headquarters. The only terms that had been set remained intact: Whenever Weiner and Abedin requested privacy, it was granted.
"What grounded us was the idea of showing what you see in media and then showing the behind-the-scenes," Steinberg told The Huffington Post last week. "We did that throughout. You could see the judgment that was against Huma at one point, and then you see her at home putting her kid to sleep. ... You see the noise and then you see the silence."
To be clear, "Weiner" doesn't absolve its titular subject. Nothing can, really. But you may still find yourself feeling bad for him. You may recognize that he is an intelligent man with admirable political aspirations, and you may blanch at the crude New Yorkers who thought it appropriate to approach Weiner on the street and holler their dissent in his face. If nothing else, you will certainly sympathize with Abedin, who, through it all, stayed by Weiner's side, remaining controlled and dignified.
"Our intention going into it was to take this person -- both these people, really, Anthony and Huma -- who had been so much reduced to caricature versions of themselves, and to get a chance to really round them out as full human beings," Kriegman said.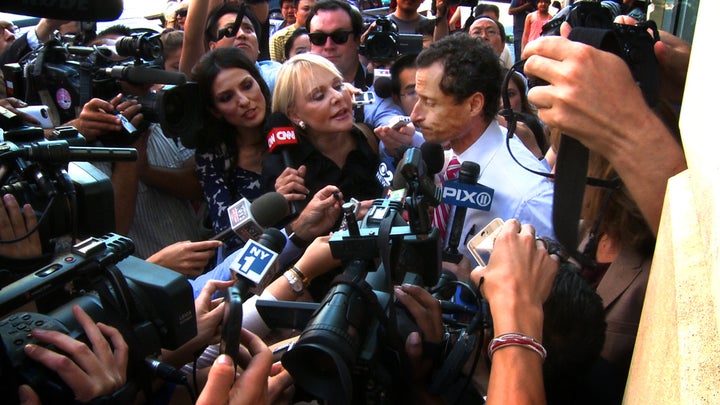 Kriegman and Steinberg have offered Weiner and Abedin the opportunity to see the documentary multiple times, but neither the politician nor his wife wants to relive the experience it depicts. In Weiner's case, one must wonder if that's how he really feels, considering he is seen in the film chortling at his own disastrous appearance on Lawrence O'Donnell's show. The Clinton family also has not requested to see the movie, despite the fact that Abedin serves as the vice chairwoman of Hillary's current campaign.
But what really gives "Weiner" a gross resonance is the presidential dogfight that is currently unfolding. More specifically, it's Donald Trump, who is seen in a brief video from 2013 saying, "We don't want perverts elected in New York City!"
When the movie premiered at the Sundance Film Festival in January, its contents netted instant comparisons to the spectacle that was materializing on a national stage. Much in the same way that "Weiner" holds news outlets accountable for their sensationalized fixations on Weiner's personal life, countless think-pieces have dissected whether the media are to blame for Trump's ascendency. In some ways, we can draw a thin line linking the audacity that made both Weiner and Trump attractive candidates for the many Americans who are disenfranchised with calculated establishment politics.
The directors are keenly aware of their movie's significance.
"It provides a look at our politics as driven by an insatiable appetite for entertainment and spectacle," Steinberg said. "We don't have to look very far in terms of Donald Trump to see that. And while I think Anthony and Donald Trump are very different politically and personally, they both understood that in order to be a successful politician in today's 24-hour news cycle, you need to put on a show. By being brash and by having an air of authenticity, you get attention and you get votes. We're really excited about how this film raises questions about our politics and how our media is functioning today."
"Weiner" opens in New York and Los Angeles on May 20. The movie will premiere on Showtime in October.
Before You Go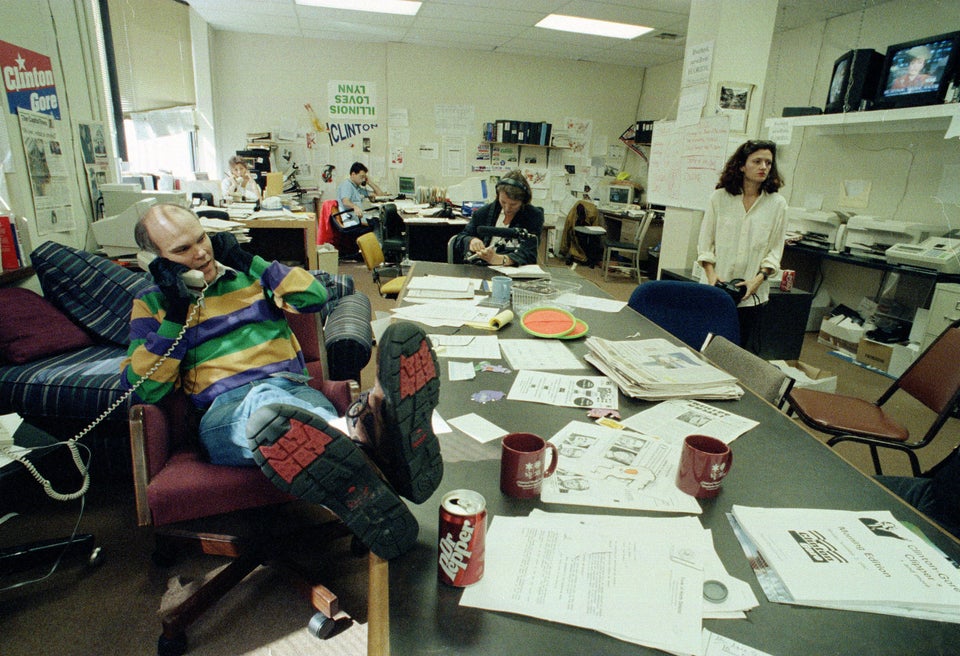 12 Fascinating Political Documentaries To Stream
Popular in the Community