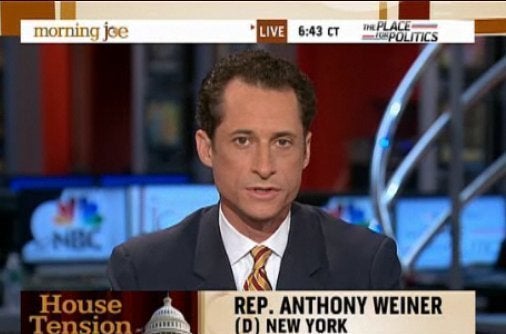 Rep. Anthony Weiner (D-N.Y.) talked with MSNBC's "Morning Joe" this week to explain the now-famous outrage that he expressed on the House floor last week over a bill to provide expanded health care to 9/11 responders.
After House Republicans managed to stymie a vote on the measure last Thursday that is designed to set aside up to $7.4 billion in additional aid to those suffering from health complications as a result of being exposed to toxins released after the 9/11 attacks, Weiner stood up and delivered a passionate and furious rant against his GOP colleagues' decision to block the bill on procedural grounds.
In the interview Monday morning, Weiner defended his indignation and stood by his earlier contention that the bill's sponsor, Rep. Peter King (R-N.Y.), "chose politics over trying to get" the legislation passed.
"He didn't once turn to his colleagues and say 'please guys, put politics aside and vote for this thing,' didn't once do that, instead launched a tirade against Democrats about the process and how cowardly we were for bringing this up to a vote," Weiner said of King, the Republican Congressman that Weiner directed his anger at last week. "And when all was said and done, 12 Republicans, just 12 Republicans voted for this bill. If there was ever a bill that I thought would be above partisan politics, on the Democratic side, only four of us voted no."
Pressed by host Joe Scarborough on his accusation that Rep. Peter King, a fellow New Yorker, "doesn't care about 9/11 workers as much as he cares about politics," Weiner responded:
"He chose to wrap his arms around his Republican friends and give them cover, and that's clearly what happened. Let's remember, if we had 21 additional Republicans change their votes, 21, not 100 of them, 21, if Peter King actually tried to get this thing passed, he could have done it."
Calling all HuffPost superfans!
Sign up for membership to become a founding member and help shape HuffPost's next chapter