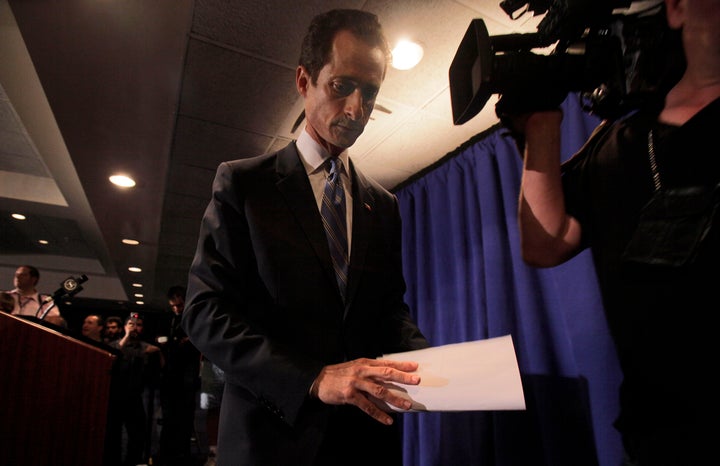 WASHINGTON -- Rep. Anthony Weiner has lost nearly all support in Congress, sources told The Huffington Post, but the embattled New York Democrat has an even tougher audience yet to face: He has to explain himself to Hillary Clinton, the formidable secretary of state he has come to regard as his honorary mother-in-law, people who know the Clintons and Weiner said.

"It scares me, and I'm nowhere near Weiner," said one Clinton-world insider. "I get nervous even thinking about it."
Weiner's elegant -- and reportedly pregnant -- wife, Huma Abedin, is beloved by the former first lady, who has kept Abedin as an aide for 15 years. Hillary Clinton even described her as a second daughter when Weiner and Abedin married last July.
Bill Clinton officiated at the ceremony, and guests described to The Huffington Post how Clinton kept telling them how much he loved Huma, as well.
Sources confirmed that the toxic Twittering congressman has apologized to the former president, who was displeased with Weiner. That fact alone had to be difficult for Weiner, who liked to talk about being part of the Clinton family.
Various aides declined to say, or could not say, whether Weiner had the same talk with Hillary Clinton, who infamously had to deal with her own husband's indiscretions. But people who know all the parties involved said the last place they would want to be was in Weiner's spot when he sees the secretary of state, who left Wednesday for a week-long Africa trip, taking Abedin with her.
The closeness of the relationship between Hillary Clinton and the 35-year-old Abedin is hard to overstate. The younger woman started with Clinton as an intern in the White House. She became a constant presence at Clinton's side in her Senate days and has remained there ever since, often facilitating Clinton's relationship with Bill.
"Every time Bill wanted to get his wife, he'd call Huma," said a source familiar with those calls. "I think she just became really important to both of them."
How Hillary Clinton will deal with Anthony Weiner is anyone's guess, but it likely will depend on how Abedin reacts.
That was complicated Wednesday by reports that she was pregnant. Starting a family while being a politician is a daunting prospect to begin with. Doing it while combating a sensational scandal is almost unimaginable.
Yet Abedin was said to be sticking with Weiner in the early going.

A source familiar with Weiner's damage-control planning said his bride participated, and had been prepared to stand by her man at his public mea culpa, but Weiner decided he deserved to face the press alone.
Clinton spokesman Philippe Reines did not comment for this story, but sources said he's advising Abedin. He told the Washington Post that Clinton's aide was "doing well under the circumstances."
The secretary of state is famous for being able to set aside even the most painful personal issues in order to focus on her job, but people who know her and Abedin are certain they will discuss Weiner's online embarrassments on the long trip because their relationship is so close.
"Huma is not a favored aide, she's not a close family friend. She is a daughter to Hillary, and to Bill," said one friend. "I walked away from that wedding saying, 'Holy shit. [Weiner] married a Clinton.'"
And the apology to Bill Clinton will pale in comparison to a talk with Hillary Clinton. "Apologizing to the president is hard enough, but he can't exactly take the moral high ground, can he?" said a source who knows all the people involved. "I'd be terrified of [Hillary]."
As of Thursday morning, Weiner still had no plans to resign, sources said.
"I think he is in a bunker, hoping to ride it out, and the only thing that will convince him it is untenable is if he arrives down here and the circus envelopes him every day, and members avoid him on the House floor, etc.," a well-connected Democrat said.
One source believed Gov. Andrew Cuomo (D-N.Y.) could deliver the decisive blow by disavowing the congressman soon.
Another source said Weiner had lost House Minority Leader Nancy Pelosi (D-Calif.), evidenced by leaders close to her declaring Weiner should resign. Among those was the head of the Democrats' House candidate recruitment committee, Pennsylvania Rep. Allyson Schwartz. Pelosi adding her name to the list would be another devastating strike against the disgraced rep.

Popular in the Community