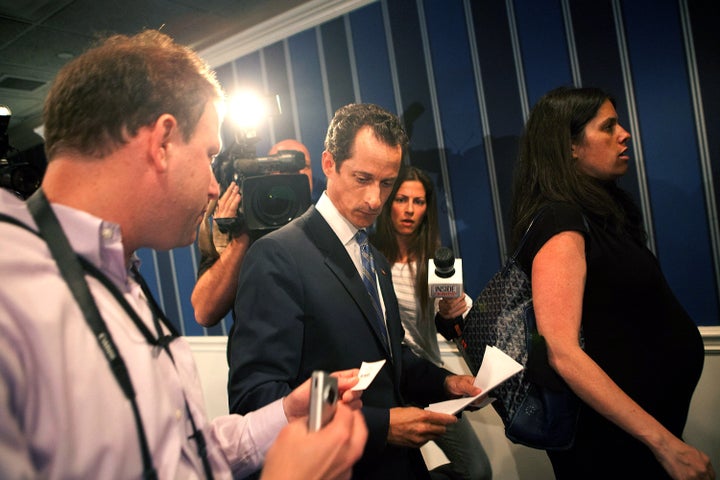 Prominent conservative Andrew Breitbart showed two radio hosts what is likely the X-rated photograph of Rep. Anthony Weiner (D-N.Y.) he signaled he had in his possession earlier this week.
After Sirius XM's Opie and Anthony were shown the picture, they subsequently leaked it into the public eye on Twitter.
Opie wrote in a tweet, which included a link to the photo, "Opie'd eye - this is a pic from @anthonycumia phone of the infamous weiner." He subsequently said on the social media platform, "Lots of you confused how the pic got out there. Myself and Anthony will explain in a bit right here on Twitter."
We had @ AndrewBreitbart on the show today and we prodded him to see the "pic" that was rumored to be out there.He finally passed his ... phone around to show a pic of @repweiner 's well "weiner".I believe it was not @AndrewBreitbart 's intention to get the pic out there ... at this time. As the phone made the rounds around the room to @jimnorton @anthonycumia and myself the picture was captured by ... a video camera that was on! I did try to take a pic of @AndrewBreitbart 's phone but it came out blurry because @anthonycumia ... grabbed the phone. Wasn't until @AndrewBreitbart left the studio that we realized what was captured on our video camera.
Listen to the on-air exchange:
In another clip, Breitbart discusses the photo with Opie and Anthony:
See the photo here (NSFW).
UPDATE: On Wednesday afternoon, Breitbart released the following statement regarding the photo leaked by Opie and Anthony:
Earlier today, a photograph resembling one that I had withheld from publication in the Weinergate saga was released without my knowledge or permission.

Prior to the publication of our story on BigGovernment.com and BigJournalism.com this past Monday morning, it was necessary to show the pictures I had received from our source to several news producers, including several at major news networks, to prove that the additional material I described really did exist, which some have continued to doubt.

This morning, I showed a photograph, which our source claims Weiner sent her, to radio hosts "Opie and Anthony" of the Sirius XM radio network on my mobile device. Somehow, without my knowledge or permission, apparently a picture was taken of my mobile device, and subsequently published by Opie (Gregg Hughes) on Twitter.

His co-host, Anthony (Anthony Cumia), stated today:

"In regards to the photo of Anthony Weiner that was leaked by members of The Opie And Anthony show on 6/8, I want to make it clear that Andrew Breitbart had no knowledge that this photo was being made public. A phone with the photo was being displayed and a camera in the studio caught it. It was then uploaded to twitter [sic], again, without Andrew Breitbarts [sic] knowledge."

I regret that this occurred.
Breitbart signaled he had an inappropriate picture of Weiner during an appearance on NBC'S "Today" show on Tuesday morning:
The conservative blogger who reported that a photo of a man's crotch had been sent from Rep. Anthony Weiner's Twitter account to a woman college student says he has an X-rated picture he'll publicize if the New York Democrat attempts reprisals against him.

...[he said] he considers the image "an insurance policy" against attacks from Weiner, who one day earlier admitted the crotch photo was of him. The married Weiner also acknowledged he had engaged in inappropriate contact with six women over three years through social networking sites like Twitter and Facebook and occasionally over the phone.
Below, a video report on some of the latest developments in the controversy surrounding Weiner prior to the leak of the photo allegedly of the congressman on Wednesday.
Popular in the Community